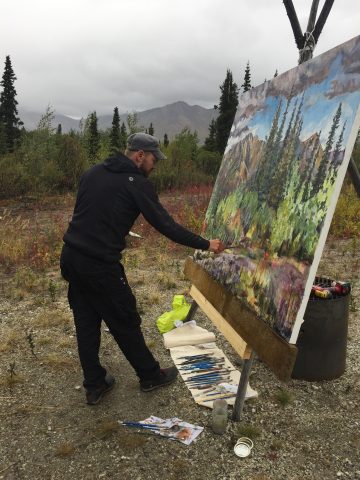 Jeremy Herndl was born in 1972 and received his MAA from Emily Carr University of Art + Design in 2011 and his BFA from NSCAD in 1996. Since 2010 he has participated in exhibitions at the Surrey Art Gallery, Open Space Art Society, Two Rivers Gallery in Prince George, BC and GoCart Gallery in Visby, Sweden.
The recipient of many grants and awards, Herndl most recently received the BC Arts Council Research and Development Grant (2018) and the Elizabeth Greenshields Foundations Grant (2017).
His work is in the permanent collections of the Surrey Art Museum, University of Victoria, Alberta Foundation for the Arts and the Department of Foreign Affairs and Trade, among others.
Jeremy Herndl's most recent body of paintings focus on a series of evening paintings that explore the veil between the natural and the human world. These landscape paintings are somewhat autobiographical but at the same time are about a collective experience. Herndl feels that landscape is really about humans. He seeks to reflect those who work and live in each landscape and wants to create an emotional rapport with place.
"My research focuses on contemporary ideas about nature. This includes research into phenomenology, ecology and indigenous concepts of singularity with the natural world and its inhabitants. Historical Western ideas of nature have been problematic from dualistic thinking to the colonial-covetous gaze and ultimately the devastation of natural processes that sustain life.
My practice aims to recontextualize the tradition of landscape painting into a conceptual framework that engages with time, labour and an attitude of receptivity and service. My experience of painting from life is that after a long period of looking and responding, I become alert to incidental changes of light, colour and shadow. Places and objects, when observed over time, are mutable and I attempt to index the changes. With this kind of deep attention and study, a kind of empathy and rapport evolves between the painter and place and the painting that unfolds in a nexus that chronicles this interaction. In this way, I seek to serve the agency of place, engaging with 'nature' not as something other or outside of the self but inclusive of it."
Education
2011 MFA Visual Art.- Emily Carr University. Vancouver BC.
1996 BFA St udio -Nova Scotia College of Art and Design, Halifax, Nova Scotia.
2010 Figure  in a Mountain Landscape, residency. Banff Centre.
1995 Ecole Nationale Superieure Des Beaux-Arts – Paris, France. Exchange study
Selected Group Exhibitions
2017 — Broken Paths. Two Rivers Gallery, Prince George, BC. Curated by George Harris
2016 — Things Fall Apart. Feral Group Production. Victoria, BC
2016 — Voice. Two Rivers Gallery, Prince George, BC
2015 — Jeremy Herndl | Niklas Edstam. Go|C|Art, Visby, Sweden.
2015 — ALMANAC. Popup exhibition at The Guild, Victoria, BC.
2015 — New Perspectives. Winchester Modern. Victoria, BC
2015 — Views From the South Bank: Recent Art From Surrey and Region. Surrey BC. Curated by Jordan Strom.
2015 — Realities Follies. Open Space Art Gallery. Curated by Linda Gammon and Wendy Welch. Victoria, BC
2014 — Feral. Group show (popup) Victoria, BC. Curated by Toby Lawrence AGGV. Produced by Jeremy Herndl.
2014 — REWILD. Group show (popup) Victoria, BC. Produced by Jeremy Herndl.
2014 — Group Exhibition. Winchester Gallery. Victoria, BC.
2013 — Figuring Ground. (Two Person Show) Surrey Art Gallery. Surrey BC.
2012 — Faculty Exhibition. Vancouver Island School of Art. Victoria, BC.
2012 — Beyond Vague Terrain. Surrey Art Gallery. Surrey BC
2011 — Some Paintings. Equinox Gallery, Vancouver BC.
2011 — Graduate Exhibition. Charles H. Scott Gallery. Emily Carr University
2010 — Spurious. Concourse Gallery Emily Carr University
2010 — Other Gallery. Banff Centre AB.
2010 — Killer Texts. Gallery 1612. Emily Carr University.
Selected Solo Exhibitions
2018 – Lights Through Trees, Michael Gibson Gallery, London, ON
2018 — You Are Here. Ministry of Casual Living, Artist Run Centre, Victoria, BC
2016 — Sticks and Cloth. Ministry of Casual Living, Artist Run Centre, Victoria, BC
2012 — Speaking Space. Winchester Galleries. Victoria BC
2010 — Interlux Micron CSC. Gallery 1612. Vancouver, BC
2009 — New Paintings, Elissa Cristall Gallery, Vancouver, BC
2008 — New Work, Winchester Galleries, Victoria, BC
2006 — Suburban Mystic Herringer Kiss Gallery, Calgary, AB
2005 — In Between Lights,Herringer Kiss Gallery, Calgary, AB
2004 — Lights, Herringer Kiss Gallery, Calgary, AB
2002 — Speed. Gallery 1248, Victoria,
Experiences
2018 Sessional lecturer, Kwantlen Polytechnic University, Surrey, BC
2017 Tombstone Territorial Park Artist in Residence. Yukon Territory, Canada
2017 Juror, Brucebo Foundation, Gotland, Sweden
2016-18 Instructor, 2D and 3D Yukon School of Visual Arts, Dawson City, Yukon, YT
2016 Producer, "Things Fall Apart" Feral Group Production. Victoria, BC
2016 Juror, BC Arts Council Scholarship
2012-2016. Instructor. Vancouver Island School of Art. Victoria, BC.
2015 Brucebo Summer Residency, Visby, Gotland, Sweden
2015 Producer, Organizer. "Almanac" Feral Group Production. Victoria, BC
2015 Panelist, Realities Follies. Open Space Arts Society. Victoria BC
2014 Juror, Sooke Fine Arts Show. Sooke, BC.
2014 Producer, Organiser, Fund-raiser. "FERAL" PopUp, Victoria, BC
2014 Producer, Organiser. "REWILD" PopUp, Victoria, BC.
2013 Peripheral Visions. Panel Discussion, Surrey Art Gallery. A public discussion of issues related to geography, urban studies, animism and plein air painting.
2012 "Speaking Space" Artist Talk. Vancouver Island School of Art and Design
2012 Juror, Metchosin Art Gallery.
2010 Pecha Kucha Nights. Public presentation on painting and phenomenology. Victoria BC.
2009 Teaching Internship. Foundation Drawing and 2D language. Emily Carr University.
2007-2008 Self Directed Studio (sponsored by Alberta Foundation for the Arts) Lodz, Poland.
2002-2004 Bronze Foundry and Sculpture Assistant, Alexander Caldwell Design, Calgary, Alberta.
Lost wax, bronze, iron, aluminum, welding and metal finishing, installation.
1999-2002 Painter and Props Construction, F&D Scene Changes, Calgary, Alberta. Crew Supervisor,
designer  liaison, polyurethane (sculpture, coatings), analin dye, acrylic, oil, enamel on site movie set work.
2000-2001 Painter and Installation Supervisor, Tokyo Disney Seas Park,Tokyo, Japan. Fast paced
production atmosphere working with crews, interpreters, new materials and machinery.
1998-2001 Assistant Preparator, Art Gallery of Greater Victoria. installations, collections
management and care, shipping, work with curators and visiting artists
Publications
2018 — April 26 Sawatsky sign-Off: Like a Detective. CTV News feature, plein air painting in Uplands Park, Oak Bay BC.  Adam Sawatsky
2018 — April 27 Oak Bay News feature, Artist crafts conversation with days long painting in Uplands. Interview with Christine Van Reewyk.
2015 — August 14. Interview with Hanna Sihlman, Sverige Radio, Visby, Sweden
2015 — August "Årets Brucebo-Stipendiater Ställer Ut" Gotlands Allehanda. Visby, Sweden
2015 — January "The Sum of Appearances" interview with Aaron Madden for Focus Magazine, Victoria, BC.
2013 — John Threfall, "The Great Wide Open". Yam Magazine, Victoria, BC
2013 — Elizabeth Nolan, Shari McDonald, "The In-Between Spaces of Jeremy Herndl". Tweed Magazine, Victoria, BC
2008 — Robert Amos, "Artist Explores Possibilities", Times Colonist, Victoria, BC
2005 — Andrew Mah, "Gallery Notes", Where Calgary Magazine, Calgary, AB
2004 — Interview with Tara McCool on the Big Breakfast Show, A-Channel, Calgary, AB
2002 — Jeanie Soodeen, "Paints unleash Speed", Victoria News, Victoria, BC
Awards
BC Arts Council, Research and Development Grant. * (2018), *(2015), *(2013)
Elizabeth Greenshields Foundation Grant,*(2017), *(2012), *(1995)
Tombstone Territorial Park Residency. Yukon Territory, Canada. (2017)
Brucebo Summer Residency. Gotland, Sweden. (2015)
Canada Council For the Arts, Project Grant, (2013)
Presidents Fund Grant, Emily Carr University, (2010)
Production Grant,The Alberta Foundation for the Arts, (2007)
Endowment Fund Scholarship, (1996)
Marguerite and Leroy Zwicker Fellowship Award,(1996)
Senior Award,British Columbia Arts Board, (1995)
Collections
Surrey Art Museum. Surrey, BC
Brucebo Foundation. Visby, Gotland, Sweden
The City of Surrey
West Vancouver Museum
University of Victoria
The Ing Collection, Calgary, AB
The Department of Foreign Affairs and Trade. Ottawa
Alberta Foundation for the Arts, Edmonton, AB
Vancouver Island School of Art
Office of the Auditor General, Victoria, BC
Benjamin Bryce Levinson Architects, Victoria, BC
Merrill Lynch, Victoria, BC
TD Canada Trust, Halifax, NS
Koncepthus, Stockholm Sweden
Corporate and Private collections in Canada, the USA and throughout Europe