This Sunday is January 31, 2021, already…  Today, when I am writing, January 29, is such a beautiful day with big white snowflakes falling gently onto the now pristine white ground.  I love the quietness a day like today brings – like being alone in a forest.  The faint sounds of sliding shovels awaiting the snowplow's inevitable rumble and the casting of more snow to shovel, serves as a welcome memory in the heat of summer.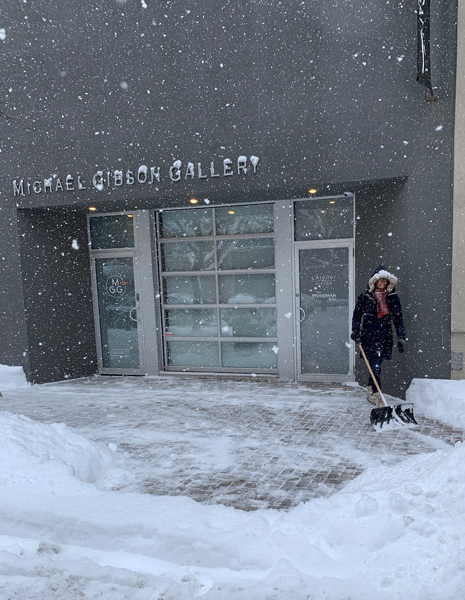 The 5 recent weeks of mostly grey light (unfortunately not Paris grey light), had me looking to reward myself with cooking, drinking and chilling while enjoying our projector broadcasting a movie fitting the pace of a quiet winter night.  A spaghetti western comes to mind.  A learned patience is required while watching and waiting for Clint's next decision, kind of like waiting for it to stop snowing today.  I honestly really treasure these 'snow' days, as very little is expected but lots can be done.  It always feels like found time somehow.
Quiet cold days and nights lead me to heavy red wines like Zinfandels with creative boards of olives, pickles, spicy meats, veggies and the forbidden cheeses.  Just empty the fridge of all the half used jars, veggies and picnic meats and you are in for a feast.
Chet Baker & Paul Bley's  "Diane" (1985) will certainly slow things down to a pace of wondering: should I upgrade my sound system? or acquire a painting for that blank wall? 
Recorded in Denmark 3 years before Baker's tragic death, Bley's piano beautifully compliments the touch of Chet's soft, tranquil voice and trumpet.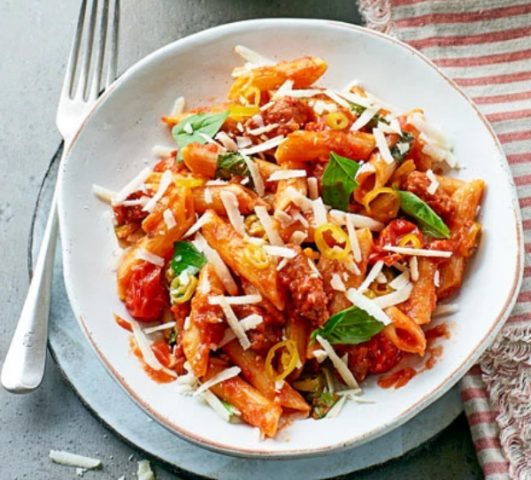 Making spaghetti is fun, easy and always a winner.  Taking either an hour or all day, it makes mouths water with all the waiting and the new smells wafting through the house.  A few good quality cans of tomatoes with veggies or ground chorizo and patience makes for a great afternoon project.  The quality of pasta is the difference (our pasta maker leads a very lonely life unfortunately), however maybe now is the time. HERE is a tasty simple sauce. 
Directed by Clint Eastwood, "High Plains Drifter" (1973) is likely his most under appreciated western.  I always thought it was one of his loneliest films, completely void of conversation or relationships.  The movie ends with Clint riding off into the sunset, to a now deserted town, without a word spoken.  One realizes that this movie is more than a western, not for the faint heart, but a very unique piece of art history from 1973.
In 2021 (on Netflix) I recommend The Sisters Brothers, a modern western more suitable to watch with someone close.  John C Reilly, Joaquin Phoenix and Jake Gyllenhaal combine in a "genre-hybrid with comedic elements, takes place in Oregon in 1851."
Quote: "The quality, not the longevity, of one's life is what is important".
Martin Luther King Jr.  
Have fun, stay safe,
Michael Gibson
---
Art Highlights 2020 – Newfoundland Pratt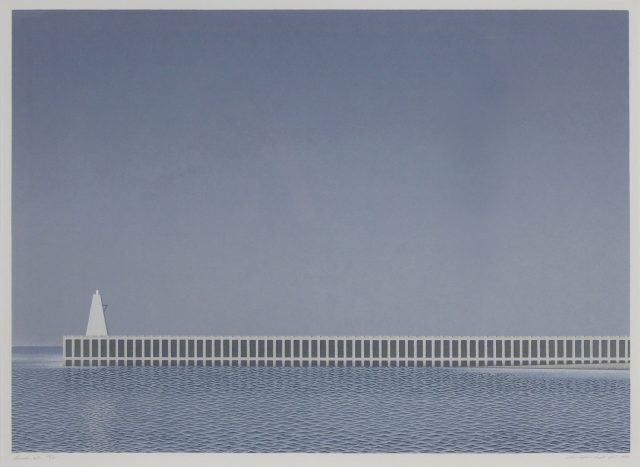 Christopher Pratt "Breakwater", Serigraph on Paper, 1976, Edition of 55, 20 x 28 in. Private Collection

When we have been lucky enough to broker quality artworks from private collections it has come about through relationships of trust built over several years.
In 2002 an actress in a play at London's Grand Theatre came into the gallery looking for a Roly Fenwick painting.  Her mom had studied at Mount Allison University with Roly.  Over the years she purchased a number of Anne Meredith Barry's from us as well as a beautiful Fenwick canvas.
More recently in 2019, she called me to say that her parents had both passed away and she needed help evaluating and possibly selling a few artworks from their collection.  They owned many of their contemporaries including prints by both Christopher and Mary Pratt, Joyce Weiland and Alex Colville (who taught Roly, Mary and Christopher at Mount Allison).
We ended up acquiring a few pieces from the collection including Christopher Pratt's  "Breakwater".  Subsequently, I received a call from a Newfoundlander who wanted to trade me his Pratt for our Pratt.  I suggested he would have to add a few dollars, which he agreed to and we shipped our Pratt back to Newfoundland.
During our many conversations, we soon discovered that we each owned C&C sailboats, his a 32, mine a 27.  His C&C is docked in the harbour near the "Breakwater" and sails past the pier every time he leaves the harbour.
The beauty of all this, beyond the obvious rewards, is we have made a new friend in the art world.
---
Now Online – "Chroma III"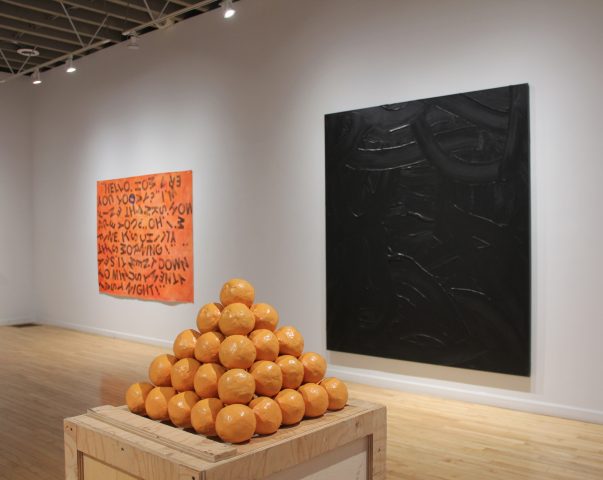 For the past two years we have curated exhibitions deep in the winter months that feature colour.  This year, colour has been deeply needed, so in response to the falling snow outside, we have curated an exhibition that celebrates, compares and contrasts the quality of a colour's purity, intensity or saturation.
Artists included: Vic Cicansky, Greg Curnoe, Gathie Falk, Jonathan Forrest, Will Gorlitz, Gino Lorcini, Ron Martin, William Perehudoff, Gordon Rayner, David Urban and Hans Wendt.
---
Connect With Us

Recent Facebook Post
Doug Maclean reports on the last Canadian art auction cycle in the current issue of Galleries West Magazine.  Read HERE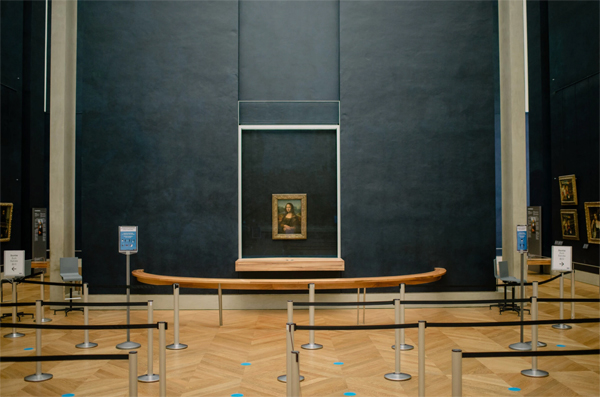 Recent Twitter Post
Mona Lisa Is Alone, but Still Smiling.  With the Louvre closed because of the pandemic, museum officials are pushing ahead on a grand restoration and cleanup. Read HERE