As representatives of the Clark McDougall estate for the past 12 years, we have had some incredible exhibitions focused on many aspects of McDougall's diverse practice.
We are currently working on a future Clark McDougall exhibition and are searching for paintings both in private and corporate collections.  If you own a Clark McDougall painting, we would love to see it and keep a record of it.
If you own a Clark McDougall Painting, please click HERE

---
Michael Snow's "Enchanted Woman"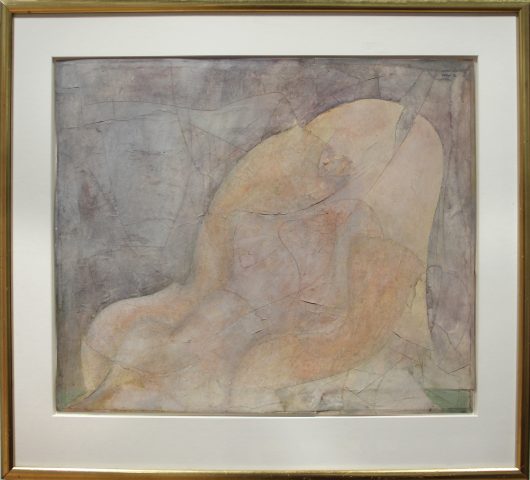 Michael Snow "Enchanted Woman", Photodyes, collage on paper, 1956, 21 x 25 in.
Michael Snow's current exhibition at the Art Gallery of Hamilton features early work from 1947-1962 and is devoted to his formative years.
Discovered too late to be included in the AGH show, our "Enchanted Woman" from 1956 is one of 5 knife-drawn collages that feature female figures entwined in their abstracted backgrounds.
In the late 1950s, Michael Snow was impressed by Willem de Kooning's early figurative paintings and collage works and wanted to explore the figure / ground relationship in his own work.  For the 5 collages from 1956, Snow dyed the individual layers of paper with photographic dyes, building up the image of the collage by cutting, arranging and layering the individual pieces of paper.  The resulting image is a mesmerizing, sensuous figure that is knitted into the dream-like background.
Michael Snow has been quoted as saying "I'm still proud of how integrated and fused all the elements of these works are… In fact, the original Walking Woman is absolutely a daughter of these early collages."
Of the 5 collages made in 1956, one is in the Art Gallery of Ontario, one in the Art Gallery of Alberta and 3 in private collections, including "Enchanted Woman" available at the gallery.
---
New Home for Ross Woodman's Book Collection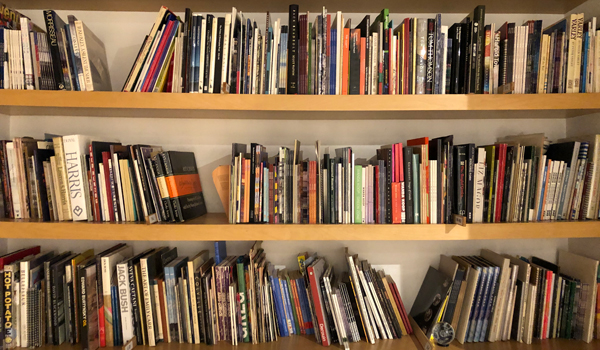 We were recently approached by the executors of Dr. Ross Woodman's estate about his extensive book collection.  Ross Woodman was a Romantics professor at Western University, enthusiastic art collector and good friend of the gallery who loved spending time talking about art and literature.
We accepted the offer to take Ross's 500 books and have now re-organized three major bookshelves in the gallery to accommodate our large and Ross's extensive collection of art books and art catalogues.
Canadian art and artists are now stored in the middle gallery and Jennie's office, while Michael's office houses an incredible survey of International artists and movements, ranging from the Renaissance to Pop-Art, to books on collector and gallery collections, to Islamic and Asian art and probably the largest collection of books on Picasso in South-Western Ontario!
---
New Mid-Century Vintage Desk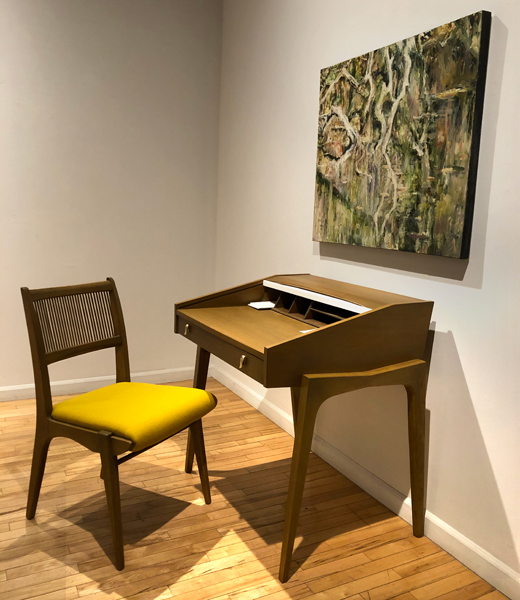 In our middle gallery, we have featured four serene Roly Fenwick paintings as well as a new vintage John Van Koert roll top desk and chair.
Designed by John Van Koert (1912-1998, Canadian), and produced by Drexel from 1955-1961, the walnut desk with white lacquer roll top comes with the fully restored, yellow wool upholstered chair.  Roly Fenwick's "Random Garden #2" is the perfect compliment.
Contact for Pricing & Availability HERE
---
Buying & Selling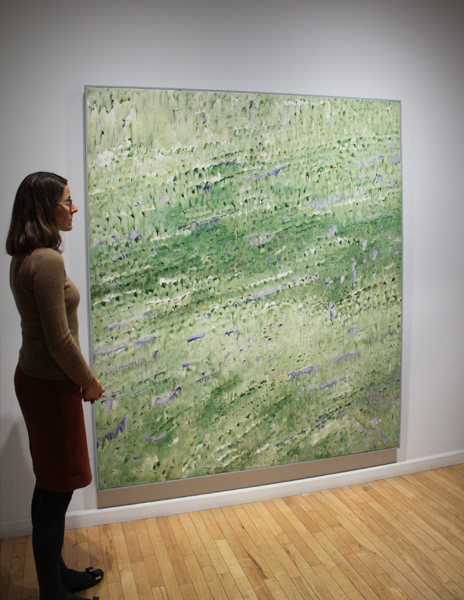 Gathie Falk "Pieces of Water #3: Parliament Bells", Oil on Canvas, 1982, 77 1/2 x 66 in.
Are you looking for specific works of art to add to your collection?
Since 1984, we have specialized in the acquisition and sale of artwork created by artists of significant Canadian cultural importance.  If you are in possession of a painting of value, whether by your own purchase or through an inheritance, we encourage you to contact us for a complimentary consultation.
We love what we do and enjoy very much the pursuit of excellence.
To learn more about our Buy/Sell Services Click HERE
---
Connect with Us

Recent Instagram Post
Michael Snow and me at his @at_theagh exhibition last Saturday

Recent Facebook Post
"Painting Nature with a Mirror" at the MAC in Montreal continues to March 22. The exhibition of 1980s painting in Canada showcases twenty artworks from the collection and includes artists Gathie Falk, Betty Goodwin, Wanda Koop, Harold Klunder and Ron Moppett, all artists who we have proudly worked with over the years.  More info HERE

Recent Twitter Post
Here are the winners of the Governor General's Awards in Visual and Media Arts for 2020.  Learn More HERE