"Environmental Land" March 6-28, 2020
Our March exhibition explores diverse representations of the environment, land and nature.  Not all of the artists are characterized as "landscape artists", though they each have taken aspects of their surrounding environment as the inspiration for their individual works.
From Gordon Rayner's homage to Tom Thomson to Margot Ariss's poetic rendering in clay to Dorothy Knowles' classic prairie landscape, each of the works included in the show capture the essence of each landscape.
"Environmental Land" includes distinct landscape-inspired artworks by nine gallery artists: Margot Ariss, Eyes as Big as Plates, Will Gorlitz, Dorothy Knowles, Erik Olson, Gordon Rayner, Michael Smith, Etienne Zack and Ed Zelenak.
Preview "Environmental Land" Exhibition HERE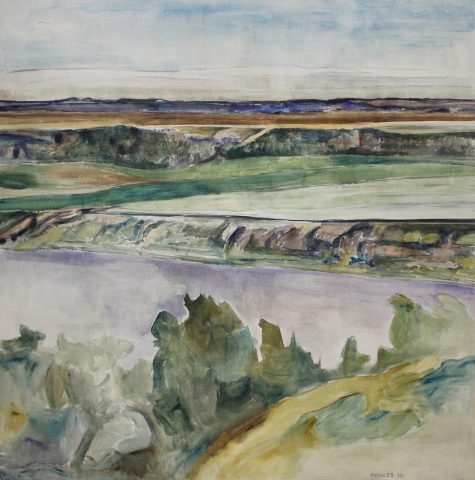 Dorothy Knowles "The Green Fields Series: Blue Distance"
Acrylic on Canvas, 1965, 56 x 56 in.
Dorothy Knowles' classic 1965 Prairie landscape is a rare painting from the mid-1960s.  "The Green Fields Series: Blue Distance" represents the development of her signature style.
In 1962 both Knowles and her husband William Perehudoff met Clement Greenberg at the Emma Lake Workshop.  Greenberg influenced Knowles to paint monumental canvases that represented the landscape literally, but still nodded to abstraction.  At this time, Knowles started to use thin oil washes, similar to a watercolour painting.  Our painting represents the broad Prairie landscape that Knowles is known for in an elegant and understated way.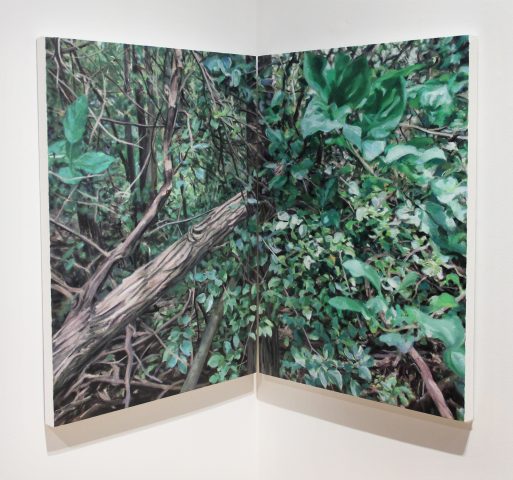 Will Gorlitz "Impasse", Oil on Canvas, 2017, 36 x 54 in.
Will Gorlitz's inviting corner painting engages the viewer in a challenging way.  Gorlitz has stated that he has chosen the theme of landscape as an exploration and assessment of variables and possibilities in painting.  "Impasse" is not about a specific place or representation, rather, a "portal for a perceptual encounter that encourages each individual viewer to personally engage in the visual experience as a critical mode of reflection".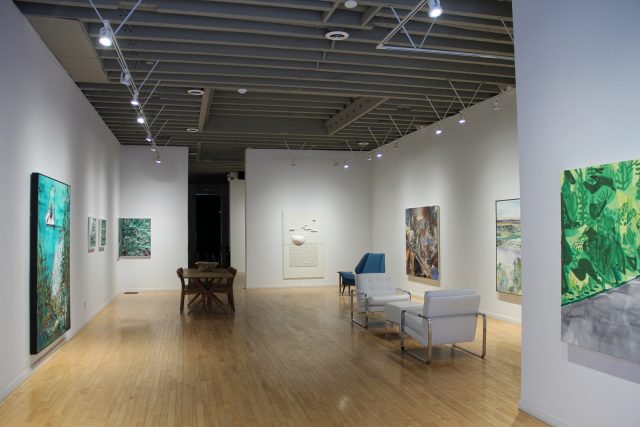 ---
Welcome Sofia Berger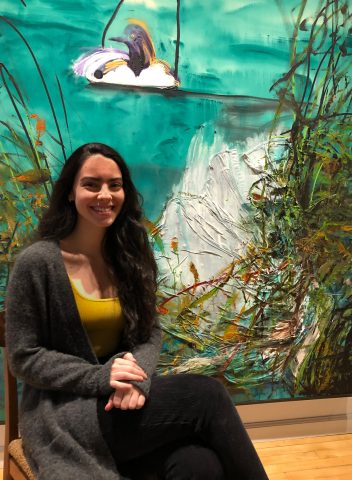 Sofia Berger with Gordon Rayner's
"Evidence 1 – Concerning a Drowning on Canoe Lake"
We Welcome Sofia Berger, our New Gallery Intern
Sofia graduated in 2019 from Western University with an Honours BFA Specialization in Studio Art with a certificate in Digital Communications.  She has experience working at Museum London and Forest City Gallery and has a keen interest in social media, design and photography.  Sofia has helped us casually at the gallery for the past few months and we are now happy that she will be working along side us.
---
Margot Ariss VIDEO – From the Archives
In December 2011 we had our inaugural exhibition for Margot Ariss and produced this video which presented a survey of her clay sculptures and wall panels dating from 1970-1985.  We re-visit this video now after unearthing her glorious 1978 "Assisi No 2." clay sculpture, included in our current March show.
---
Buying & Selling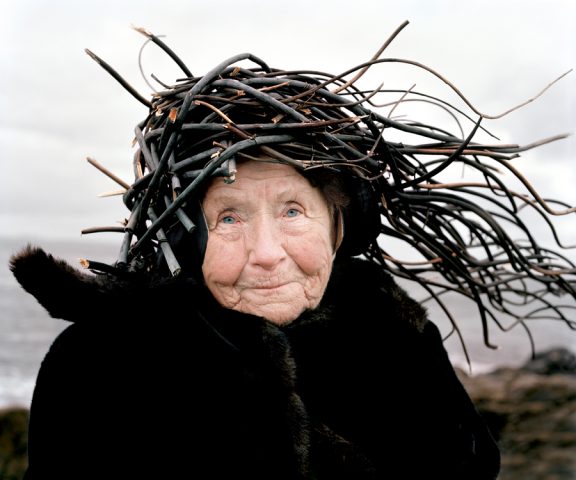 Eyes as Big as Plates "Agnes II (Norway 2011)", C-Print, 2011,
Edition of 10, 20 x 24 in.
Are you looking for specific works of art to add to your collection?
Since 1984, we have specialized in the acquisition and sale of artwork created by artists of significant Canadian cultural importance.  If you are in possession of a painting of value, whether by your own purchase or through an inheritance, we encourage you to contact us for a complimentary consultation.
We love what we do and enjoy very much the pursuit of excellence.
Click HERE to learn more about our buy/sell services
---
Connect with Us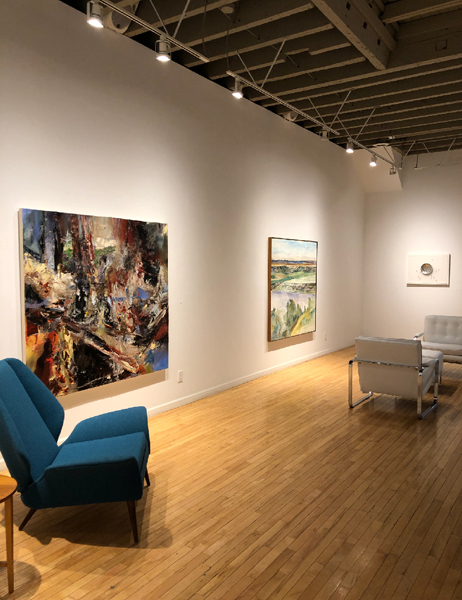 Recent Instagram Story
Now Open "Environmental Land" March 6 – 28.  Artists: Margot Ariss, Eyes as Big as Plates, Will Gorlitz, Dorothy Knowles, Erik Olson, Gordon Rayner, Michael Smith, Etienne Zack and Ed Zelenak.

Recent Facebook Post
Legendary Art Philanthropist Agnes Gund Is Lauded as a Quiet, Yet Powerful, Force for Good in a New Documentary.  More info HERE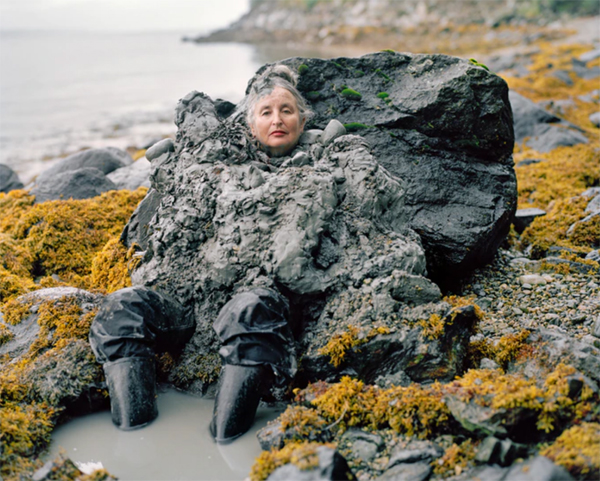 Recent Twitter Post
Photographers Eyes as Big as Plates have a new book featuring new portraits, field notes and behind the scenes stories from seniors around the world.  Learn More HERE