Far off memories lead me to listening to the jazz album Soul of Morocco by "Oum" (2013), while writing this for you.
One of the most beautiful countries I have spent time in is Morocco.  I knew very little about the country in 1982 other than from Graham Nash's "Marrakesh Express" – it was on the continent of Africa and they drink mint tea and smoked hash.  In 1982, I was "living" in a tent in the Algarve and had made some close friends, particularly two Dutch guys, who were keen to join me on an adventure to find Casablanca.
From Portugal we headed towards Gibraltar, like Lennon and Ono, through Spain.  Things began to change very fast visually through this British territory on our low budget method of travel, walking.  On the ferry crossing the Strait of Gibraltar to Tangier, I realized that it was the first time in my white privileged life that I was a minority.  I was heading to my first Arabic Muslim country with the many crowded Moroccans who had bought jeans and booze in Spain to re-sell in Morocco.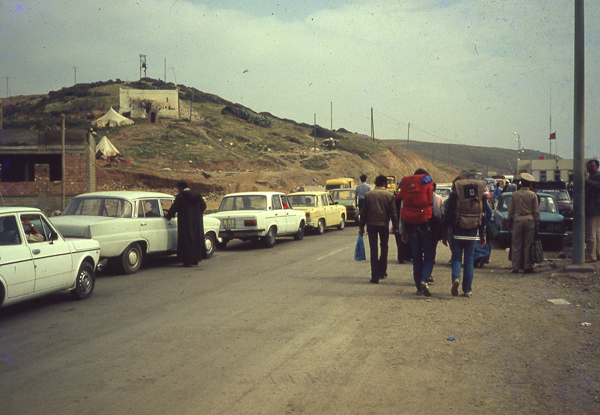 The actual border in Morocco looked to me like a war zone with knocked down buildings and machine guns.  When you are a fairly clean-cut tourist coming into such a country, the hustle is on from the beginning.
We travelled in overcrowded blue school buses with everyone else, including livestock, children and hustlers creating the very vocal landscape.  I was pleased to discover that most everyone spoke french, which made life much easier for me and my Dutch friends, who did not.  Culture in Morocco is completely genuine: the people, the lush northern Rif mountains with the green forests undulating towards the spartan quiet of the wind caressed  southern deserts, the couscous and lamb, the men sitting all afternoon drinking their mint teas, smoking their hookah's outside of the thatch covered Medinas (markets) where negotiating was invented.
A quote from my journal: "Fez is a sorcery.  This is the city that reaches out for the intruder and toys with his mind.  It is a hallucination.  Even before you stumble fried from the bus, the voices and hands of the hustlers will rush you through the windows".
Once in Fez, we stayed in the old city because it was cheaper and was within the Medina.  We spent most of our day touring the darkened "Medina of Medinas" with live chickens and perpetual skirmishes, mingled with scents of mint, cedar and hash amongst the texture of donkey droppings and live tanneries.  Around 3pm we decided to head back for a rest, but we just couldn't shake this one kid.  He was relentless, like velcro, adamant to be paid for following us around.  Suddenly he was struck, like Chris Rock, and everything went silent, literally.  The three of us looked at each other, stunned, thinking this will not turn out well in such a country.  For relief, that night, we went to the underground steam baths, a hammam, for the first time.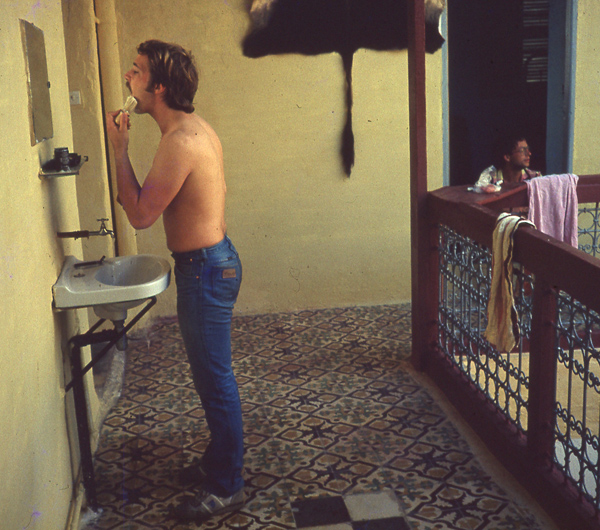 An underground cave with natural steam/hot water coming out of the walls and at least 30 naked men lying on the stone floors was our first impression as we entered this exotic place.  When we remerged onto the night streets we were the cleanest we had ever been in our lives.  We also had somehow washed any negativity from the days happening and were somehow never hustled again.
After visiting both Marrakesh and Casablanca we made our way north to Tangier and back to "civilization" and I said goodbye to my two Dutch friends at the train station.  Like many of us who have travelled, I never saw or spoke to these two men again.  This is a major difference to our kids experiences now having Instagram.  Not sure which is better, but seeing them again would be nice.
"The Man Who Knew Too Much" (1956) directed and produced by Alfred Hitchcock is a suspense thriller starring Jimmy Stewart and Doris Day.  Filmed in both Casablanca and Marrakesh, it is a story of two vacationing tourists who stumble accidentally on an assassination in the world-renowned and bustling Marrakesh square.  Doris's hit "Que Será, Será" is from this movie.
Yogurt Lamb With Couscous will be a nice meal to enjoy with your Hitchcock thriller.  Simple to make and likely a new gastric experience.  
Try some real mint tea and listen to the "Midnight Morocco Chill" by Ibiza Chill Out Music (2019) on a Sunday afternoon to experience Morocco from home.
A Moroccan Proverb:
"The hand you cannot bite, kiss."
Have fun, stay safe,
Michael Gibson
---
Save the Date – Upcoming Dil Hildebrand Exhibit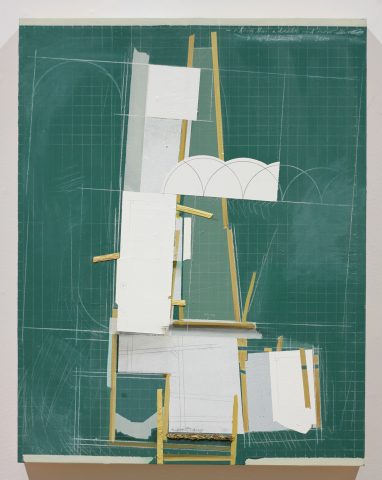 Dil Hildebrand "Alignment", Oil on Board and Collage, 2012, 27 x 21 in
Dil Hildebrand 
April 19 – May 28, 2022
Opening Reception on Thursday, May 5, 8-10pm
This Spring, we are honoured to exhibit Dil Hildebrand's first survey exhibition of paintings.  Working in collaboration with Pierre-Francois Ouellette art contemporain, we have curated an exhibit highlighting Hildebrand's innovative abstraction from the past 10 years.  Through the paintings and collages, we will see the development of his abstraction; the diversity of his materials, the strength of his compositions and his willingness to explore.
Montreal painter Dil Hildebrand (b. 1974) graduated with his MFA from Concordia University in 2008.  Exhibiting extensively since winning the RBC Painting Competition in 2006, Hildebrand has distinguished himself as one of Canada's most innovative abstract painters.  His work is in countless collections including the National Gallery of Canada, Montreal Museum of Fine Arts and the Musee d'art contemporain de Montreal.
---
Recent Corporate Acquisitions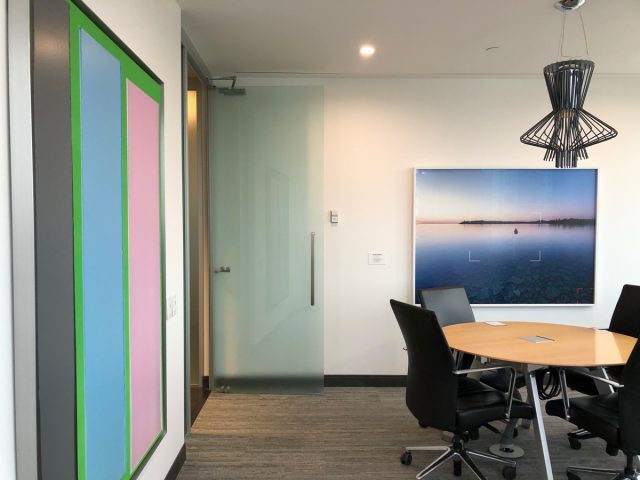 Eight months ago, McKenzie Lake Lawyers LLP approached us about purchasing artwork for their 18th floor London boardroom and meeting rooms.  Committed to setting a bold and contemporary tone, the committee purchased abstract paintings by Mark Dicey, Jonathan Forrest, Hans Wendt and a new photograph by Susan Dobson.  Thank you McKenzie Lake for your support of Canadian artists.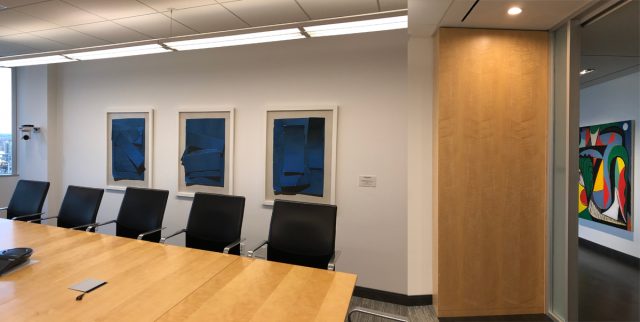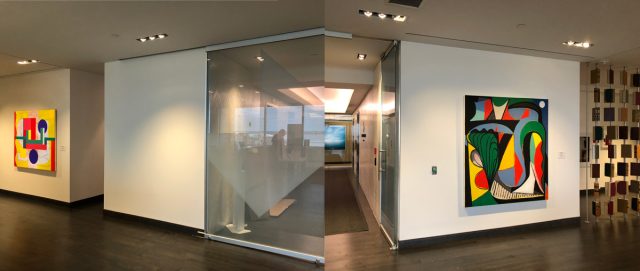 ---
Connect With Us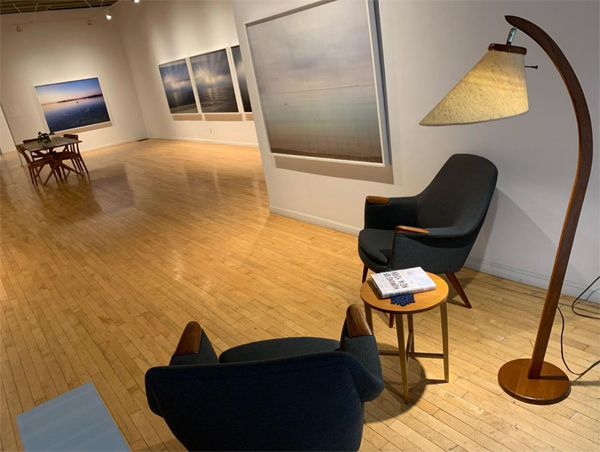 Recent Instagram Post
Our new Gerhard Berg (1950's) chairs and renovated lamp make for a nice place to see each other?? @susan.christina.dobson #michaelgibsongallery #cdnart #mcm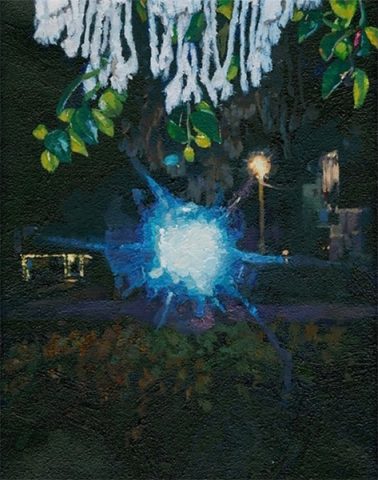 Recent Facebook Post
Save the Date for Up with Art, the April 19-23 online auction in support of Homelessness in London.  Bid on Michael Pszczonak's painting as well as Ed Pien, Marigold Santos, Jason McLean and more.  More info HERE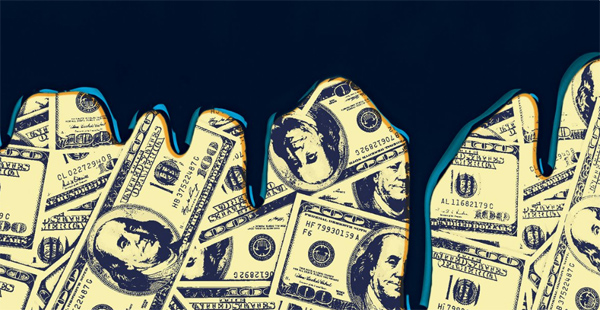 Recent Twitter Post
"It might seem obscene to think of sales at a time of war, but the May auctions will be bigger than ever.  Art has become a reliable store of value in unstable times". Read HERE