Today I am writing to Natalie Merchant's debut album, "Tigerlily" (1995), recorded after she left the 10,000 Maniacs.
With the longer days, greener trees and the ever eager dandelions, the birds outside my bedroom window chirping at 5 am should be comforting.  I don't really mind, other than what am I supposed to be doing at 5 am in the morning?  Another hour or two of sleep is a welcome gift when available.  I have always operated best from dusk to dawn.  No 5 am wake ups in the winter for me.
Canada has it all.  It's just a different version of "all" depending on where one resides.  In South Western Ontario we await the three H's: Hot Hazy and Humid.  Some love it, some hate it, there isn't really a middle other than tolerating it as we do.  Life is a lot better on the Great Lakes during our few weeks of high humidity.  Living in and amongst Lake Huron and Erie, our summer climate is always variable, making sleeping while sweating a learned skill.  Nasty, but it builds character, like freezing rain and whiteouts!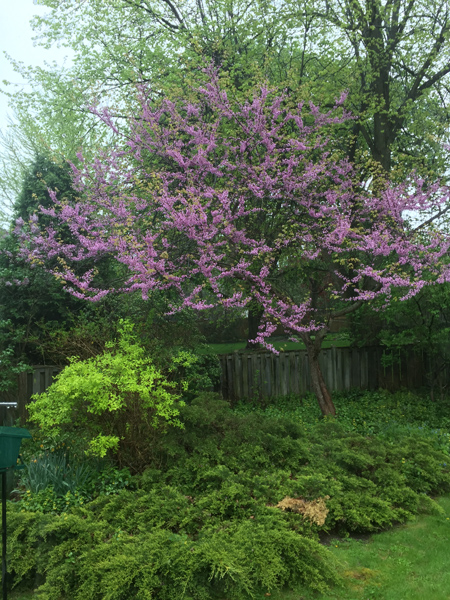 Spring gets more incredible as you age.  Maybe it's taking the time to appreciate all the colours and the now green textured trees that seem like they have been brown forever.  I prefer the humidity to the grey/brown combo in my winter season backyard.  The saving grace to winter, and maybe when you realize that we are not alone, is the fresh blanket of virgin snow ready to greet you in the morning.  
1960's back yards with the cheap woven chairs and saucer BBQ's from Canadian Tire is how many of us grew up.  Spray on some OFF and grab yourself a corn on the cob and a fully cooked burger.  Life was simple and great.  We could see all our neighbours and even hit golf balls in non-fenced backyards.  2022 brings us with fences, patios, pool houses with full kitchens, hot tubs and stand up bars with TVs with incredibly manicured back yards.  Both are nice, but in very different times.
Gardening is such a rewarding pastime.  I have found it to be a physically reliable friend willing to match my efforts with incredible beauty.  I asked my mother-in-law many years ago about a plant that I was considering to plant.  Her steady advice of "plant it and see what happens" is advice I have since held.  Transplanting perennials is the fun part, which is what we were happy to do moving into the city from the country.
I enjoy listening to Canadian female singer songwriters: k.d. lang, Sarah Harper, Kathleen Edwards, The New Lovelies, Emm Gryner, Sarah McLachlan.  When I started buying albums, the options were pretty narrow for that genre.  Thank you Joni Mitchell for setting the bar so high. Kathleen Edwards is an interesting gem, having opened for both Dylan and the Rolling Stones.  Her debut album "Failer" (2002), continues to please.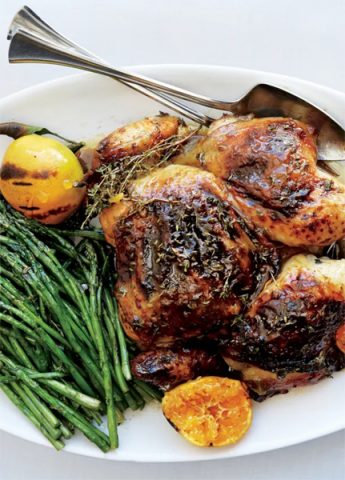 How does roast chicken with rhubarb butter and asparagus sound?
Both rhubarb and asparagus are now in season and locally grown, plentiful until the end of June.  Rhubarb doesn't get a lot of respect in the garden and is mostly seen as a nuisance or weed.  Its best grown in the back 40 aside the barn.  Childhood memories of discovering it by a barn and taking my first sour bite are still vivid. 
Since that day an offer of a piece of strawberry rhubarb pie is yes.  For the bakers in the crowd, add THIS rhubarb crisp to finish your meal with a smile.
The Pimm's Cup is a traditional favourite and the drink of Wimbledon.  Try a classic summer drink served with a stalk of rhubarb with THIS version.
This week Larry Gagosian purchased Andy Warhol's "Shot Sage Blue Marilyn"  for $195 million, one of five versions in different colour schemes that Warhol painted in 1964, two years after Marilyn Monroe's death. (see FB post below)
Quote by Andrew Fabricant, COO of Gagosian Gallery:
"This shows that quality and scarcity are always going to push the market forward"
Have fun, stay safe,
Michael Gibson
---
New Video for Dil Hildebrand
To accompany Dil Hildebrand's current "10 Year Survey" at the gallery, we have produced a short 6 minute documentary video.  The enhanced visual experience highlights many of the paintings and provides insight into Hildebrand's unique process.
Narrated and written by Toronto curator Tatum Dooley.
---
Celebrating the Lushness of Spring
As the lushness of Spring emerges around us, we celebrate the freshness and verdant luxury that Doug Kirton, Dil Hildebrand, Jonathan Forrest, Michael Smith and Susan Dobson create.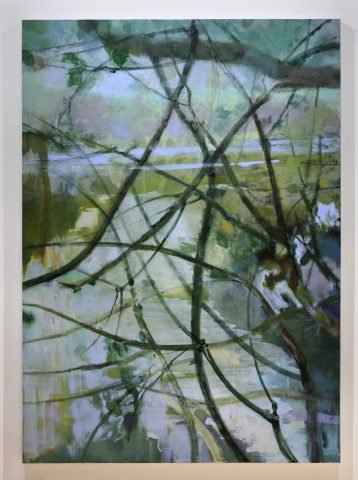 Doug Kirton "Loomers", Oil on Canvas, 2020, 79 x 59 in.
In Doug Kirton's meditative canvas "Loomers", the lushness is thick in both colour and light.  As dusk descends, we can feel the moist, humid air, surrounding us in a restful calm.  The painting shelters us, transporting us to another world.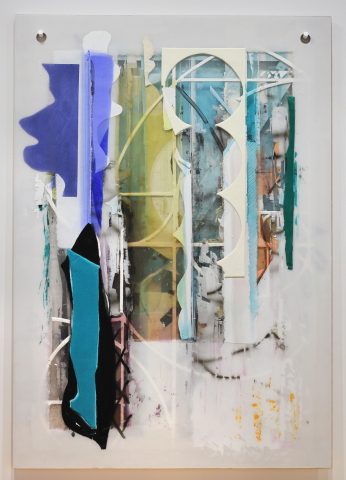 Dil Hildebrand "Nothing half so much worth doing", Acrylic, nylon fibre, epoxy and paper on acrylic panel, 2018, 70 x 49 in.
Dil Hildebrand's adventurous paintings are complex explorations that reference both abstraction, architecture and the body.  By combining multiple layers of painted plexiglass, Hildebrand creates an illusionary space that we are invited into, a world filled with patterns, intense colour and varied texture.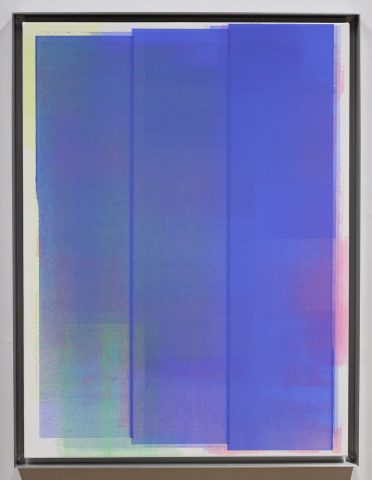 Jonathan Forrest "Unfolding Blue", Acrylic on Canvas, 2020, 32 x 24 in.
Though Jonathan Forrest's abstract paintings follow a strict Modernist doctrine, I always feel that the moments from his everyday life have to influence certain decisions.  The crisp, cool blue in "Unfolding Blue" reminds me of the ocean with colours of the sunrise or sunset peeking through from below.  Luminous in its layers, the painting hums with life and freshness.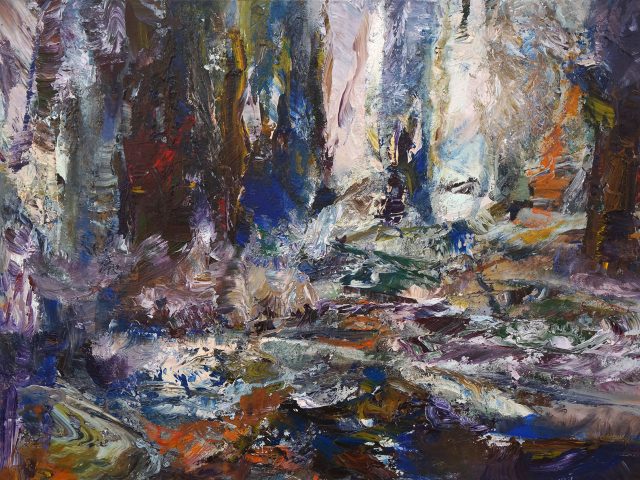 Michael Smith "Spirit Level II", Acrylic on Canvas, 2017, 36 x 48 in.
Michael Smith paints for us a powerful, immersive experience where we are drawn into his abstracted landscape paintings.  In "Spirit Level II", light and shadow dance around us as we navigate our way through a dense, forrest path.  The abundance of freshness is compounded by Smith's bold colours and energetic brushstrokes.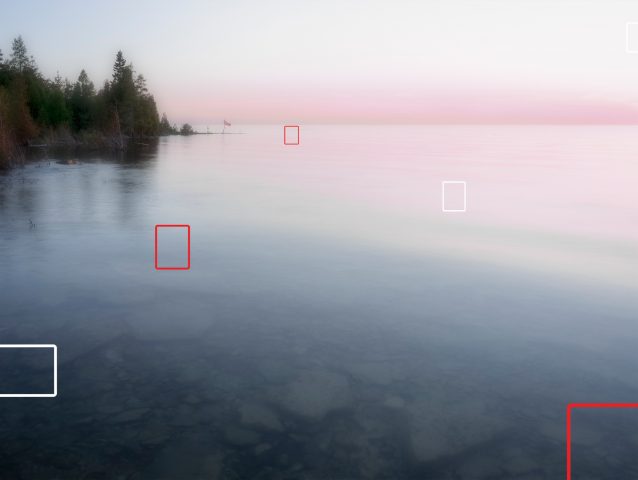 Susan Dobson "Private Property", Archival Pigment Print, 2020, 35 x 46 1/2 in. Edition of 5
In the summer of 2020 Susan Dobson escaped to Lake Huron to work on her most recent photographic series.  Through the photographs, Dobson focuses our attention on the act of looking.  From the distant Canadian flag to the natural limestone underwater, Dobson captures a beautiful and serene environment that we all yearn for.
---
Connect with Us

Recent Facebook Post
Inside Christie's Record-Breaking $195 Million Andy Warhol Sale. Read HERE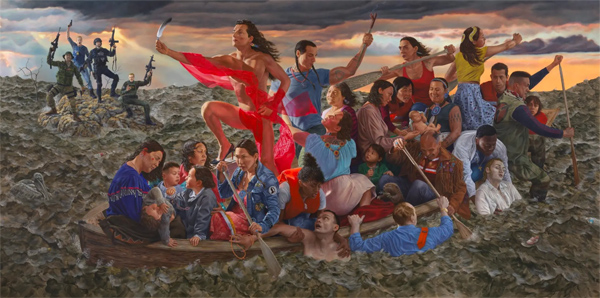 Recent Twitter Post
Watch 6 short videos on 6 groundbreaking Canadian artists on TVO Arts.  Watch HERE