My writing music today is the forever upbeat Prince "Musicology" and a new downbeat find by The Canoes "Luxury Lines".
This week Canada lost an artist who I respect very much and met on my first trip to Winnipeg.  We hoisted too many beers together at the Fort Garry Hotel bar and then went out into the cold to look through the library window to see his new installation.  He was in our "West of Wawa" 2002 exhibition, which was the result of my Western travels.  Rest in peace Cliff Eyland.  Thanks for being real.
Today the beautiful cumulus clouds overhead compliment the ultra blue sky. Warm but not too hot.  A California kind of day.  I had two downtown friends knock on the door wondering how I am doing.  I joined them in the sun on the sidewalk, both really enjoying the company and sharing survival stories.  It felt like coming back from summer holidays without the hugs.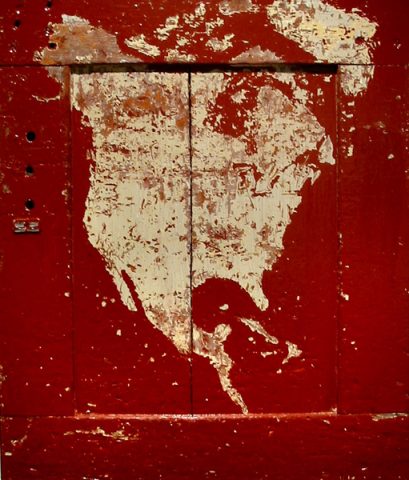 The mental side of Covid is so important to keep a vigilant focus on.  How do we connect when it's forbidden?  Standing outside with someone we enjoy is just human nature for us.  I have been lucky to build so many relationships through my 'retail' business.  We host openings and attend art fairs and meet interesting people who mostly are like-minded from many different background and occupations.
At our first New York art fair in 2002, the opening gala aisles were packed and there was a ton of energy in the building.  During this chaos I met a very distinguished man who was taken by a Clint Griffin world map piece that we had in our booth at $300.
Being a little green, I wouldn't negotiate on the price and his response was "thanks but no thanks" and suggested that I have an enjoyable evening.  At the end of the night, as the crowds were exiting the fair, I spotted my navy-blazered man from earlier.  My instincts lead me to now suggest that I could be negotiable on the price.  He smiled and said "ok, follow me".
We were soon in the parking lot beside his expectantly cool Audi A6 Allroad.  He popped the trunk and reached into his leather bag and low and behold out came $100 US bills. He peeled off the suitable amount and offered his right hand to shake and the deal was consummated when I gave him the artwork. Very cool indeed. I was doing business in NYC!  And, yes, all appropriate taxes were paid.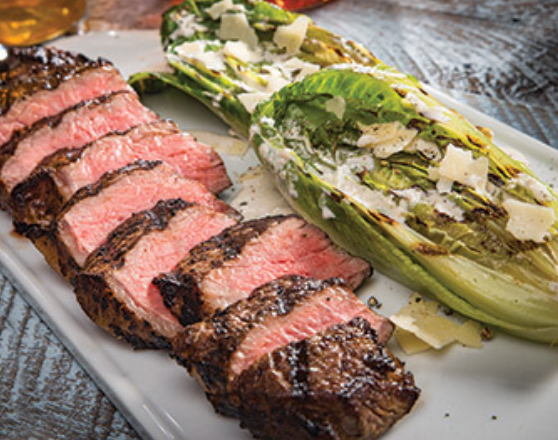 He proceeded to invite me to join his friends for dinner and we were soon heading south on the West Side Highway into Chelsea to the iconic Odeon Restaurant.  It is a dark bistro formerly frequented by Mr. Leo Castelli and his artists etc… etc…
My mystery negotiator turned out to own an art gallery in New York and we continue to do business together to this day.
At the Odeon, I ordered the Steak Frites and naively agreed that the wine choice was excellent!  It is not a very healthy meal – butter on top of steak with fries.  My current home version is to BBQ a thick ribeye (or similar) to rare, add gorgonzola to the top and broil.  Fries are a great addition but hard to do as well as most restaurants.  I like a caesar salad on the side and to bring out the heavy Cab or Zinfandels.  HERE is a tasty sounding casear and steak recipe that I am going to try myself.
Jazz in New York is like Dark and Stormie's in Bermuda, it's the thing to do.  A very special New York jazz venue is Dizzy's Club situated 5 stories above Columbus Circle. Behind whoever is playing that night are soaring windows overlooking a lit Central Park.  If Billie Holiday could be there singing "Solitude" from 1956, the day would be perfectly complete.  Let's meet there when they re-open!
We have all spent a lot of time surfing the net recently to help fill our days. This week I came across Far Out Magazine from the UK.  Their headers are Music, Film, Travel, Art and Sound.  The complete "Stop Making Sense" (1984) concert film by The Talking Heads, directed by Jonathan Demme is available.  Not for everyone, but for the ones who will enjoy it.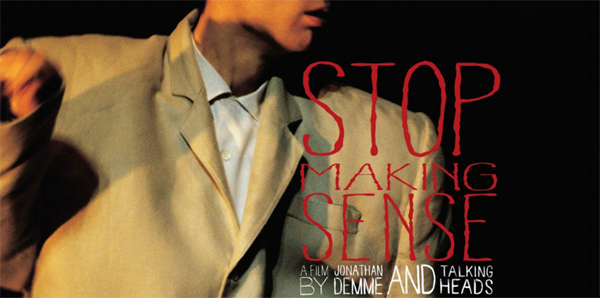 A quote from Coretta Scott King:
"The greatness of a community is most accurately measured by the compassionate actions of its members."
Stay safe, have fun,
Michael Gibson
Footnote: A number of years ago, David Bryne came into our booth at Art Toronto and I recognized him immediately.  He spent quite a bit of time looking at our Aganetha Dyck beeswax sculpture.  After maybe 5 minutes I approached him.  His eyes met mine as he nodded.  I returned his nod and said, "thanks for the music" and David sauntered off.  And that was it.

---
Artist Highlight – William Perehudoff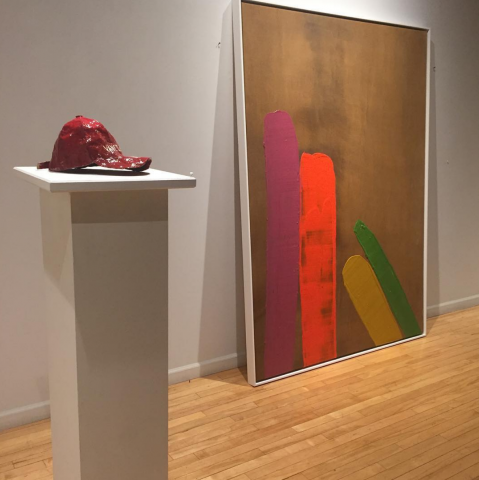 In November 2018 we received this incredible 1984 William Perehudoff painting from the Estate.  "AC-84-71" represents Perehudoff's classic colour-field style of bold colours placed on a solid colourful ground.  Promoted at the time on our Instagram page, it sold quickly and was shipped out west the following week.  Michael took the photo spontaneously with Gathie Falk's papier-mache baseball hat in the foreground.  Our gallery has always strived to be nationally recognized, supported by our first website in 1996.
View More William Perehudoff Paintings HERE
---
Thank you Jonathan Forrest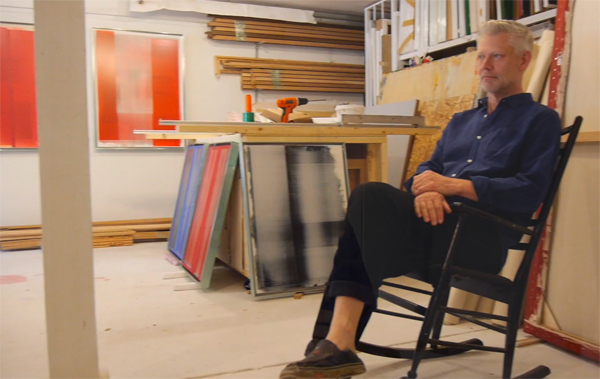 "Keep On Keeping On" Ends Saturday, May 30
Thank you Jonathan for a seriously beautiful and successful May exhibition!
I came across a 2001 interview between artist Sky Glabush and Jonathan Forrest this week and found that the discussion is still relevant today.  Originally published in Mendel Art Gallery's "Folio Magazine", Glabush and Forrest talk art, Saskatoon and taking risks.  Read Interview HERE
One more week to see Jonathan Forrest's must-see exhibit in person.  Book an appointment HERE.
---
Two New Exhibitions Beginning on June 4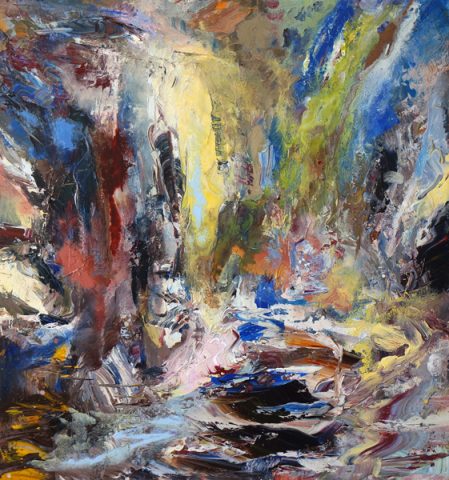 Michael Smith — "In Light of Time"
For our 6th exhibition with Montreal painter Michael Smith, we will be exhibiting a curated survey of canvases ranging in date from 2014 – 2020. Included are seascapes, landscapes and a dynamic new triptych and tondo.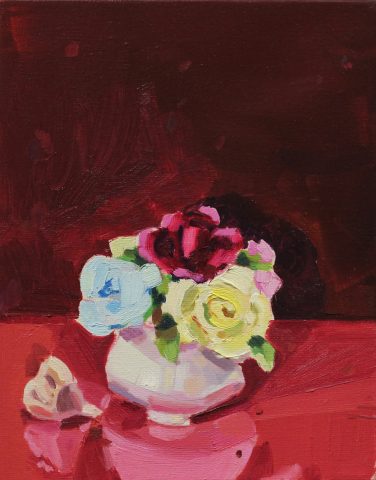 Keiran Brennan Hinton — "A Broken Clock is Right Twice a Day"
The 14 small canvases included in Brennan-Hinton's show are  immediate observations of his surrounding environment.  Painted between March & May 2020, the jewel-like paintings record the changes of Toronto's night sky and intimate moments from his daily life during Covid-19.
---
Connect With Us

Recent Instagram Post
Hans Wendt watercolours are incredible to live with. #michaelgibsongallery #hanswendt #williamperehudoff #grahamcoughtry

Recent Facebook Post
The Art Canada Institute just released an excellent email on "Why We Love Greg Curnoe's Art".   He loved the local. He re-mapped North America. He confronted Cultural Imperialism…. and more. Read HERE

Recent Twitter Post
Determining the best time to sell art from your collection.   Read HERE