Today, Michael is not writing as he is away with his family on a much deserved holiday.  I, Jennie, cannot write while listening to music and do not have a trove of experiences to draw upon like Michael, but I do have a missive or two that I can share.
In 2019, to commemorate turning 40, I decided to walk the Camino de Santiago, a 800km pilgrimage from St. Jean Pied de Port in the south of France to Santiago de Compostela near the west coast of Spain.  This centuries old walk follows the path of St. James through the La Rioja vineyards, beautiful cities like Pamplona and Burgos, past Templar castles, picturesque villages and the lush landscape of Galicia.  Purchase a plane ticket and some comfortable hiking books, strap on a backpack and follow the yellow arrows to the end.
My intention was to have a holiday, spend time in nature and embarrassingly take some time away from the art world.  Ironically, I learned about the Camino from a painting – a Colin Muir Dorward portrait of a pilgrim brimming with Christian icons.  To learn more about the artwork I started researching and got sucked in.  Without even really asking (sorry Michael), I booked a 5 week "holiday" for April.  Honestly, how hard could walking be?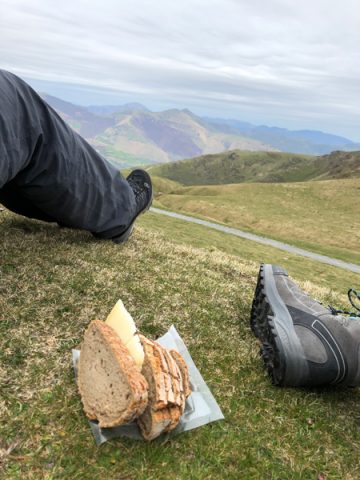 I started on a Sunday along with my new sturdy looking German friend Jana, who was probably 20 years my junior.  Not heeding the wise French man's advice from the night before to "Go. Slow!", we walked 25 km on the "The Napoleon Route" over the Pyrenees Mountains in record time.  Four days later at that pace and I could not put weight on my left foot.  Lesson learned.
With my grade 1-9 French and the 10 words of Spanish that I knew, a kind samaritan helped me to an ER where, not surprisingly, they told me that I had tendinitis and should employ RICE (rest, ice, compression, elevation).  Resting on day 4 seemed a bit indulgent, but I took their advice and a bus 2 stages ahead of my fellow peregrinos.  People at home suggested I give up, go to the Bilbao Guggenheim or find a nice beach somewhere to have a more "normal" holiday.
Somehow though, looking back, I never thought about quitting or even doubted that I wouldn't be successful at reaching Santiago.  I bought a new pair of hikers and started walking again in Logrono with 2 much older gentlemen, who walked very slow with their walking sticks, drank a lot of coffee and told dirty dad jokes to distract me from pain and to pass the time.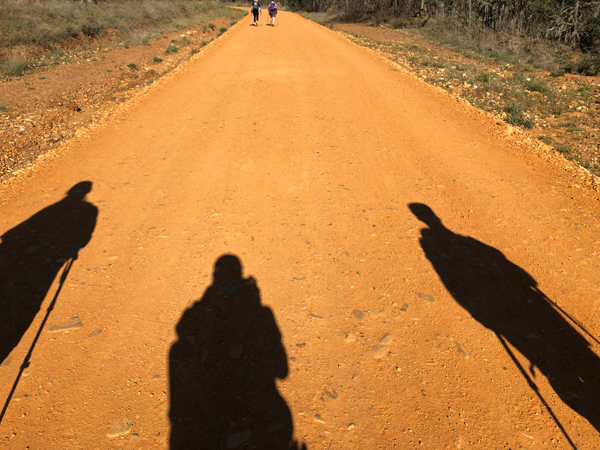 I learned that long distance walking is very different to backpacking through Europe.  With backpacking, people are moving in various directions, whereas, on the Camino, we were all walking the same path, in the same direction, just at a different pace.  Moving from East to West, we always had the sun at our back, casting our shadow on the ground, a constant reminder of our phyisical presence on the earth.  Metaphors were always dripping from everywhere, you just had to take the time to notice.
The generosity of humanity, kindness of strangers and strength of the human spirit to endure pain, but to keep on going to the end, is something that I will never forget on my 32 days on "The Way".  The simplicity of only carrying whatever you need really allows your mind to think, dream, wander, wonder and believe.  The natural beauty around you also doesn't hurt.
The music selection this week comes from Michael who sent me this Miles Davis album on Day 21 of my walk.  "Sketches of Spain" (1959) is haunting and mysterious, with Miles' trumpet evoking the atmosphere of flamenco and rhythm of Spanish folk music.  The perfect soundtrack for enjoying endless landscapes.
The Spanish director Pedro Almodovar has been a long-time favourite for his visually colourful, family-driven, emotional narratives with strong female characters.  One of his frequent collaborators, the glorious Penelope Cruz, is brilliant in both "Volver" (2006) and "Pain and Glory" (2019).  My first choice, would be "All About My Mother" (1999), a moving exploration of the meaning of motherhood.  HERE is a list of his top 15 films.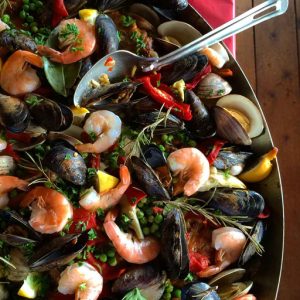 Though typically from Valencia, Paella is a classic Spanish dish that combines shrimp, mussels, chorizo and chicken with rice, saffron and veggies.  THIS Cooks Illustrated adapted recipe looks like it has a lot of steps, but is very easy, if you take the time.  Bomba rice is the best.
Pair your vibrant Paella with a lively Albarino, a white wine from Galicia, Spain that we embraced perhaps a bit too enthusiastically.
Quote from a "Positive Thought for Each Day" offering at a church in Hontanas, Spain (Day 13):
"Success is getting what you want.  Happiness is wanting what you get."
Have fun, stay safe,
Jennie Kraehling, Associate Director of MGG
---
Gathie Falk – New ACI Book & Exhibit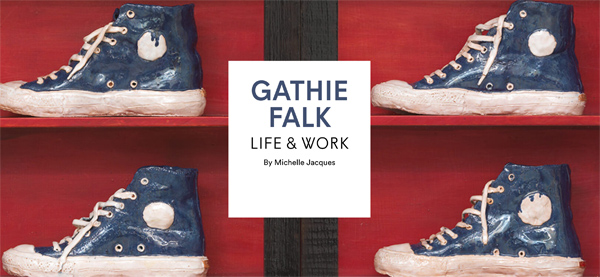 Gathie Falk "Still Life"
May 27 – June 25, 2022
In honour of Gathie Falk's new Art Canada Institute book release this week, we have curated an exhibition in our middle gallery celebrating Falk's interest in still life and the intimate moments from her everyday life.
Along with a selection of still life paintings dating between 2009-2020, we have included two rare, early ceramic sculptures from her "piles" and "picnic series".
Click HERE to view Gathie Falk exhibit at MGG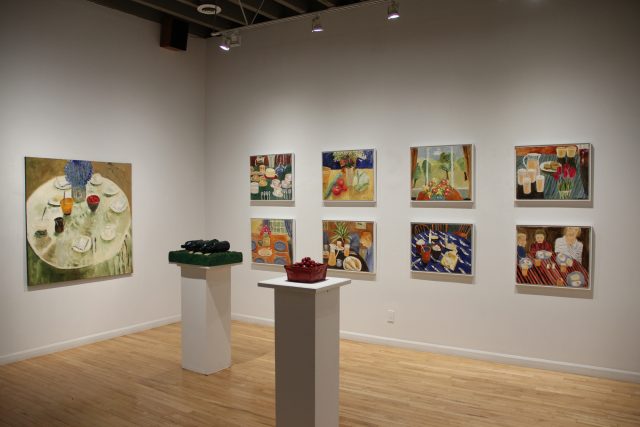 ---
Now Representing the Estate of Tony Urquhart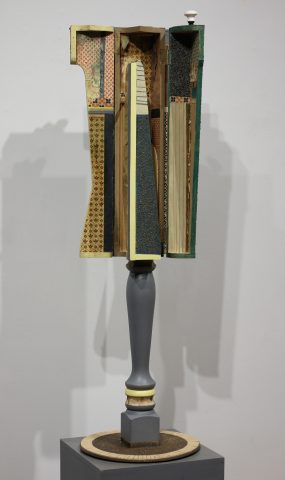 Tony Urquhart "Chalice", Mixed media box sculpture, 2011
73 1/2 x 13 1/2 x 8 in.
We are pleased to announce that the Michael Gibson Gallery now represents the Estate of Tony Urquhart (1934-2022).
Urquhart was a pioneer of abstract painting in Canada, joining the Isaacs Gallery in 1956 and developing a unique practice that did not fit into any set style or school.  Known for his lush paintings, meticulous drawings and "box" sculptures, Urquhart's images reference the landscape, architecture and religious art.
Our upcoming Fall exhibition will focus on Tony's iconic "box" sculptures and supporting drawings.
Click HERE to view more Tony Urquhart Artworks

c
Tony Urquhart "Cill Rialaig", Pen & ink & watercolour, 2002, 3 3/4 x 11 in.
---
Connect with Us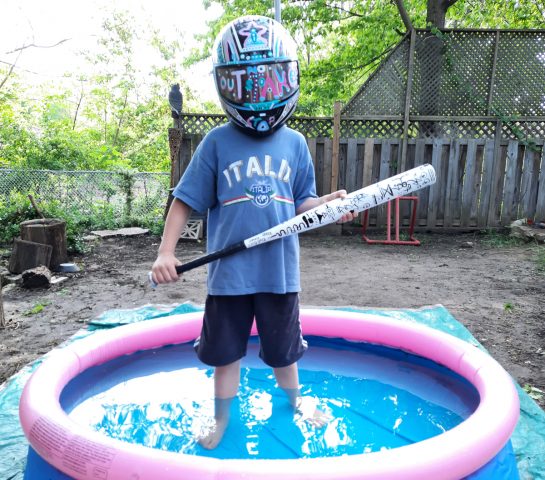 Recent Facebook Post
Jason McLean's "Dad Club" exhibition at Gallery Stratford opens on Saturday, June 4 from 1-4pm.  More info HERE

Recent Twitter Post
For Wordle lovers, try Artle, a daily visual guessing game created by the National Gallery of Art in Washington.  Play HERE