This is our 12th version of me sharing my memories or maybe just encouraging escapism in the Spring of 2020. Absorbing or ignoring the daily news is equally difficult. Ignoring seems to be more popular. I didn't foresee the impact on such a personal level. We are thinking of you and are transcending happy thoughts. Tough can be good.
Sitting down to write today I have no specific plan, but putting on Steely Dan's first album "Can't Buy a Thrill" is helping. Recorded in 1972, it is very much in my sweet spot of memories. I actually remember buying the 8-track rather than the album. 8-tracks were so great, especially for long trips in the 70's.
In 1976, just after Christmas, I was on the road heading towards Coconut Grove, FL, in a 1972 Ford Capri with a very close buddy anchored beside me. We were in a kind of convoy, accompanied by 2 other friends' vehicles. All of us had walkie talkies to communicate with each other. "10-4 good buddy"!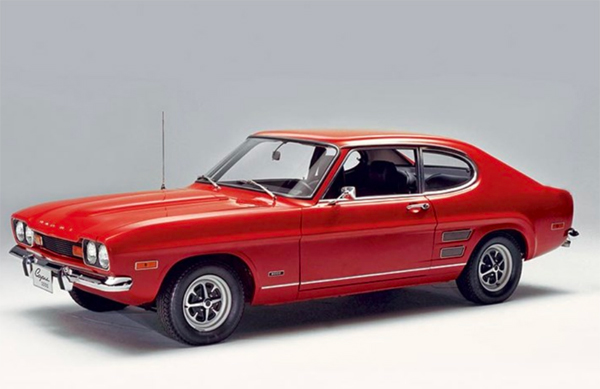 With our sporty V6, we lost all contact with anyone in short order. Inserted in the 8-track player was The Beatles "White Album" on what felt like continuous play for the 20 hours (12 times!) it took us to get there.
Our eventual destination was a Columbia 41 sailboat for a week charter, paying $125 each. We ended up spending the whole week on the dock in Bimini, Bahamas discovering Harvey WallBanger's et al and making memories. The first of many great trips to the Bahamas with the same friend.
I bought the "White Album" in 1968 when it first came out. I remember hanging the accompanying 4 colour photos of each of The Beatles up on my teenage bedroom wall. In hindsight it might have been my first instinct to collect something that I really liked, but also felt it would become a keepsake.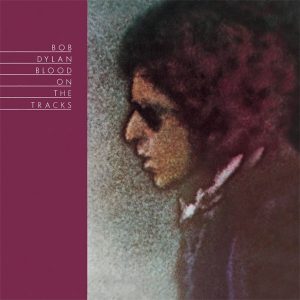 I have always really loved this album and the way the songs are linked together with great musical vision. Opening with "Back in the USSR" to "Dear Prudence" followed by "Glass Onion"…. a McCartney song followed by two Lennon's. Written mostly when they were hanging out in India learning about Transcendental Meditation, the only available instrument to them was the acoustic guitar. Joining them was Mia Farrow and Donovan, who apparently taught John how to finger pick his guitar.
Bob Dylan turned 79 this past Sunday. Soon after opening my gallery in 1984, I decided that I should give Bob a try and buy one of his CD's. I walked over to Dr. Disc and asked an artist friend if she could have one Bob Dylan album, what would it be? Her quick response was, "Blood on the Tracks would be a good place to start". Looking at the my iTunes library today, I have 36 Dylan albums ready to destroy any great party at a moments notice. (lol)
THIS is a very good site for Dylan fans. Bob has been on the road continually since June 7, 1988, averaging a world-wide performance every 3 days for 30 years. Only Covld-19 has been able to end this phenomenal run.
Being a bit of DJ for the gallery and home parties I have always enjoyed making playlists. My first attempts were cranking them out on cassettes directly from the radio. My playlists now take into account pre, during and post dinner. When it works, it is amazing how seamless it can be to create a mood for the evening.
The closing song on the "White Album" is McCartney's "Good Night". If you hear it played at a gallery opening, it is time to say "bye, bye".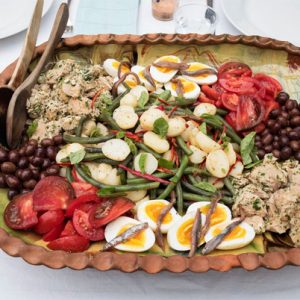 Salad Nicoise is the opposite choice for when you are staring down a menu that includes Steak Frites. I served this deconstructed version of Salad Nicoise by Fanny Singer on Mothers Day to a great response, even from the kids. Easy to serve on a picnic or at a cottage. HERE is the link to this simple pleasure.
Alfred Hitchcock's "To Catch a Thief" (1955), starring the dashing Cary Grant (age 51) opposite the delicious Grace Kelly (age 26) is set on the French Riviera (near Nice). Salad Nicoise is on most menus in the South of France and could easily be served in this movie. Enjoy while watching this beautifully romantic and lighthearted Hitchcock movie.
Footnote: The British artist Richard Hamilton designed "The White Album", including the glossly white cover and embossed lettering of The Beatles. Coincidently, chef Fanny Singer has a PHD on the artist Richard Hamilton.
Here is an Alfred Hitchcock (1899-1980) quote on youth:
"I am pro-young. I wrote my first script at the age of 22 and directed my first film at 25. So I'm for the young. And when people today say I'm 70, I say that's a confounded lie. I'm twice 35, that's all. Twice 35."
Stay safe, have fun,
Michael Gibson
---
Michael Smith Opens This Thursday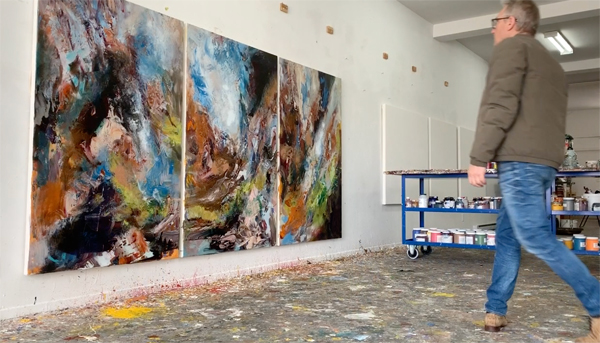 Michael Smith
"In Light of Time"
June 4 – 27, 2020
My first memory of Michael Smith's paintings was at Museum London in an 2000 exhibition curated by Laura Millard titled "The Single Tree". Our first solo exhibition with Michael was in 2003.
I have enjoyed his company very much over the years while in Montreal where he lives with his partner and painter Lorraine Simms. He and Lorraine have great taste and are an awesome source of what to do while in town. When you work with an artist for so many years (who we share with several very good galleries), there is balance that is required. Mike and I both believe that each other are very good at what we do and we trust the outcome.
Our June exhibition was curated during Covid-19 and focuses on dynamic paintings that represent Smith's consistent practice. Along with lush landscape paintings, we are exhibiting 2 very recent large tondos accompanied by a major 2020 triptych.
Michael Gibson
Keiran Brennan Hinton – Now Online

Keiran Brennan Hinton
"A Broken Clock is Right Twice a Day"
Ends June 27, 2020
We met Keiran in his New York studio on FaceTime in January of this year. We were aware of his paintings and felt it was time to see if we could work together. Fast forward to mid March where he was self-isolating in his Mom's apartment in Toronto painting a series of small domestic paintings and night paintings from her apartment balcony.
I was immediately excited at the possibility of having an exhibition painted during the early days of Covid-19. Happily, Keiran agreed and certainly has risen to the challenge with this suite of 14 intimate paintings that we now have hanging in our middle gallery. Keiran is our first Yale grad and hopefully not our last.
An exhibition catalogue with essay by Tatum Dooley will be forthcoming. Click HERE to be sent a copy of the online catalogue when available.
---
Artist Highlight – Mark Dicey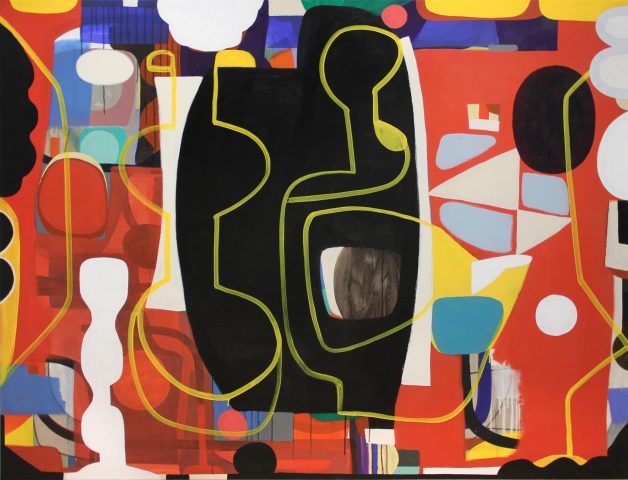 Last July we had our first solo exhibition with Calgary abstract painter Mark Dicey. Using the history of abstraction as his jumping off point, his paintings are layered explorations in colour, shape, form, texture and line. There is a visual rhythm to his paintings where he both hides and reveals, tempting our eyes to discover each painting new each viewing.
This large canvas, "2518-V-18", which hung across from my desk, is a virtuosic example of his work and a joy to live with.
View More Mark Dicey Paintings HERE
---
Connect with Us

Recent Instagram Post
New arrivals are all looking very handsome together. Michael and Keiran open June 4, Jonathan continues. @instamike1924 @keiran.brennan.hinton @forrest.jonathan #jonathanforrest #keiranbrennanhinton #michaelgibsongallery #cdnart

Recent Facebook Post
How Three Art Collectors Have Adapted Their Habits During Quarantine. Read HERE


Recent Twitter Post
23 Top Collectors, Artists, and Dealers tell us about the artwork that is keeping them inspired at home. Read HERE