Unlike Jennie, I am writing while listening to the often played Bruce Cockburn album "Dancing in the Dragon's Jaws" (1979).  Bishop's introduced me to Bruce when he performed there promoting this solo album.  Another reason to play the guitar.
While living in the art world for the past few decades, we have met many very interesting and successful people.  Commonalities that I think each share are their lifestyle and kindness.  No two collectors are alike in reality.  I am sure they are grouped for marketers by education, income and street address, but that will not be successful in finding a true curious art collector.  I would instead aim at racquet sport lovers, patrons of live music, art fair enthusiasts and world travelling book collectors.
Having a summer place to escape to is likely also a commonality art collectors share with many other Canadians.  Either renting or owning, hiking or canoeing into our vast wilderness during the next 3 months recharges our batteries for next winter.  Our family for the past 10 years have enjoyed a sailboat docked in Bayfield as our escape.  Cast off or go to the beach are the kind of decisions that I enjoy making, when in reality the volatility of Lake Huron usually makes them for us.  Those of us who grew up around water all have had a few harrowing stories of the time we were 'out' and should have been 'in', either the harbour or the cottage.
Over the winter we sold "Sleeper II", our 1973 C&C 27 and purchased a Nonsuch 26.  Two very different sailboats.  The Nonsuch just provides a much better quality of life to enjoy.  There is also an interesting business connection.
George Cuthbertson (mechanical engineer) and George Cassian (aircraft designer) were unemployed following the demise of the Avro Arrow and formed C&C Yachts in 1961 in Oakville, ON.  Soon after, George Hinterhoeller of Hinterhoeller Yachts became a partner.  In 1975 George Hinterhoeller, who had since sold his shares in C&C and designer Mark Ellis, also from C&C Yachts, both joined forces to create Nonsuch in Niagara on the Lake upon the request of Toronto businessman and sailor Gordon Fisher of RCYC.  They built and designed close to 1000 Nonsuch's from 1978-1989 stretching from 22′ to 45′ as well as the classic and successful Georgian Bay Limestone boat for Fred Eaton.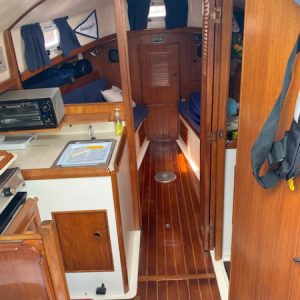 Our new 1983 Nonsuch 26 is named "Kindred Spirit IV".  The master craftsman Mark Ellis designed the raised roof coach house and organized the space below with great care, making the space more comfortable.  For the two of us, it will be a nice treat to have a cruising boat rather than a racer.  I am visual by nature and the "lines" of the Nonsuch have taken me some 30 years to fully appreciate.  When we launched this past steamy Tuesday, the previous owner from Kingsville, was kind enough to come and help and actually enjoy our first sail that afternoon.  His shared information was very important because the Nonsuch is a different animal to sail than a C&C.
Herbie Hancock was the keyboardist in the Miles Davis quintet before his solo career.  The album cover design for his "Maiden Voyage" (1965) features a catboat, a Sunfish that we used to sail as kids, which seems appropriate.
The cover design is by the infamous Reid Miles who created most of the Blue Note record covers. The album is a solid 5 stars, producing several jazz standards including, "Maiden Voyage", "Dolphin Dance" and "Eye of the Hurricane".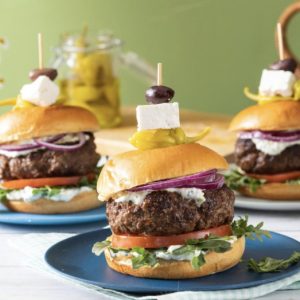 June brings us an endless list of available seasonal vegetables in SW Ontario.  I have grown to favour simplicity and to leave more out than to add in, believing that a green salad should be green.  THIS easy kale salad with lemon dressing is simple to make and therefore easy to enjoy.  Add some yellow corn and maybe it's time for a lamb burger?
The documentary "Marianne and Leonard: Words of Love" (2019) on Netflix follows the love story of Leonard Cohen and his muse Marianne Ihlen of "So Long Marianne", who he met on the Greek island of Hydra in the early sixties.  The story is that Leonard bought his Greek house with a Canada Council grant.  It is an entrancing doc set on a beautiful island and peels back the layers and career building of Leonard Cohen.
Interestingly, when they were both terminally ill they exchanged love letters: "Well Marianne it's come to this time when we are really so old and our bodies are falling apart and I think I will follow you very soon.  Know that I am so close behind you that if you stretch out your hand, I think you can reach mine.  And you know that I've always loved you for your beauty and your wisdom, but I don't need to say anything more about that because you know all about that.  But now, I just want to wish you a very good journey.  Goodbye old friend.  Endless love, see you down the road"  L. Cohen 2016
Quote by Johann Wolfgang von Goethe:
"Character is formed in the stormy billows of the world."
Have fun, stay safe,
Michael Gibson
---
Jack Bush Minutiae
Jack Bush detail "London #6" Acrylic on Canvas, 1973, 76 x 109 1/2 in. Sold for $289,250
Jack Bush detail "Swing Gay" Acrylic on Canvas, 1976, 47 1/8 x 67 in. Sold for $721,250
For your interest and information and upon reflection of Heffel's contemporary auction sale on Wednesday night, we want to share a couple of our thoughts.
There were two 1970s Jack Bush paintings up for sale, similar in style and year. "Swing Gay" sold for almost 3x its low estimate, while the much larger "London #6" was passed during the auction (and has since found a buyer for its low reserve).  We believed that "Swing Gay" would do very well because it screams Jack Bush, is a manageable size and has superior provenance.  "London #6" was darker and less lively and more challenging to place in a home.
These examples show us that there are paintings that obviously work well at auction, while others require a more nuanced approach.  Large paintings have a high propensity to suffer at auction.  The unsold / under-sold paintings are also now marked by that distinction since the exchange occurred in such a public place.
If you find yourself looking to de-accession important Canadian artworks please consider reaching out to us for our recommendations, which may include auction.
---
Two Exhibitions Celebrating Gathie Falk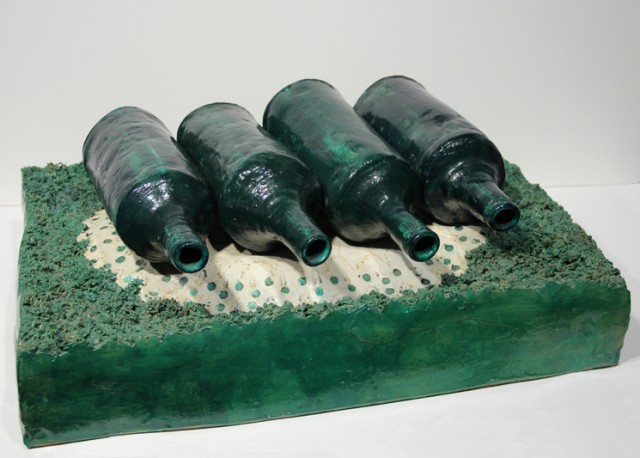 Gathie Falk "Picnic with Green Bottles", Glazed Clay, 1976, 20 x 15 3/4 x 8 in.
Gathie Falk "Still Life" @ MGG
Continues to June 25
To honour both the ACI's new online book on Gathie Falk and her upcoming retrospective opening at the McMichael Canadian Art Collection, we have curated a lively exhibition featuring Gathie's interest in everyday life.
Recent still life paintings and two early, rare ceramic sculptures are exhibited including her 1976 "Picnic with Green Bottles".  Originally from a performance where Falk staged picnics in strange places, each Picnic in the series combines an everyday object set on a thick slab of clay sod.  "Picnic with Green Bottles" includes four green empty bottles on a beautiful white doily set upon the thick green grass and was included in Falk's 1985 Vancouver Art Gallery retrospective.
Click HERE to View Gathie Falk "Still Life" show at MGG


Gathie Falk detail of "Eight Red Boots", 1973, Collection National Gallery of Canada
Gathie Falk "Revelations"
@ McMichael Canadian Art Collection
June 18, 2022 – January 2, 2023
"Gathie Falk: Revelations" explores the career of the legendary Canadian artist Gathie Falk.  Now 94, the retrospective will highlight the manifestations of Falk's rampant imagination as she has explored the disciplines of painting, ceramic, performance art and installation over the span of a half century.
Accompanied by a major publication.  More info HERE
---
Recent Consignments


Thaddeus Holownia "Middle Sackville", Photograph, 5 3/4 x 15 1/2 in.
New Brunswick photographer Thaddeus Holownia is known for his poetic observations of the environment and his interest in our human impact on nature.  His photographs capture an accumulation of moments – both in the subtle details and the vast expanse of the atmosphere.  Pricing & Availability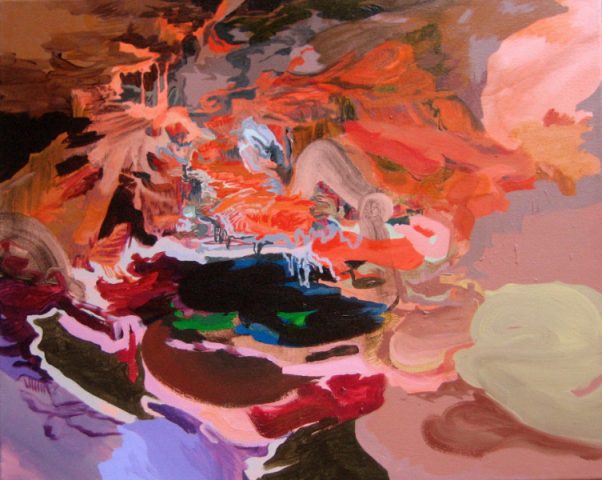 Melanie Authier "Halo", Acrylic on Canvas, 2007, 24 x 30 in.
Melanie Authier is known for her dramatic paintings that combine fantastical landscapes with the history of abstraction.  The energetic environment of "Halo" invites us into the imagined space through the sweeping gestures and charged colour.  Pricing & Availability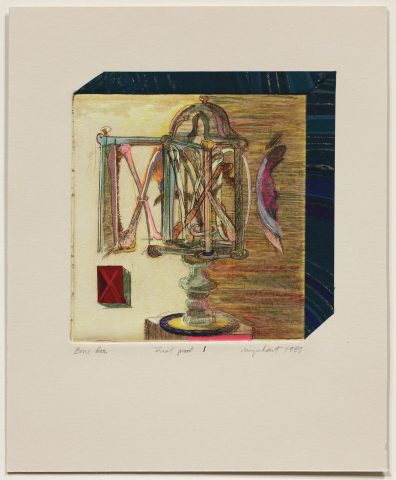 Tony Urquhart "Bone Box", Etching, 1989, 4 3/4 x 4 1/2 in.
Tony Urquhart transforms cultural and physical landscapes into complex boxes, magical environments that reference both architecture and artifact.  Intricately detailed, his sculptures, drawings and prints are unique miniature worlds.  Pricing & Availability
---
Connect With Us

Recent Facebook Post
Museum London's Sr. curator Andrew Kear interviews Jason McLean in this new video. Tour Jason's Pez museum, home and studio.  Watch HERE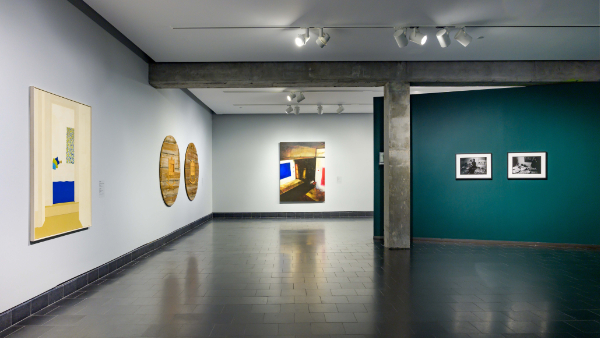 Recent Twitter Post
Kim Ondaatje's "Blue Bedroom" (far left) is included in the MMFA's new exhibit "Views of Within". More info HERE