Today I am writing while listening to The Beatles' influenced Canadian singer/songwriter Brandon Wolfe Scott's "Burden on Your Shoulders" (2020).
We are now entering the season of self propulsion: cycling, sailing, swimming and canoeing.  The Spring and Summer afford us with many options to "Just Do It".  It is a tough call for me to choose which activity that I enjoy participating in the most.  If I end up doing two of these activities in a day, it has been a good day.
Canoeing is the one I do the least, though not by choice.  Canoeing on Lake Huron is pretty much a precarious option to occupy your time.  We have taken many camping/canoe trips (Algonquin Park mostly) and have embraced all of the challenges it can bring.  When the weather behaves and you have managed to land a few brook trout for dinner, life can't really be much better. Alternatively, when you paddle all day into the wind and rain, arriving at the available campsite without dinner and the wood is wet, not so much.  Maybe this is why we do these sort of things.  The challenge tests our own resolve and one begins to understand what life is supposed to be about.
An East Coast cycling trip of Nova Scotia and crossing over to PEI brings similar challenges: incredible vistas combined with the agony of defeat.  Taking on an uphill section for an hour, fully loaded down with my provisions of tent, sleeping bag, food, clothes etc., I remember falling over in agony feeling that I couldn't do it.  Like skiing and so many other sports, you need to find a solution to finishing what you've started.  Taking on these kind of challenges is more fun with a solid partner to help convince you that we'll get there together.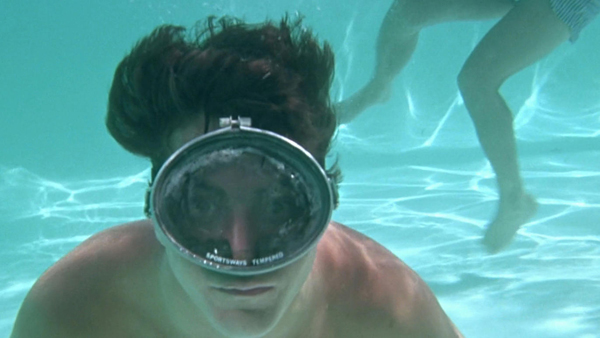 I enjoy being underwater probably more than I should.  Like Dustin Hoffman in "The Graduate", it's a place where no one can bother you.  I'd rather be in the water than really any other place.  A morning swim, sunset swim, off a boat swim, off a dock swim and going skinny are all the great pleasures awaiting us this summer.  The necessary elongation of your body combines speed with strength in the quietly sealed water environment that you're engulfed in.
On self propelled trips, weight is your enemy.  No beer, but scotch works.  Tinfoil looks after all the cooking needs.  If you're lucky enough to have caught fresh fish to cook on the fire, we like to add a few spices, sliced lemons and white wine if still available.  Wrap the fish in tinfoil and put it near the heat, not on (this also works on the BBQ). 
Try Poached trout with any or all veggies, also similarly poached, followed by a sleep that you would die for in the city.
Silence is golden, but sometimes quietly listening to jazz in the middle of Algonquin or Jasper Park is a calming exercise for the day ahead.  Listening to "Chet Baker, Chet" (1959) on the JBL pill while playing a few games of gin before the big sleep contains a certain joy of being self sufficient, away from all of life's conveniences.  I look froward to doing so this summer.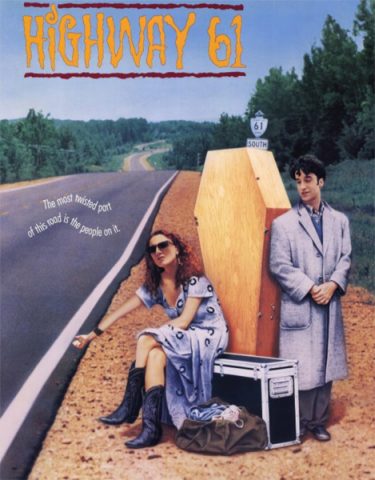 Back in 1991, we hosted Canadian director Bruce MacDonald's London film festival premiere of "Highway 61".  It was all pretty special with Bruce introducing the movie. 
Staring Don McKellar, who plays a simple barber working in Thunder Bay, the movie evolves quickly into his character driving a new female acquaintance down Hwy 61 to New Orleans.  The catch is that her dead "brother" is on the roof of the car.  A Canadian comedy for sure, eh?
Quote by the Dalai Lama:
"Our prime purpose in this life is to help others. And if you can't help them, at least don't hurt them."
Have fun, stay safe,
Michael Gibson
---
Upcoming Exhibit – MARK DICEY "Confluence"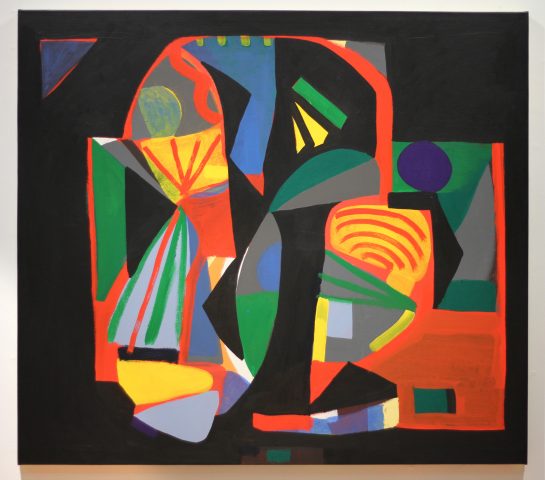 Mark Dicey "2647-III-21", Acrylic on Canvas, 2021, 48 x 54 in.
MARK DICEY "Confluence"
June 19 – July 24, 2021
This will be our second solo exhibit for Calgary abstract painter Mark Dicey.  Interested in the history of painting and specifically the development of abstraction, Dicey's paintings are an intuitive, interactive, performance where he responds to the marks, colours and shapes that he creates.
---
Last Week for ROLY FENWICK's "Images from the Home Well"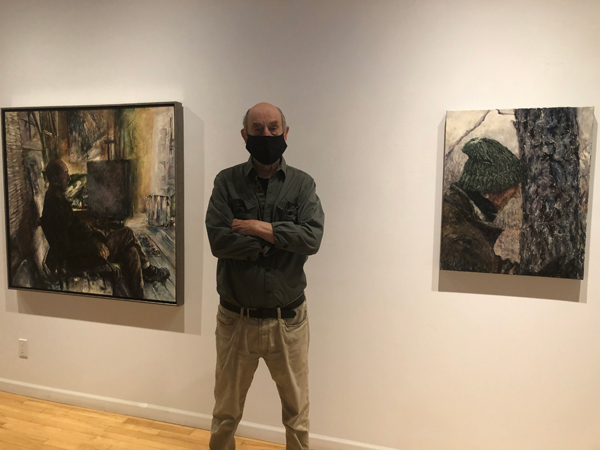 In 1978, a curator described Fenwick's figurative paintings: "the artist's perceptions of reality are closely identified with his everyday surroundings and his close family relationships…. He seeks to penetrate beneath the surface of ordinary appearances"
This statement remains true today as Fenwick does not paint idealized renditions of his sitters, rather he creates an emotional atmosphere filled with love, admiration and a studied gaze.  Thank you Roly for a meaningful exhibit!
Click HERE to view Roly Fenwick exhibit
---
Recent Arrival – New Jonathan Forrest's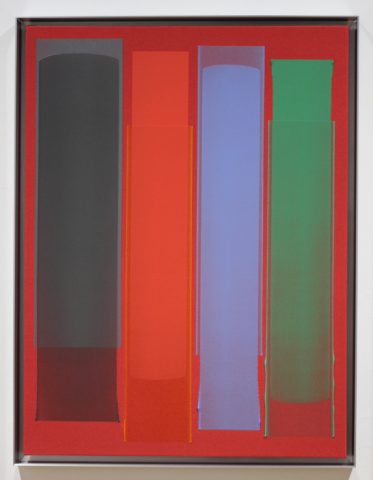 Last month a collector expressed interest in purchasing a pair of 32 x 24 in. abstract paintings by Jonathan Forrest.  Knowing that Jonathan had a small selection of paintings in his Nanaimo studio, we shipped him an empty crate and he shipped us back 4 colourful new 2021 canvases including "Four Cylinder" pictured at left.   It was a very happy exchange indeed!
Jonathan Forrest is currently working towards a career retrospective upcoming at the Art Gallery of Swift Current in Fall 2021.
View More Jonathan Forrest Paintings HERE
---
Connect with Us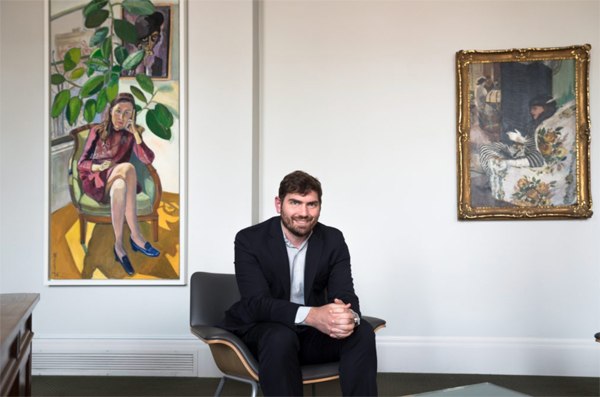 Recent Facebook Post
16 Museum Directors Show Us the Art That Hangs in Their Offices.  Read HERE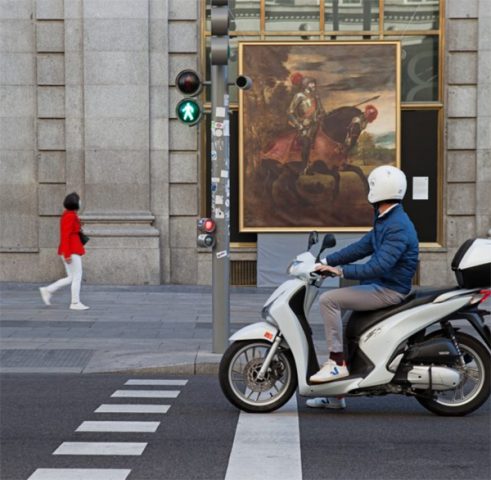 Recent Twitter Post
This is such a good idea!  The Prado Is Installing Replica Works by Goya, El Greco, and Other Old Masters From Its Collection All Over Madrid.  See Photos HERE