I am often asked about the art market and how business is. My experience is that art markets are resilient due to the loyalty of collectors. People that decide to collect art do so because it has become a true passion for them. Yes, there is a time to buy and a time to sell. Which one is it now? I personally believe now is a great time to make informed decisions towards building an important collection. Although buying art is like planting trees, planting today is better than tomorrow.
We are all spending a considerable amount of time at home with our art. How to improve your collection is worth pondering in this market. Not all art will benefit in this economy, but informed buying is certainly a worthy consideration for diversification.
I have had many people share their similar personal experiences on my musings on food, music, movies and always art. I had no expectation of connecting with those of my generation (born 1958), but it is immensely gratifying to know that I am not alone in what a few have called "my missives". If this is not for you, please scroll down to see images and videos of our 2 new glorious June shows.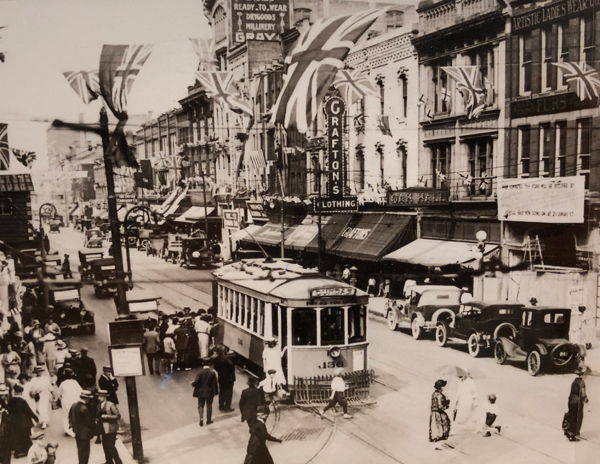 MGG is located in the heart of downtown London. Our building fronts on both Dundas St and Carling St; 24 feet wide x 185 feet long, actually. On Dundas, we are one building in from the traditional centre of London: Dundas and Richmond. Growing up here, all of the high-end generational stores were located downtown. Retail was downtown until the late 80's into the 90's when malls and big box stores arrived.
It is common for people today to now make all of their purchases from stores where they do not know anyone personally, the owner or the staff. I enjoy chatting up local business owners and getting the local gossip on what's going on around them. Seems like a healthy endeavour and great fodder for dinner conversations.
Now, in late May 2020, all downtown buildings are under new pressures here and below the 49th. Let's support each other, and this too will pass.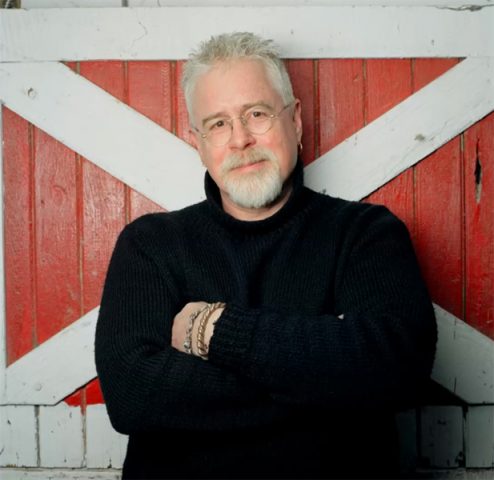 Time for calm. Bruce Cockburn's opening track on his self-titled 1970 album is "Going to the Country". This makes me calm. Bruce is quite a Canadian talent, who never really seemed to care about the USA and making it big time. Like most of my favourites, I have watched him live several times. One of the most memorable performances was the first time I saw him at Bishop's University in the beautifully intimate Centennial Theatre.
He performed solo, which he seems to prefer. He played his guitar, had a bass drum on his back controlled by his right leg, and a cymbal on his left ankle that he would raise to the companion cymbal on his left wrist. The Eastern Townships is a great spot for singer songwriters and on that night Bruce fit right in to the astonished crowd. Magnifique!
Raiding the fridge when we are hungry is a common event lately. Staring at the shelves and waiting for a hot meal to jump out is what I do. My Covid quick solution for this predicament has been the old fashioned omelette. Steam asparagus standing up in a measuring cup in the microwave, grate some cheese and chop other veggies that come to mind.
Cook the eggs while all this is going on and add your fixings. Take it off the heat when all is stiff and fold and serve. Pile greens, spinach or herbs on the rest of the plate. It is quick, like a peanut butter sandwich, but a lot better.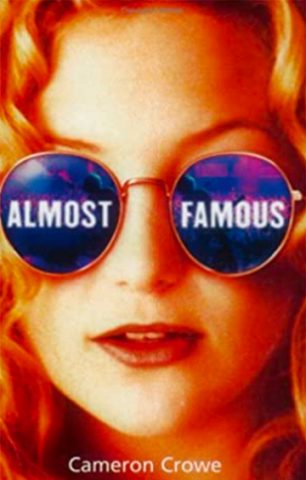 "Almost Famous" is one of about 10 movies I watch at least once a year. The reason I like to revisit it often in times of loneliness or duress is how much I personally relate to the soundtrack. Cameron Crowe brilliantly shares part of his early life story through the eyes of a young writer/music freak whose life goal is to write for Rolling Stone magazine. Outstanding sleeper performance by the late Phillip Seymour Hoffman. Set of course in 1973.
"The English Patient" also comes to mind for a calming movie. Such a elongated romantic struggle of a movie. It's a bit like watching baseball. You can have a little snooze and just get back into it when you awake.
Looking at BBC news online is something I love to do to stay connected with the non-North American viewpoint. Click HERE for their great film section.
Footnote & celebrity sighting: While staying in a chic Toronto Hotel and eating croissants and jam, I was in town for an early meeting and infusing coffee into my system. Suddenly I realized who is sliding in next to my bistro table, but Bruce Cockburn. I gave him the nod which was suitably returned before he was engrossed in conversation with his companion. Bruce and Harold Klunder remind me of each other. They are similar in age, and certainly similar in looks and talent.
Quote from Christo:
"It appears to be monumental only because it's art"
Stay safe, have fun,
Michael Gibson

---
Now Open – Michael Smith's June Exhibit

Michael Smith -"In Light of Time"
June 4 – 27, 2020
Our 6th solo exhibition with Montreal painter Michael Smith explores a tight survey of lush landscape paintings created between 2014 and 2020. We chose 6 dynamic recent works that represent Smith's consistent practice and devotion to his interest in image and abstraction.
View Michael Smith's Exhibit HERE
Included in the show is an impressive 2020 triptych, "Rouffignac", which was inspired by a visit that he made to a Palaeolithic cave in Southern France in 1972. As Smith states in the below 3 minute behind-the-scenes video, he aims to re-create the original feeling that he had moving through the water-sculpted limestone cave with a flashlight and emerging from the shadowy darkness to the light-filled world above.
Michael Smith, born in 1951 in Derby England, has lived in Montreal since 1978. Known for his expressive landscape paintings using thick impasto, Smith has had a four-decade long career with countless exhibitions across Canada and the US. His work is in many permanent public collections including the Musée d'art contemporain de Montréal, Musée des Beaux-Arts de Montréal, Beaverbrook Art Gallery, AGNS and Rideau Hall.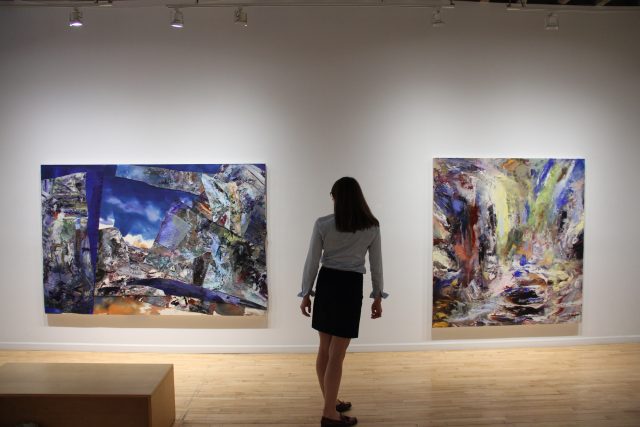 ---
WATCH Keiran Brennan Hinton Video
Keiran Brennan Hinton's middle gallery June exhibition, "A Broken Clock is Right Twice a Day", includes 14 small canvases that Brennan Hinton painted between March – May, 2020 while isolating in his mothers' Toronto apartment.
Thank you to Canadian Art Magazine for naming Keiran's exhibition an Editors' Pick for June.
An exhibition catalogue with essay by Tatum Dooley will be forthcoming.
View Keiran Brennan Hinton's Exhibition HERE
---
Artist Highlight – Will Gorlitz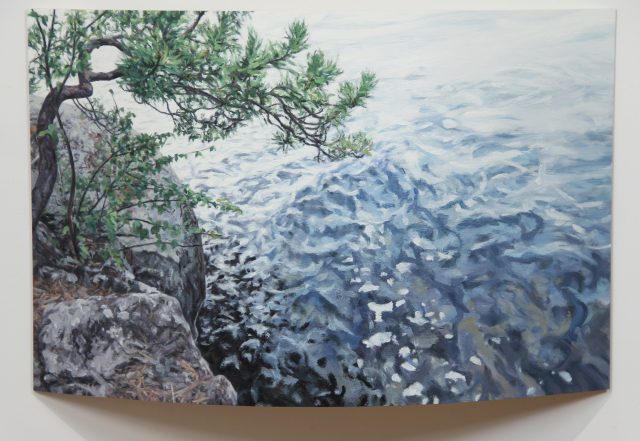 Since 2012 Will Gorlitz has used the rugged subject-matter of Temagami in Northern Ontario as the focus for some of his paintings. This work, "Sudden Breeze", is slightly curved, allowing the viewer to experience the landscape from different perspectives.
You walk from left to right, similar to how you would walk along a shoreline, and see new aspects of the same landscape. You feel the rush of the sudden breeze and see its immediate impact on the sparkling water.
The curve is brilliant, allowing us to personally engage in the visual experience and transporting us to a summer soon within our reach.
View more Will Gorlitz paintings HERE
---
Connect with Us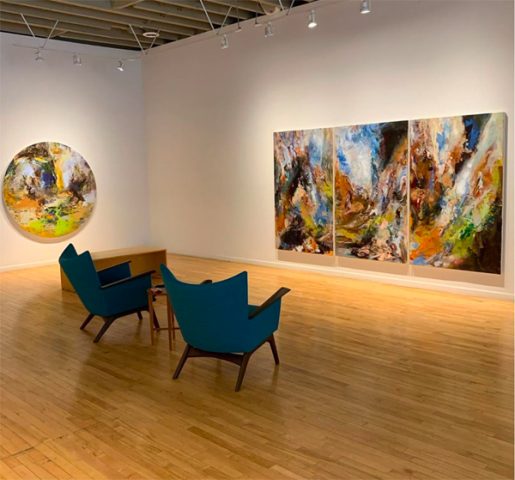 Recent Instagram Post
Michael Smith's June exhibition 'In Light of Time' begins today. Have a glass of wine and pretend you're at the usual opening. @instamike1924 #MichaelSmith #michaelgibsongallery #cdnart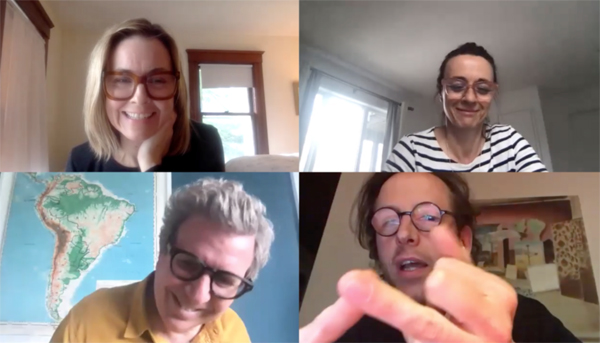 Recent Facebook Post
'We Should Not Forget We Are in the Magic Business': A Roundtable Discussion Between 4 Prominent Dealers on How the Lockdown Era Could Change the Art Market Forever. Read HERE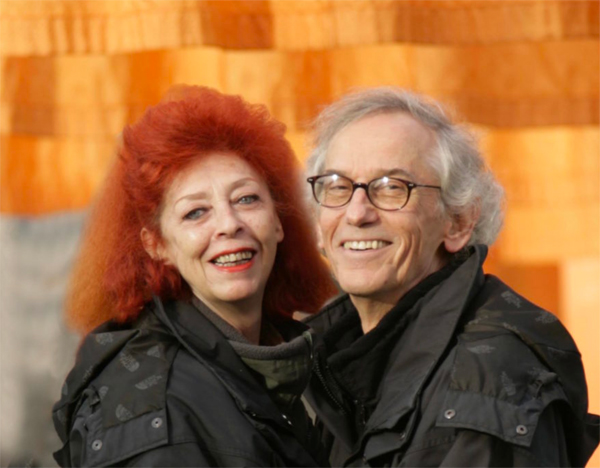 Recent Twitter Post
We were privileged to see Christo's "Gates" in NYC in 2005 and in fact sought their Canadian representation. In memory of his passing this past week, here is a rundown of how Christo and Jeanne-Claude managed to pull off some of their most astonishing art projects. Read HERE