Today I am writing for you while listening to
"Disintegration" (1989), Robert Smith
of
The Cure
's love-lost album to his former wife.
Gordon Lightfoot is a thoughtful songwriter who is a quintessential Canadian: humble, hardworking and talented, raised in Hamilton, ON who moved to lush Rosedale and likely has not changed very much.  I have mentioned before that his "The Summer Side of Life" is a top-down, slip it into 5th gear while driving to the lake kind of song.  It popped up on a playlist recently and the lyrics took on a new meaning for me.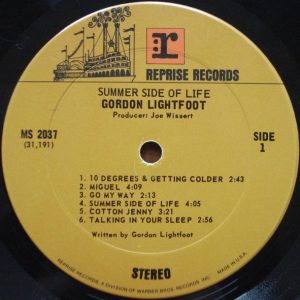 Written in 1970, perhaps as a response to the Kent State shootings, the song is an ode to the drafted US teenaged boys and their altered lives in pre-war/post-war Vietnam.  With so many incredible happenings in 1968-69 – Woodstock and both the RFK and King assassinations – Gordon, being the songwriter that he is, had lots to work with.  While the opening chords and simple bass still put a smile on my face, it has taken on a deeper melancholic meaning for me.  Like all great art it needs a soul to last.  Thanks Gordon.
Some, but not all of us passport carrying Canadians are wondering about our neighbours to the south and their seemingly unneighbourly behaviour amongst each other. Where does this come from?  We used to look up to the US of A as a democracy that was the envy of the world.
When RFK died in June of 1968 he was very likely to become the Democratic leader for the 1968 presidential election. Richard Nixon ate RFK's replacement, Hubert Humphrey, for breakfast and began his paranoid version of The Big Steal, and with it, the world changed.  Being very much a visual person, you will know where you were when you first saw each of these stunning photographs from April, June & November of 1968.  CNN's year in pictures from 1968 HERE.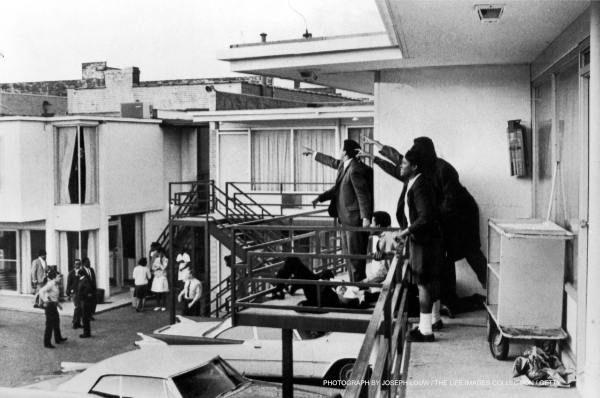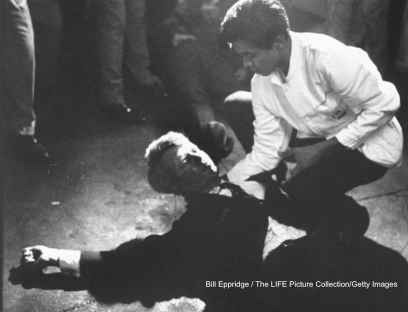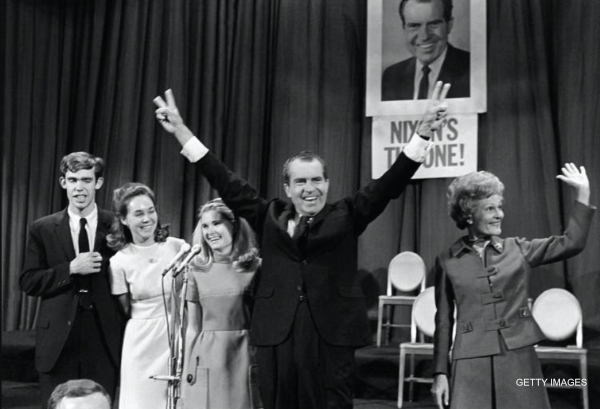 Woodstock the following year was the exhale America and the world needed.  Max Yasgur owned the dairy farm where it was held and in his "I Am A Farmer" speech he says: "You have proven to the world that a 1/2 million kids can get together for 3 days of fun and music and have nothing but fun and music… and God bless you for it".
Here are 3 important performances from Woodstock that are true art:
Richie Havens, an unknown folk singer from NYC opens with "Freedom" at 5:07pm on the Friday night.  Many musicians were stuck in traffic and he ran out of songs at 11pm trying to fill the void.  They solved this transportation problem by using "Vietnam" helicopters ironically to move in the musicians.
Joe Cocker's cover of "With a Little Help From My Friends" early Sunday afternoon.
Closing the 3 day concert was Jimi Hendrix's visceral rendition of "The Star Spangled Banner" to the 30,000 remaining of the 400,000 attendees.  A nice bonus of "Hey Joe" is at the end.
Art Basel is coming June 16-19 (unless you are Leo DiCaprio or similar, it starts the 13th), and features "over 200 leading galleries and more than 4,000 artists from 5 continents".  Other than Art Miami in December or TEFAF Maastricht later in June, these 3 are the fairs you want to have a booth at if you're an international dealer.  Attending art fairs as an exhibitor vs. as a collector is quite a different experience.  I am now enjoying the flexibility of walking the aisles and talking to people in-between absorbing the art works for sale.
I count just 2 Canadian galleries attending this year: Landau from Montreal and Catriona Jeffries from Vancouver.  Canadian Stan Douglas has a booth with David Zwirner from NYC.  Congratulations to all!  It is a lot of work to get
there, but even more to stay in that league.  Canada has maintained a very small footprint at such fairs with Jane Corkin, Jeff Wall and Marcel Dzama being our forbearers.  Why do we have such a low presence at these top fairs?  Let's talk.
These high-end international art fairs have become more about the pre and post parties that you may know about or in my case you find out about the next day.  I have paid doorman cash, used back entrances, hung with people I don't really know all in the name of being "there".  I have retired from this silliness and will let Kim K and her friends have it.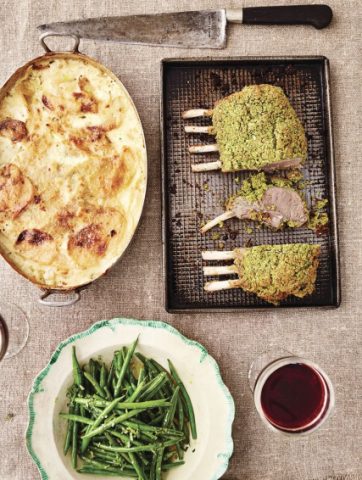 However people in the art business do food, music and drinks, one learns a lot by even being near the scene.  I have a couple of go to's on a menu when out on the town with clients or other dealers.
NZ Rack of Lamb comes to mind if I am not paying for the whole table.  A New York dealer told me once to always ask how thick the racks are, holding up his index finger and thumb, which I have done, but they rarely know.  Check out THIS mouth watering version of rack of lamb.
Quote by Walter Cronkite, February 1968:
"'Both in Vietnam and Washington to have faith any longer in the silver linings they find in the darkest clouds. For it seems now more certain than ever, that the bloody experience of Vietnam is to end in a stalemate. To say that we are closer to victory today is to believe in the face of the evidence, the optimists who have been wrong in the past."
Have fun, stay safe,
Michael Gibson
---
Considering the Artist's Perspective
Full disclosure … I was heating up lunch in our kitchen where Diana Thorneycroft's "Doll Mouth" photograph hangs and I began daydreaming about the artist's perspective.  With a simple twist or shift in the way we look or understand, the artist re-focuses our attention to details that are not at once obvious.  This is not trickery, it is embracing the artistic imagination and looking at the world in a new and thrilling way.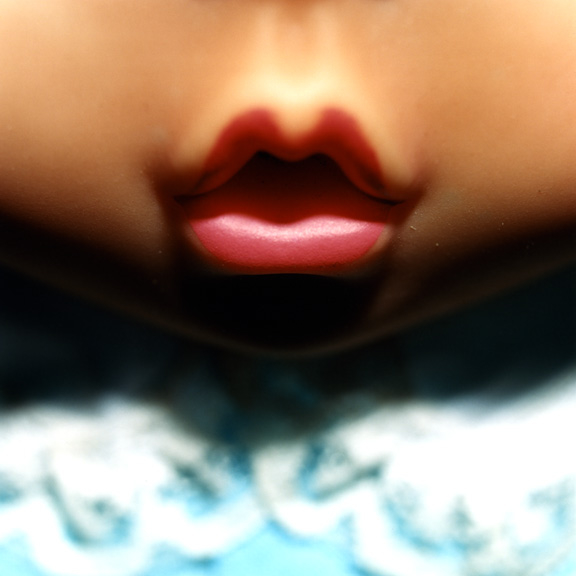 Diana Thorneycroft "Doll Mouth (Luscious Pout)", C-Print, 2007, Edition of 5, 28 x 28 in.
Diana Thorneycroft's 2007 "Doll Mouth" series of photographs capture the smiling, pouting mouths of children's dolls.  Photographed unaltered, Diana simply isolated the lips, cheeks and chin and by doing so changed the way we read what we are looking at and the perceived innocence of the subject.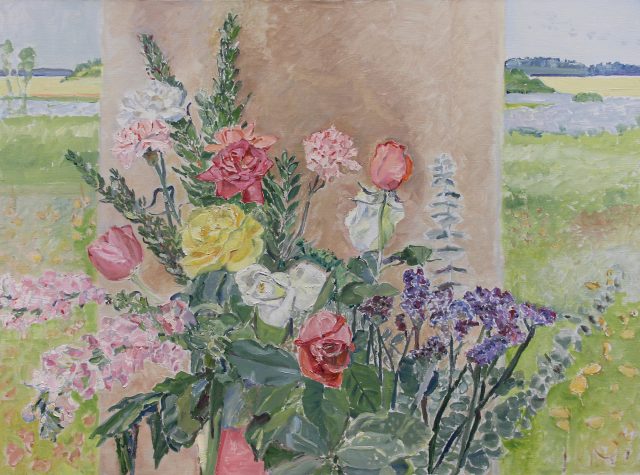 Dorothy Knowles "Flowers Between Two Paintings", Oil on Canvas, 1983, 46 x 48 in.
In the winter of 1983 Dorothy Knowles brought glorious bouquets of flowers into the studio to distract from the prairie winter outside.  Instead of painting conventional still life's, Knowles incorporated her own landscape paintings that were completed in the studio with her new florals.  What appears to be a window or pillar is actually the wall and the landscapes are paintings of her own paintings, a re-interpretation of the viewpoint not immediately evident.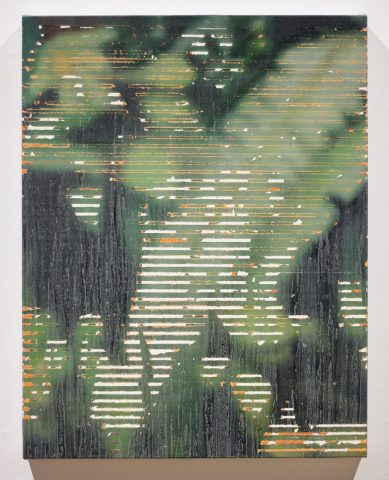 Dil Hildebrand "Blinds", Oil on Canvas, 2020, 27 x 21 in.
Dil Hildebrand is known for riding the edge between abstraction and representation.  Though at first glance a purely abstract painting, "Blinds", references both an interior and exterior physical space.  Based on a photo looking out his studio window, Dil distorts the image and lets the blinds be both literal as well as the visual veil between surface and space.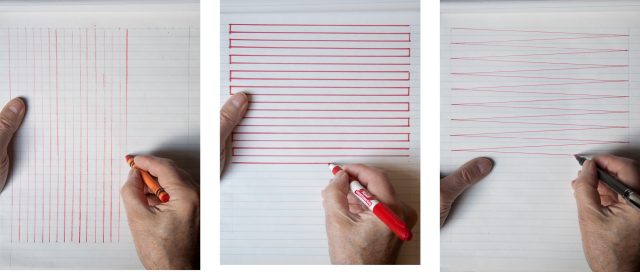 Michael Snow "Re-Drawing", Laminated Colour Photo, 3 Panels, 2012, Edition 3 of 3, each 18 x 16 in
Michael Snow's "Re-Drawing" represents a stage of artistic creation which is finalized through the taking of a photograph.  The artwork, in this case, is therefore not the drawing, rather than the resulting photographic triptych.  The addition of the artist's hands reminds the viewer that the artist is manipulating the image and reinforces his "hands on approach".
---
Connect With Us

Recent Facebook Post
We are honoured to have had the privilege to exhibit Christopher Pratt's incredible artworks during his lifetime.  Read CBC's tribute HERE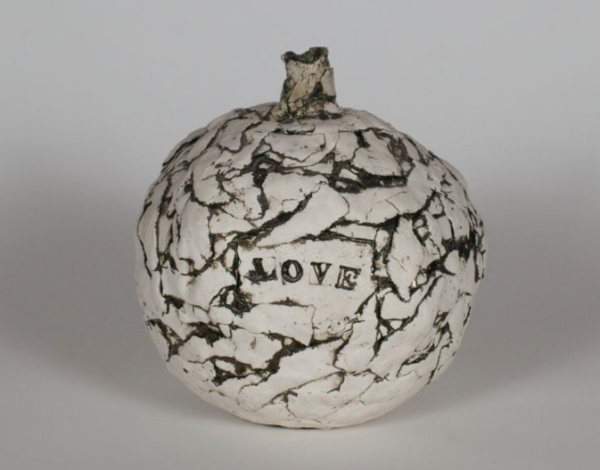 Recent Twitter Post
Margot Ariss's clay sculptures are included in Museum London's new exhibit "Rhyme or Reason". More info HERE