Today I am writing while listening to Bon Iver's elegant album "For Emma, Forever Ago" (2007).
In the past 15 months, since beginning this weekly missive, we have shipped artworks to many places within and outside of Canada.  This is a new and steady development that we hope will continue.  Conducting international online business in places like Seoul Korea, Vienna, Texas, Connecticut, Florida, Pennsylvania, Washington….requires excellent inventory and the logistical skills to allow the customer to be happy.  Selling in Kelowna, St. John's, Montreal, Picton, Toronto, Calgary, Winnipeg….is easier, but also terrifically rewarding at the same time.  The word is spreading.  Thank you for your ongoing support.  We remain keen.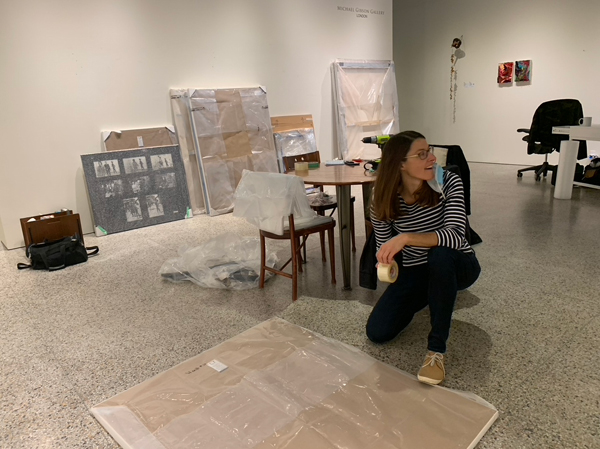 What are these people buying?  Art, is the logical response.  Who are they buying is the interesting part.  How does a gallery in London ON sell original artworks to so many places outside of their home base?  In 1996 our first website was built.  In 2000 the gallery attended its first international art fair, TIAF.  Since that time, we have attended over 30 art fairs, with approx. 10 located outside of Canada.  We have learned a lot by being active online but also away from the gallery.  This is now paying off.
We believe our inventory is both strong and diverse in nature.  If I could have all of the paintings that I want, our inventory would be exceptional.  That is the rub of the art business: finding interesting and innovative artists/estates to work with.  Our single motto is to do what is best for the artist/estate in all of the decisions that we make.
Since March of 2020, online sales have literally exploded.  I find even myself buying things online and becoming excited when Fedex opens the door and yells: "Fedex!". Will restaurants continue on with high end take-out with a matching bottle of wine?  I hope so.  Will the altered working situations become obsolete, I doubt it.
We have enjoyed our current appointment only system.  Is that the future for us?  Certainly, we are considering it, because of its ability to give better service to our clients in a very private environment.  Proper MGG openings will return soon and we look forward to the energy and excitement that they can create.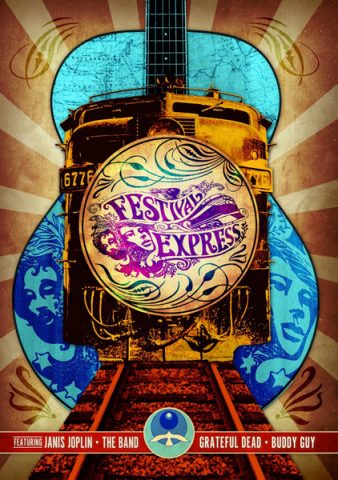 The documentary, "Festival Express" (2003), is a crazy concert ride of one Canadian man, Ken Walker, and the Eaton family's financial backing. 
They booked 14 train cars from CN Rail to transport musicians, including the Grateful Dead, The Band and Janis Joplin, from Toronto, Winnipeg to Calgary to perform in each of the city's CFL stadiums.  A young Buddy Guy and Ian and Sylvia also perform.
The live banter and jam sessions on these long train rides allow you inside what these people were really like.  Janis comes off as a very genuine and extremely funny, talented woman.  (Rent for $3.99 on YouTube HERE)
Watching the concert producer Willem Poolman manage the artists and the expenses with an eye on what is best for the artists is what we inspire to be like.
In the doc, Janis Joplin's performance of "Tell Mama" is inspirational.  She was quite a character, leaving this earth at just 27 years old in 1970.  Jimi Hendrix, Jim Morrison and Brian Jones also died at 27 between 1969-71, all tragically touched by fame and the heroin.  Amy Winehouse and Kurt Cobain joined the 27 club in recent years.  (Learn more about the 27 Year Club HERE).
Farmer's markets are coming into their bountiful season and what better way to celebrate the Spring and Father's Day than with fresh produce purchased on a Saturday morning.  Inspired by the beautifully bound asparagus and red beet bundles, how about grilled asparagus and a roasted beet, goat cheese & walnut salad?  Paired with Ina Garten's bone-in chicken breast with basil, and you have a perfect meal for dad.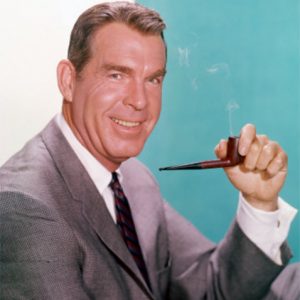 "My Three Sons" was on TV for an incredible 12 years from 1960-72 (from black & white to colour).  It was a favourite of mine and Fred MacMurray is the TV dad who I would compare to my own.  They were of the same generation and I thought they looked alike.  Happy Father's Day to those of us who are lucky enough to call ourselves by that name. 
Quote by TV Dad Fred MacMurray:
"I once asked Barbara Stanwyck the secret of acting. She said: 'Just be truthful – and if you can fake that, you've got it made'."
Have fun, stay safe,
Michael Gibson
---
MARK DICEY "Confluence" – Now Open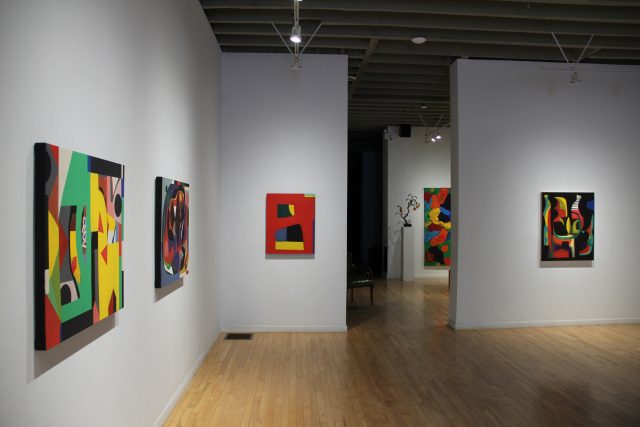 MARK DICEY "Confluence"
Continues to July 24, 2021
Book appointment for an in-person visit HERE
This is our 2nd solo exhibit for Calgary artist Mark Dicey.  Painting, the history of painting, and especially the history and development of abstraction are Dicey's passion.
"Confluence" is a beautiful, bold and rhythmic new body of work.  There is a wonderful balance between the free flowing shapes, intuitive mark making and the colourful, hard edge abstraction.
View Mark Dicey's Exhibit HERE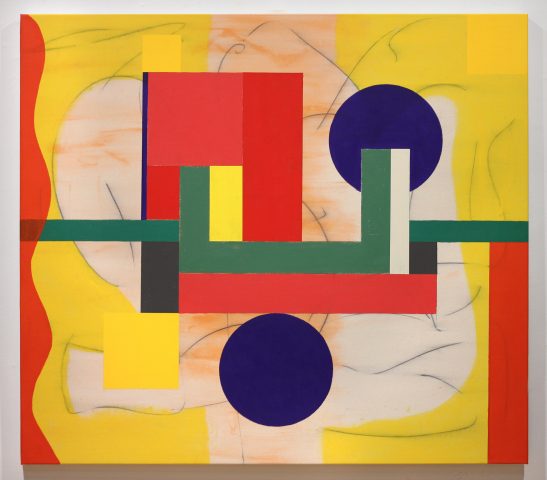 Dicey's natural environment was an influence for "Confluence".  In Calgary, the Bow and Elbow rivers run through the centre of the city.  Dicey has used the organic shape of the connecting rivers as both a metaphor and also as a geometric shape that is repeated throughout the paintings.
Though the river is used as an image for Dicey, there is no specific narrative element with the paintings.  Rather, they are based on a collection of observations, metal notes and a lifetime spent studying abstraction.
Mark Dicey was born in 1959 and graduated from the Alberta College of Art in 1983.
For the past 35 years he has exhibited extensively in Alberta and has been an active member of Calgary's art scene as an artist, community builder, curator and teacher.
His work is in many collections including the Canadian Embassy to Belgium, Alberta Foundation for the Arts, Royal Bank of Canada, Scotiabank, City of Calgary, and Nickle Galleries.
---
Connect with us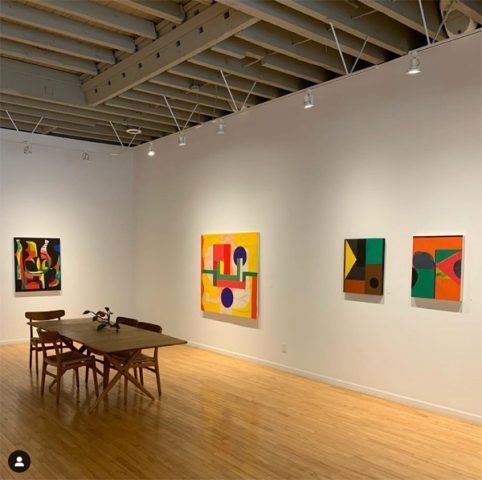 Recent Instagram Post
Mark Dicey's exhibition "Confluence" is now open online and for in person viewing. @paddlecoffin #markdicey #yycart #abstractpainting 
#michaelgibsongallery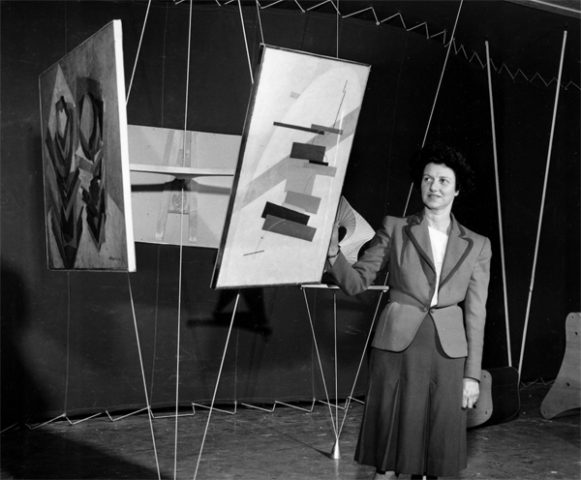 Recent Facebook Post
History's 10 Dealers Who Changed the Way Art Is Shown and Sold.  Read HERE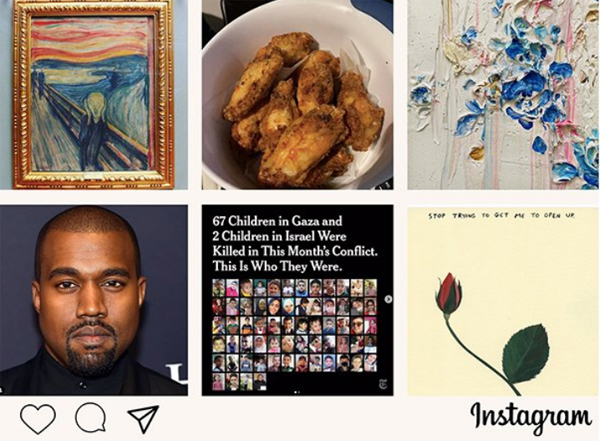 Recent Twitter Post
The Zeitgeist of Instagram: Why does looking at these little squares of art, one after another, provide such satisfaction? Read HERE