Today I am writing for you while listening to the breakthrough album of 1966, "Pet Sounds" by The Beach Boys.  Brian Wilson turned 80 this week.  Have a look at his birthday wishes from Dylan, Elton etc… HERE.
There are two physical places that give me comfort and a true sense of awe: Stonehenge and Niagara Falls.  Recently I was in Niagara Falls for Tony Urquhart's celebration of life and felt very strongly that I needed to see the Falls from the very edge of the limestone, one more time.  On a Saturday afternoon the Falls is a very busy place with kids and tourists, but I have learned that if you wait, the perfect spot will open up.  To be so close to this volume of water still rolling over on towards the Atlantic gives me hope that the world hasn't really changed that much since the first day my dad lifted me up to see it.
Stonehenge is another matter.  Located across the pond, I can only get there once in a while.  My introduction was with my parents on a family trip in 1969 when you could still climb on the those massive stones and run around unfettered by security.  On my most recent visit in 2019, my 5th, Stonehenge was a very different place with very high security and fencing all about.  Notwithstanding, like the Falls with kids and cotton candy, it survives beautifully.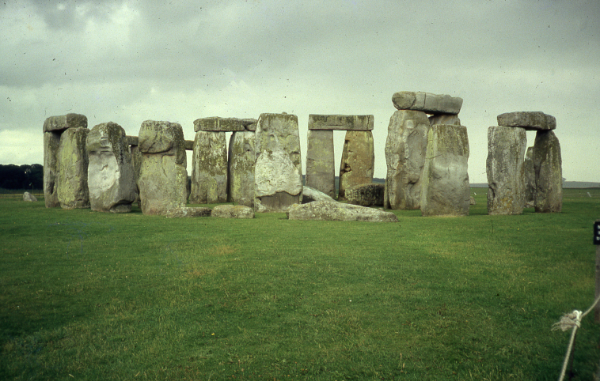 On this June 21, the Summer Solstice, I was purposely at the lake to take in the day and the 9:13pm slow-motion sunset.  Although more than pleased to be there, my preference would have been to experience the morning sunrise at Stonehenge with the other 7,000 revellers.  If I had a bucket list, that would be on it.
My 2nd & 3rd visits to Stonehenge in 1981 were while staying with my Grandmother in Beckington, Somerset, a short 20 mile hitchhike away.  In those days squatters occupied a significant swath of the land and were carrying on as squatters do, peaceful, but determined to have unsupervised fun every day.
Beyond the attraction of the Summer Solstice, the Stonehenge Free Summer Festival attracts over 50,000 people for the advertised Sex, Drugs and Rock and Roll.  Although not a participant while staying with Granny, I was certainly intrigued enough to go twice.
In 1915 a local man named Cecil Chubb purchased Stonehenge at auction for 6,600 GBP as a romantic gesture to his wife Mary who really just wanted him to buy curtains for their house.  Several years later he gifted Stonehenge to the Public Trust saving it from possible removal.
The smaller inner circle of bluestones were placed on the Salisbury Plains before the wheel was invented!  It was built on the alignment of the midsummer sunrise and the midwinter sunset for still unknown reasons.  It is fascinating to me that in 2022 the many mysteries of something started in 5000 BC are still with us.  I guess that is what gives me comfort.
The now infamous Glastonbury Festival (1970) also takes place yearly in Somerset, likely inspired by the Stonehenge Free Festivals.  In 2000 David Bowie gave one of his most memorable filmed performances.  The hair!  The band!  The man!  Project it from THIS YouTube video link.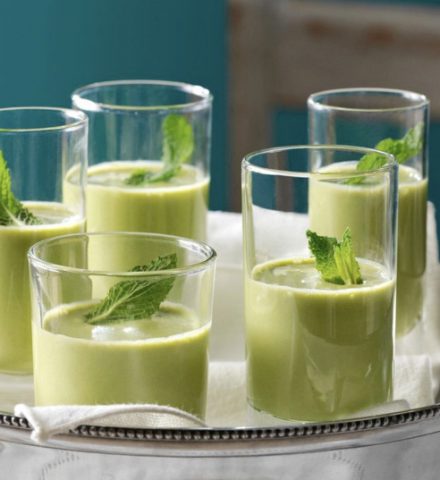 Beyond Woodstock, putting a man on the moon, Abbey Road, Chappaquiddick, Bob & Carol and Ted & Alice, and The Brady Bunch, 1969 gave us Jolly Green Giant's Frozen peas.  These peas along with a side dish of chicken fingers saved me many times when our kids were beyond hungry after school.  Somehow I think the frozen pea is back like it was in 1969.  A few Super Bowls ago I served up THESE frozen pea shooters before the beef brisket.  The fresh colour is always welcome.
1969 dinners seemed to always begin with a cocktail on the weekends at the lake for my parents.  The martini, or blabbermouth soup, when 2 is enough and 3 is too many, is now served more as a treat than a routine.  I like it at home, but maybe the world famous Atlas Bar in Singapore is a nice option to dream about.
"Butch Cassidy and Sundance Kid" is a non-fiction American cowboy movie featuring three actors in their prime: Paul Newman, Robert Redford and Katherine Ross.  Blessed with a sense of humour, romance, and ending with a true life lesson of innocence, it is an easy film to enjoy.  Read review HERE.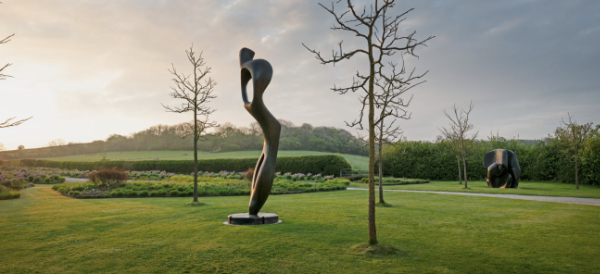 If you find yourself touring around Somerset (my Gibson roots), Hauser & Wirth has opened an incredible multi-purpose arts centre with rooms, farm food, an education centre along with an outside Henry Moore exhibition.  Hauser & Wirth are in a rarified world of dealing art that very few can clearly achieve today.  Such class and attention to detail.  It's inspiring.  Visit HERE.
Quote by Swiss Art Dealer Iwan Wirth who says that the 2022 Basel Art Fair is "incomparable" to when he opened the gallery in Zurich in 1992:
"The market is truly global now and its entry level is so much higher. In my first Art Basel, I sold a [Gerhard] Richter abstract for $240,000."  At this year's fair, Richter's "I.G." (1993) sold for an undisclosed price, put at "above $10m" by the gallery. Wirth says too that the market and fair have become much more diverse over the years —"it was such a men's club before."
Have fun, stay safe,
Michael Gibson
---
Celebrating the Start of Summer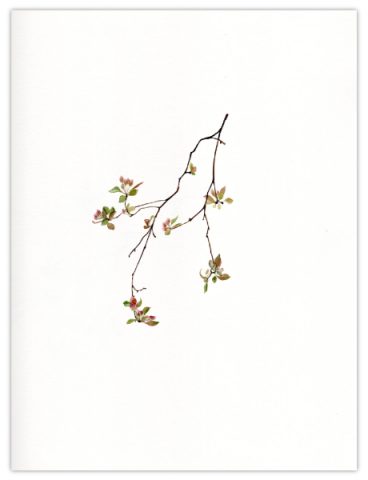 Niloufar Salimi "75 Oriole Rd, April 18, 2021", Watercolour on Paper, 2021, 16 x 12 in.
Niloufar Salimi is an emerging Toronto artist who created over the past 2 years exquisite daily drawings of the wild apple tree outside of her third floor apartment window.  Her observational practice records, through delicate line and beautiful touch, the life and growth from early spring through winter.
We will be exhibiting a small suite from her "75 Oriole Rd" drawings this September.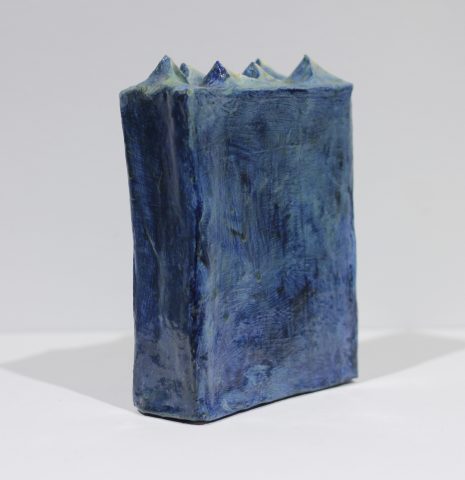 Gathie Falk "Small Article (Water)", Papier Mache, 1997-1998, 6 x 4 x 1 3/4 in.
Gathie Falk celebrates the simple things in life, often exploring themes, like water to highten our awareness of the beauty around us.  In "Small Article (Water)" she literally recreates a chunk of the water, forming out of papier mache this delightful slice of life, complete with waves and ocean swells.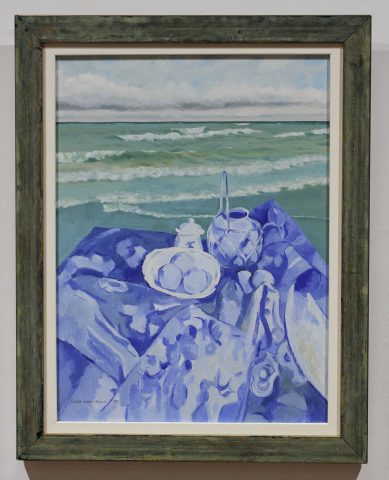 Paddy Gunn O'Brien "Cezanne's Still Life at Lake Huron (Blue)", Oil on Canvas, 1995, 16 x 12 in.
After spending 25 years cottaging at Lake Huron each summer, Paddy Gunn O'Brien was inspired to paint water.  "It seemed natural to combine two things that I really love: Cezanne and Lake Huron".  She had the ability to capture Lake Huron's variable atmosphere and light and once stated: "I am no mere portrayer of pretty landscapes and people.  Life is more than that."  Her compelling paintings are certainly a testament to that statement.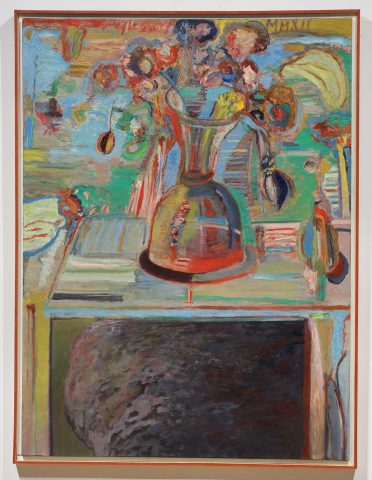 Tony Urquhart "Hidden #1", Oil on Canvas, 2013, 40 x 30 in.
Tony Urquhart's lush painting "Hidden #1" is a vibrant mixture of both two dimensional and three dimensional worlds.  He creates a complex space that is a room, a threshold and a place for hidden forms that hint at life and rebirth.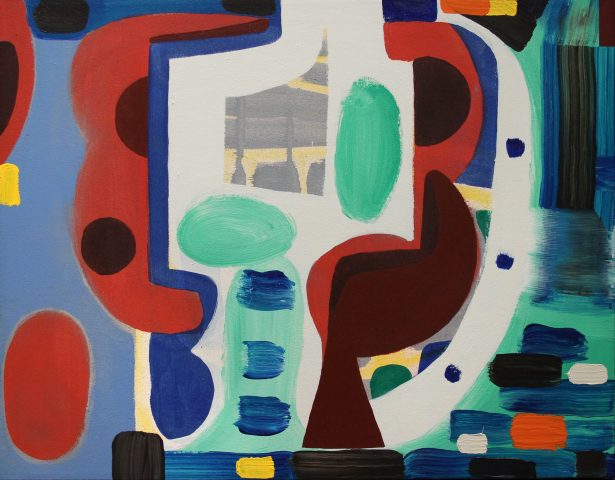 Mark Dicey "2543-IV-19", Acrylic on Canvas, 2019, 22 x 28 in.
Mark Dicey's abstract painting "2543-IV-19" has always reminded me of summer.  The blue brushstrokes hint at water and the dashes of yellow and white dappling light on a sunny day.  It is the perfect jolt of colour; a fresh refreshment for a hot summers day.
---
Seeking Anne Meredith Barry Artworks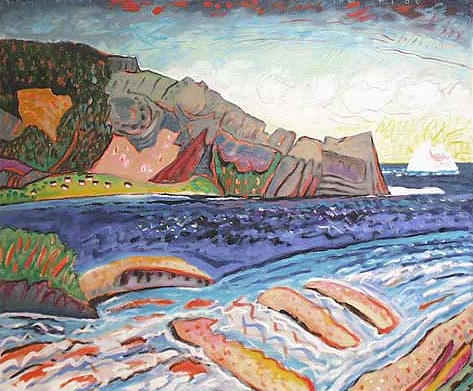 We are currently working on an Anne Meredith Barry exhibition for late 2022 and are seeking consignments.  Our expectation is that not all consignments will be for sale.
We began to represent Anne's work in 1995 and have longed to have another exhibit honouring her lively practice for many years.  If you own a drawing, painting or print by Anne Meredith Barry, please contact us HERE.
---
Connect With Us

Recent Facebook Post
Run, don't walk to Gathie Falk's Retrospective "Revelations" at the McMichael Canadian Art Collection in Kleinburg, ON – on now until January.  More info HERE

Recent Twitter Post
Pick up the new issue of Border Crossings magazine to read Rhiannon Vogl's touching review of Susan Dobson's RIC exhibit.