Today I am writing to The Beatles companion albums "Rubber Soul" (1965) and "Revolver" (1966).
This week we signed up for the first ever online version of Art Toronto.  Similar to our decision to attend the first one in 2000, in 2020 we have no idea how it will unfold.  For me, not going has always been the higher risk.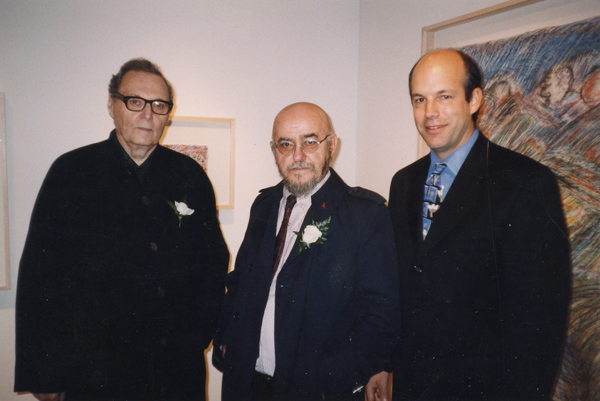 Early on in the art fair game, I realized I needed key pieces to attract a certain kind of deserving collector who I related to.  This also benefited the emerging artists by being in the company of significant works by established artists.  I continue to seek secondary market artworks from collectors who usually do not want to sell their art and who also do not need the money.  Connecting collectors with significant works is the joy of the art business.
In the 1990's I developed a very close relationship to Paterson Ewen by helping him out with his various studio needs.  This was a very special time for me and in fact our current gallery was built to his standards.  Paterson told me one afternoon: "Build a proper gallery and I will give you a show".  I have since had three shows for Paterson and have had the good fortune and knowledge to buy and sell his paintings on the secondary market.
In 2002, in preparation for Art Toronto, I acquired a small Paterson Ewen through a trade for a large David Urban diptych and some $'s.  At 7pm on booth installation day we were still in London and needed to stop by the collectors house to pick up our small 1961 Ewen.  In removing the painting from the wall, I mentioned to the collector that he had been living with it hung upside-down for the past 40 years.  He said: "let me see that"….. Then he said: "maybe I should keep it and enjoy it for another few years".  Not something that we wanted to hear at that moment.  Ultimately, we left with the painting lovingly in our arms, wrapped in a recent Globe and Mail.
Arriving to Toronto we also needed to stop at David Urban's studio to pick up a major 90 x 78 inch painting for our booth.  During those days I rented a cube van for the week of the fair.  When we picked David up at his house, Jennie had to move to sit on the middle hump to allow David the available front seat.  Stored safely on the hump was our Ewen.  Innocently, Jennie gave it to David to hold, whereupon the world's rotation stopped for a few seconds.  We were all just so excited – a real Canadian art moment!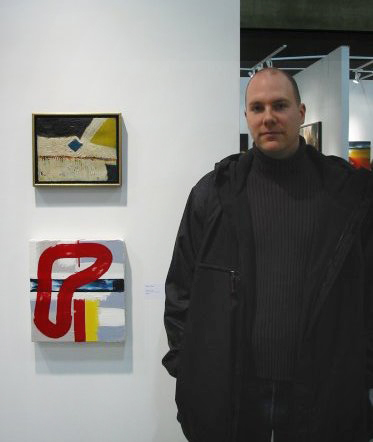 Instantly we realized that David knew what we knew and more.  Paterson's early works had painted finger marks all over the stretchers, which David loved to see.  He thrilled us by giving us a small gem of his own to hang with the Ewen.
Since that moment I have trusted my instincts and always have signature gems in our booth.  I do not have this years' yet, but remain hopeful that it will reveal itself to me.
Since March we have been mostly making lunches in the gallery kitchen because, well, we had to.  I have since been to a few outside patios to support my neighbouring restaurants and also have enjoyed many fantastic take-out meals.  In our downtown market is the New Delhi Deli run by our very own "Soup Nazi", Bhan Mudliar.  All of her Indian-South Asian-Caribbean inspired dishes are made from scratch and are extremely tasty. Please support her or any of her fellow tenants, if you can.
"Easy Rider" (1969), was directed by Dennis Hopper, produced by Peter Fonda (apparently he had the $'s) and introduces Jack Nicholson. The first time I saw this movie, along with "Blow-Up", was in a high school film studies class, likely 3-4 times.  It is a road trip movie, with a great soundtrack, of two guys checking out of the 'system', made evident by Fonda discarding his watch before they set off.  I had this poster in my bedroom at the time.
Phil Spector is the dealer with the Bentley in the opening scene.  Easy Rider  shows that southern discrimination also existed for white hippies in 1969. The ending is completely poignant and filmed beautifully with the camera drawing back from the scene, using a helicopter, like most early Clint Eastwood movies and the Beatles movie 'Help'.  Makes one wonder.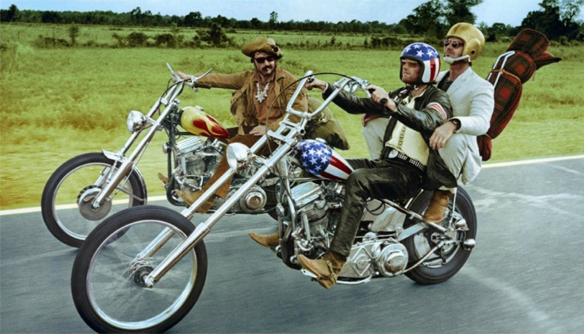 The movie was filmed in 1968 between Mardi Gras and the assassination of RFK and released in the Summer of Love (1969).  HERE is a link to bring it all back in sight.
Dennis Hopper quote:
"Easy Rider was never a motorcycle movie to me. A lot of it was about politically what was going on in the country".
Be safe, have fun,
Michael Gibson
---
Inspired by Summer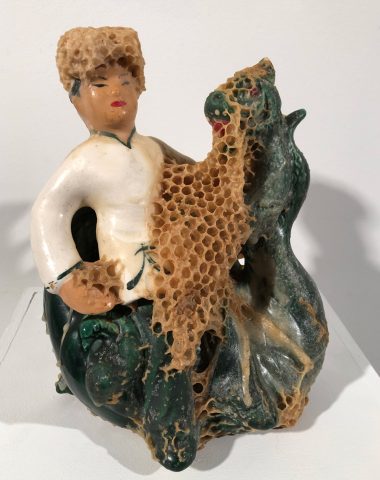 In July 2007 I had the privilege of visiting Aganetha Dyck in Winnipeg at her hive studio where I watched her collaborate with the honeybees on a series of porcelain sculptures.
Her "Masked Ball Series" became one of her most successful and elegant series including the above, now rare, honeycomb masked "Dragon Slayer".
View More of Aganetha Dyck's work HERE
---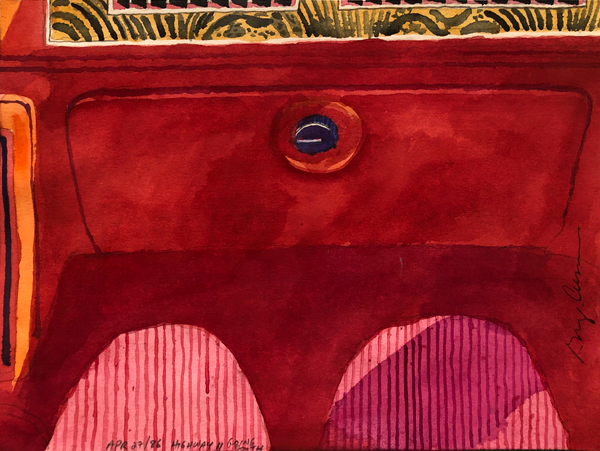 Greg Curnoe is known for many things including his interest in pop culture, love of colour and his sense of humour.  In this watercolour, Greg has painted the view of his knees from the front seat of a car, specifically on "Highway 11 Going South".  Can you believe those pants!
View More of Greg Curnoe's work HERE
---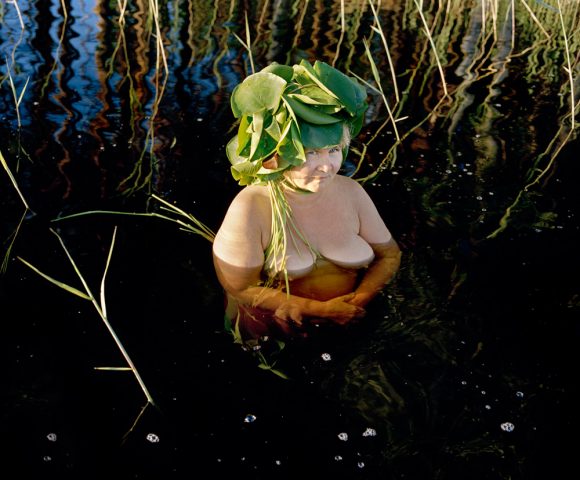 Eyes as Big as Plates' photographs celebrate our human connection to nature.  "Tuija", the subject of this photo, volunteered to be photographed while skinny dipping in the crystalline waters in eastern Finland, only a few hundred miles from the Arctic Circle.  "It looks tropical," says the photographer, "It really, really wasn't."
View More Eyes as Big as Plates Photos HERE
---
Keiran Brennan Hinton spent many nights during the month of March studying and painting the night sky.  The effect of these paintings is quite alluring.  Just as your eyes need to adjust to the darkness of the night sky, so too do your eyes adjust when looking at each canvas.  The lights emerge and the stars sparkle.
View More of Keiran Brennan Hinton's Paintings HERE
---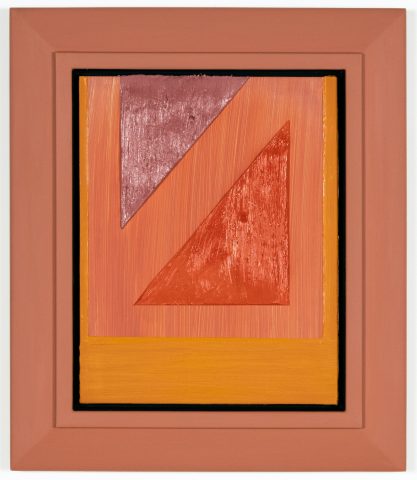 Vancouver painter Jonathan Syme is interested in the material and structure of each abstract painting.  His gorgeous, thick slabs of paint and subtle shifts of colour evoke a sensation of process and movement.  "Triangle Slab Receding Modern Blush" is sunshine from dusk to dawn, perfectly presented.
View More of Jonathan Syme's Paintings HERE
---
Susanne Jones (1955-2020)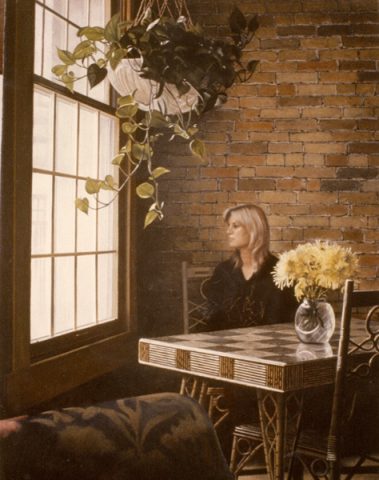 We were extremely sad to learn this week that Susanne Jones, widow of artist Brian Jones passed away of a rare and aggressive cancer.
A brilliant writer, Susanne first met Brian when she reviewed his 1978 London Regional Art Gallery exhibition for the London Free Press.  They lived a happy life together and blessedly are now reunited.
Read Susanne Jones Obituary HERE
(The above painting of Susanne was painted by Brian around 1980 and captures a quiet moment between the young couple. Private Collection)
---
Summer Holiday Hours
We are closed for holiday's between August 10 – 24.
If you need to reach us please text/call 519.857.4505 or email HERE
We allow only 4 people in the gallery at once and require that you wear a mask, sanitize your hands upon entry and social distance during your visit.
Have a wonderful August!
---
Connect with Us

Recent Facebook Post
The Art Angle Podcast: Art Critic Jerry Saltz on Why It's Time to Build a New Art World.  Read article HERE

Recent Twitter Post
Need a New Perspective on the Future? Looking at Abstract Art Can Change the Way You Think About Time, a New Study Says.  Read More HERE