Today we are enjoying our last weekend before our two weeks of holiday's.  If you need a break, please watch and listen to one or all of these performances that were are unlikely to see live, even if it was possible.
This is a version of the 2022 newsletter, like audiobooks, no reading needed, just a set of ear buds are required.  Look for our next newsletter on August 27.
Willie Nelson's "Summertime", where the livin' is easy.
Prince, Tom Petty, Steve Winwood, Jeff Lynne and others — "While My Guitar Gently Weeps".
This tribute concert for George Harrison featured his friends and son Dhani Harrison.  The ultimate guitar song, "While My Guitar Gently Weeps", was originally recorded with George's friend Eric Clapton sitting in on the Beatles original recording.  If nothing else, listen from minute 3:30 on, when Prince steps forward to certify that he was one of the best lead guitar players outside of Jimi.  A truly incredible performance that Harrison would have loved.
Billy Preston — "My Sweet Lord"
From the same concert at the 2004 Hall of Fame, Billy Preston, "The 5th Beatle", who sat in on the Beatles last album and rooftop performance, plays "My Sweet Lord".  Billy Preston had soul and was a dynamic performer.
James Taylor & Carole King — "You've Got A Friend", BBC In Concert November 1971.
Pure simple American talent.  A great recording of James' song with his friend and collaborator Carole King.
Van Morrison — "Wavelength", Montreux, 1980.
A beautiful concert available on DVD, although the video quality is 1970s.  Van is clearly the man, running a very tight band of excellent musicians, in his prime.
Van Morrison — "Into The Mystic".
A more senior and cantankerous Van, making a great song work in a different way.
Joni Mitchell — "Both Sides Now", Isle Of Wight Festival, 1970.
After settling down an audience who either didn't know her or couldn't hear her, Joni's delivery of an angelic performance makes me proud to also be a Canadian.
Quote by Serena Williams, Toronto August 10, 2022
""I love playing here, I've always loved playing here.  I wish I could have played better but Belinda played so well today.  Thanks for the support.  Thank you."
Have fun, stay safe,
Michael Gibson
---
Recent Acquisition – Angus Trudeau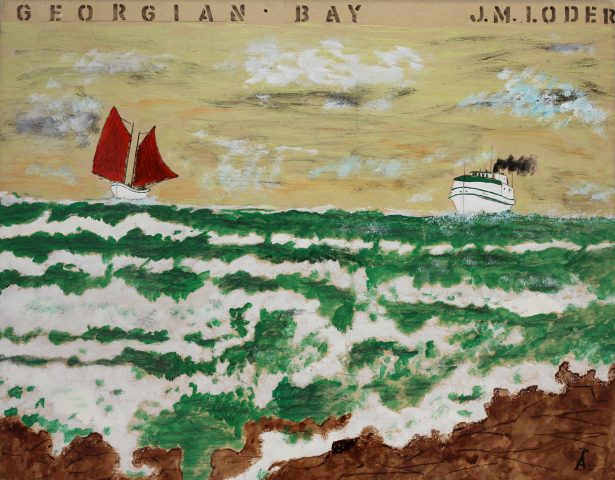 Angus Trudeau "Georgian Bay, J.M. Loder", Mixed Media on Card on Masonite, 1982, 22 x 28 1/2 in.
After our recent July exhibition featuring the joyful paintings by Manitoulin Island artist Angus Trudeau (1908-1984), we were approached by a few collectors who own Trudeau's paintings.
One of our recent acquisitions is this lively painting originally purchased at the Isaacs Gallery.  Trudeau's characteristic naïve style is captured in "Georgian Bay, J.M. Loder", a tribute to his deep knowledge of the lake and interest in the shipping industry on Georgian Bay.
---
Pszczonak & Salimi Exhibits Open August 31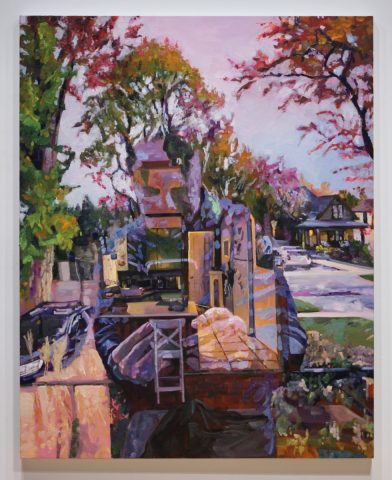 Michael Pszczonak "On The Other Hand"
August 31 – October 1, 2022
Opening Reception on September 10, 2-4pm
This is Pszczonak's 2nd solo exhibition at the gallery, which will include 12 paintings for each month of the past year and a monumental 12 foot long panorama.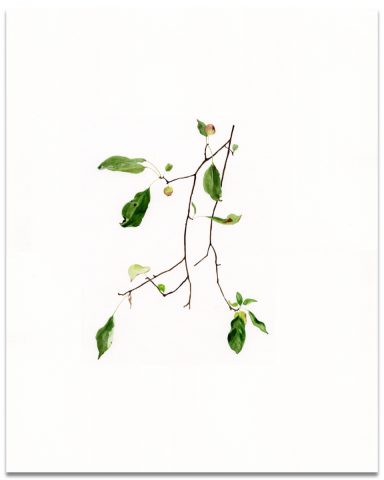 Niloufar Salimi "75 Oriole Rd"
August 31 – October 1, 2022
Opening Reception on September 10, 2-4pm
Twelve of Niloufar Salimi's exquisite drawings of the wild apple tree outside of her bedroom window will be the focus of our middle gallery September exhibition.