As the season is changing to Fall next week, I will likely be visiting my sock drawer for the first time since May.  I mark the seasonal changes with this drawer every year.  I relish equally the moments when I don't have to wear socks and also the comfort of sliding them on soon.  The morning temperature  leaving the house usually drives the decision.
The art business flourishes in the Fall.  I was asked this morning why that is.  I have inherently known the reason for years, but had to think of it differently now since our business has been very active since last Spring.  We have been living a smaller life, spending time at home with fewer outward visits, similar to the Winter and Fall seasons.  I then realized we have been quite busy because people have been home mostly since March and are behaving like it's Fall.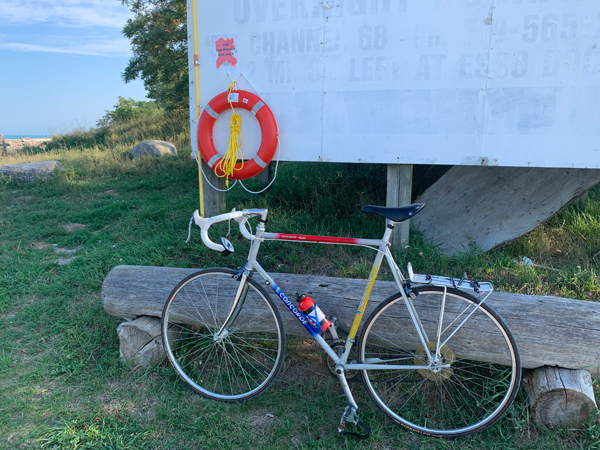 Our recent newsletters have focused on being positive and finding enjoyment despite the fact that we are basically having to operate like we have been snowed-in at a ski chalet for weeks.  We are ordering in, playing games, Zooming it up with whomever, taking the time to read the liner notes on albums and hopefully sitting back with the fire on and realizing how lucky we are to be here.
We will keep the glass half-full in the meantime.
Ruth Bader Ginsburg quote:
"Women will only have true equality when men share with them the responsibility of bringing up the next generation."
Be safe, have fun,
Michael Gibson
---
NOW OPEN – DOUG KIRTON
Doug Kirton "Recent Walks Alone"
September 17 – October 24, 2020
Our current Doug Kirton exhibition features new paintings inspired by the landscape of Laurel Creek in Waterloo.  Using photographs to trigger a sense of place, Kirton intentionally creates an image of reality, though abstracts the specificity of the landscape.
A true "painters painter", Kirton is a master of both colour and paint.  The image emerges through complex transparent layers that have been glazed and scraped, creating for us the smell of the muck of the mud, a feeling of the gentle breeze and the sight of dappling light on water.
The paintings are dreamlike, internal, comforting and provide a feeling of shelter and romance, transporting us to another world.
Click HERE to view Doug Kirton's Exhibition
Doug Kirton received his BFA from the Nova Scotia College of Art & Design in 1978 and his MFA from the University of Guelph in 1994.
For the past 40 years, Kirton's paintings have been shown extensively across Canada and Internationally including a 2-person exhibition with Jeffrey Spalding at 49th Parallel in NYC and "Painters 15" at the Shanghai Art Museum in China.  In 2000, Kirton's work was the subject of a mid-career retrospective exhibition entitled "Times of Uncertainty: Doug Kirton Paintings 1983 – 1999".
Kirton's work is represented in numerous public collections including the Art Gallery of Ontario, Vancouver Art Gallery, Museum London, National Gallery of Canada, and Shanghai Art Museum.
Click HERE to book an appointment to see Doug Kirton's Exhibition in person
---
Upcoming New Arrivals This Fall
This October will be our 21st consecutive year exhibiting at Art Toronto.  In preparation for a busy Fall gallery schedule and the upcoming online art fair, we are very excited to have new artwork by the following artists:
Keiran Brennan-Hinton
Vic Cicansky
Susan Dobson
Gathie Falk
Jonathan Forrest
Krisjanis Kaktins-Gorline
Jason McLean
Michael Snow
Margaux Williamson
Hans Wendt
---
Connect With Us

Recent Instagram Post
Fall Arrivals @doug.kirton & #viccicansky
#cdnart #ldnont #contemporaryceramics
---

Recent Facebook Post
The AGO recently published this Q&A with Mia Nielsen, Director of Art Toronto.  Read interview HERE
---

Recent Twitter Post
The Art Angle Podcast: Futurist Doug Stephens on What Art Dealers Can Learn From the Retail Revolution. Listen HERE