I am writing this while listening to Phoenix's debut album called "United".
This last week, I enjoyed road trips to both Lake Huron and Toronto.  The Fall colours are blazingly beautiful right now and allow the sometimes repetitive views of nature appear new again.
We all seem to be waiting for the other shoe to drop.  As our social options shrink even further away, we are losing the ability to just drop in on a friend.  Growing up in the simpler summers of the 60's, when our parents didn't need to know where we were, I would make frequent stops at friends cottages, asking where my friends were.  In fact, I learned that I knew better if they were in the woods, at the lake or at the Coleman's, Bailey's or Floyd's cottages.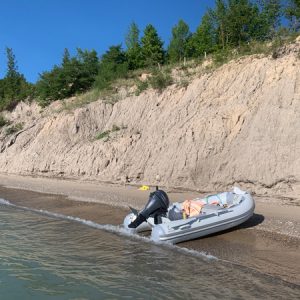 When you grow up in that environment, it teaches you that dropping by at most times of the day is cool.  My parents friends would regularly drop by our cottage for a visit and drink.  "Monkey-See-Monkey-Do" was what I learned from the age of 10.   I developed this 'drop in' practice even further by eventually acquiring a Zodiac for lake-side visits.  I have since maintained this need by always having a 'water taxi' available.
Sadly, this practice does not translate into city life.  No one tells you, until one gets "the look" after attempting to do so.  However, I have discovered that if one cottage person (me) drops in on another cottage person in the city, that "look" does not reveal itself somehow.
Culture happens in the Fall with the release of new movies, albums, art exhibitions and the ease of staying inside and cooking all day.  Absent is the guilt of feeling you should be outside enjoying the beautiful day!
One of the movies I am keen to experience is Regina King's 'One Night in Miami' (2020).  Actor-director Regina King's feature directorial debut, is a fictionalized account of a 1964 meeting between Malcolm X, Muhammad Ali, Sam Cooke and Jim Brown.  The singer/songwriter Sam Cooke was killed at the age of 33 on December 11, 1964, at the Hacienda Motel, in Los Angeles, California.  His 1964 song 'A Change is Gonna Come', which he wrote in response to Dylan's 1963 anthem 'Blowing in the Wind', has been deservedly rediscovered in the past few turbulent years.
I really enjoy watching Sofia Coppola movies.  "The Virgin Suicides", "Lost in Translation" and "Somewhere" are recurring favourites.  Coppola has now recast Bill Murray in her latest production, "On the Rocks".  Reviews are cautionary, but I trust her and Bill for a couple of hours.  The band, Phoenix, is credited for the soundtrack and their new song released for the movie is "Identical".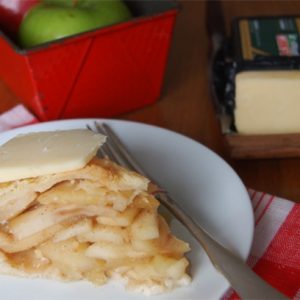 With the arrival of Fall comes apple picking and eating.  I have strong memories of a small slice of my mother's crisscrossed apple pie.  My father's British influence added a shaving of sharp cheddar with clear tea.  Sharing afternoon tea was a vivid lesson for taking the time for tea or just maybe sharing time daily.
Like exercise, the concept of afternoon tea is a commitment that is best upheld, especially if you're having tea and apple pie with cheese everyday.  Right now, I am certainly missing the Goodlife health-club.
Carl Reiner (1922-2020), quote:  "Lust is easy. Love is hard. Like is most important."
Have Fun, stay safe,
Michael Gibson
---
Art Toronto – Two Weeks Away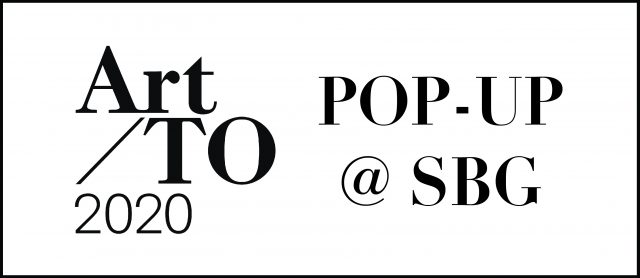 This year, in two weeks, we will be exhibiting on the new Art Toronto online platform.
We will also be physically exhibiting at Stephen Bulger Gallery's Pop-Up from October 28 – November 7 along with our esteemed colleagues Pierre-Francois Ouellette Art Contemporain (Montreal), Stephen Bulger Gallery (Toronto), TrepanierBaer (Calgary) and Wil Aballe Art Projects (Vancouver).
Under Stephen's leadership, we are dedicated to creating an intimate Pop-Up art fair within a very safe environment.
Appointments to book a visit to the Pop-Up will be open on October 21. Click HERE to be notified when you can make a Pop-Up appointment.
We look forward to social distancing with you!
A Few Art Toronto Highlights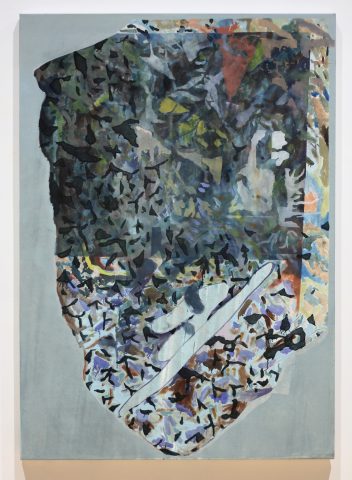 Krisjanis Kaktins-Gorsline, "Untitled #3", Acrylic & Oil on Canvas, 2020, 54 1/2 x 38 in.
We have watched Krisjanis Kaktins-Gorsline's painting for probably 10 years now, but always respected his representation with Katherine Mulherin.  We started speaking with him in the Spring just has he moved deep into the Manitoba woods near Riding Mountain National Park.
His plan was to paint plein-air paintings, romantically emerging himself in nature, like the Impressionists.  What he discovered were bears, rain, mosquitos and a psychological challenge that he had not expected.  The paintings created over the summer that we will be featuring at Art Toronto are gritty, immediate, intuitive, painterly, complex, but also very beautiful.
As Krisjanis states: "I looked at nature, nature looked at me, and then we politely parted ways."
Notify Me When Krisjanis Kaktins-Gorsline Images Are Available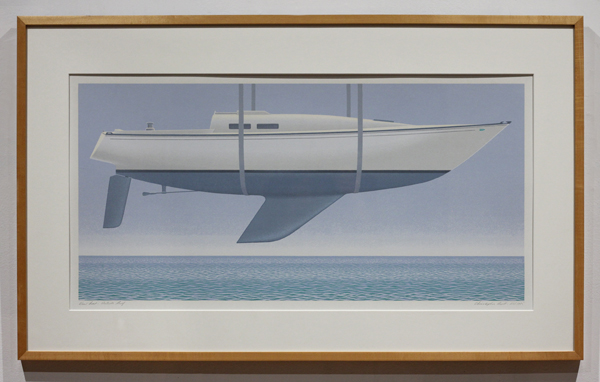 Christopher Pratt "New Boat", Serigraph, 1975, Artist Proof, 14 1/4 x 30 in.
Over the past two years we worked with a Newfoundland family that owned a diverse collection of East-coast artists including various prints by Christopher Pratt.  The boat is a common subject that appears over and over in Christopher Pratt's work.  He stated that: "[New Boat] has less to do with sailing than with newness, that moment of possession: the boat – sleek, ruthless, and efficient, like a shark – hanging in the straps, ready to be lowered into the sea."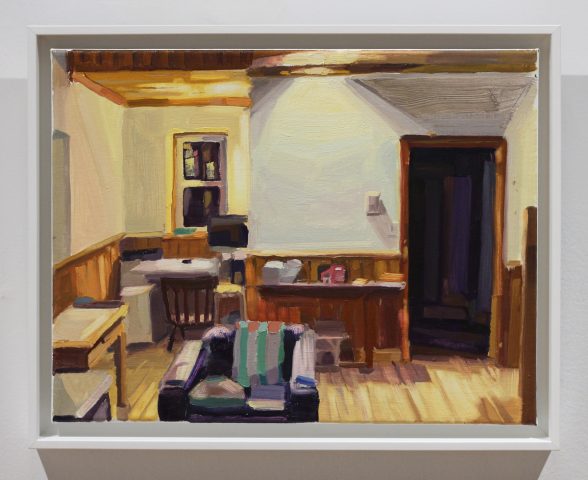 Keiran Brennan-Hinton "Nighttime Interior", Oil on Canvas, 2020, 11 x 14 in.
Keiran Brennan Hinton is interested in focusing on daily activities that are normally overlooked – capturing the stillness of a room in the nighttime, hanging out laundry on a wash line, making a bed, or picking wildflowers. The paintings featured in our Art Toronto booth are meditations on a new way of living both inside and out during the Pandemic and reflect his interest in touch and the act of looking in relationship to painting.
Notify Me When Keiran Brennan Hinton Images Are Available
---
Connect with Us

Recent Instagram Post
@gregcurnoeart 1990-91 "(Mis) Deeds #1", Stamp pad ink, watercolour, 42×64 inches. We will feature this important work at the upcoming @art_toronto online and at our Pop-Up @stephenbulgergallery #popupsbg #gregcurnoe #cdnart

Recent Facebook Post
Livestreamed auctions make gameshows of art, but where is the glamour? Read HERE

Recent Twitter Post
Please consider donating #socks for @519Pursuit, a volunteer group devoted to helping the homeless in downtown London.  Donate at @CoventMarket every Saturday in October or support HERE