Today I am writing while listening to Jack Johnson's new album "Meet the Moonlight".  Hard to deny that his music is painted beautifully and uplifting to listen to.  Like 3:00 on the dock, life is good.
Jerry Seinfeld is a very observant funny guy.  Larry David is an incredibly observant funny guy.  Seinfeld's first episode was on July 5, 1989 with Larry and Jerry writing 180 episodes over 9 seasons.  Can you imagine sitting in on those meetings while they created the Soup Nazi, Master Your Own Domain or the Marine Biologist episodes?
I watch old episodes pretty much every week because it relaxes me and it beats the news.  I enjoy their insane creativity and each of the intertwined and somehow related events that are all tied together in less than 30 minutes.  At home I am asked frequently, "Haven't you seen this episode before?", but, like Dylan, more than once is usually better.  The things that give us comfort, music, art and interesting food, also keep us perhaps engaged, with a necessary edge.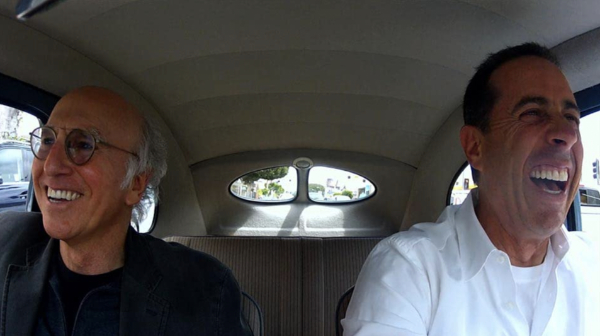 I know a lot of people who find Jerry and especially Larry too much. Constantly complaining about everything imaginable, it really can be too much.  I think it is the curiosity that they have for life, which is contagious, that I love.  Humour is healthy and good.  Although, expressing to friends your curiosity about "muffin tops" or "man hands" can still be problematic.
Curb Your Enthusiasm and Comedians In Cars Getting Coffee are both newer vehicles for Larry and Jerry, which have also become very popular.  On our recent trip out West I was pleased when son Sam said that he watched a season of Curb on the plane and really enjoyed it.  Their writing continues to be very strong and creative.  Larry really is a pain in the butt who bungles his way through a very comfortable life amongst his steadfast small group of loyal friends.  HERE is Jerry and Larry having coffee on Jerry's show and the 10 greatest guest appearances on Curb HERE.
These two guys met in 1976 and started writing stand up material together.  After Jerry was offered a pilot from NBC in 1988 he asked Larry to join him to write and produce for the show.  Like MASH, Seinfeld is now enjoyed by a new generation on Netflix, which is lot easier than the individual season box-sets that I used rent the kids for sick days.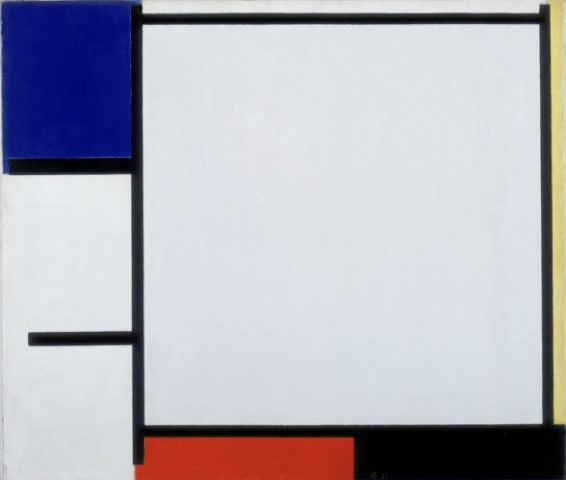 This week on the BBC News cultural page I was thrilled to see the article: "Piet Mondrian and the six lines that made a 1922 masterpiece".  The painting "Composition with Blue, Yellow, Red, Black and Grey" is 100 years old and would still be too modern for the majority of art collectors today.  A pioneer in Modernist painting, I would pretty much die to own a Mondrian, although that's not going to happen unless I am in a will that I am unaware of.  Can you image such a thing happening!
When I am sitting with a painter in his/her studio, Mondrian is often referred to at some point in the conversation.  He simplified his paintings to the three primary colours (red, blue and yellow), the three main values (black, white, and gray), and the two key directions.  Like the early iPhones, simple but beautiful to look at and hold.
"Vertical and horizontal lines are the expression of two opposing forces,"Mondrian later explained in a 1937 essay, "they exist everywhere and dominate everything; their reciprocal action constitutes life."
A seasonal summer pasta dinner using fresh basil and beans or peas sounds pretty green and delicious. There are many excellent choices for pasta dishes and salads to choose from.  The simpler the better for me.
THIS Jamie Oliver "Summer Tagliatelle" with basil and almond pesto, broken potatoes and delicate green vegetables, would be great with a cold glass of buttery chardonnay and a crunchy seasonal salad.  Enjoy!
Quote by Larry David:
"Anyone can be confident with a full head of hair.  But a confident bald man – there's your diamond in the rough."
Have fun, stay safe,
Michael Gibson
---
Summertime With Brian Jones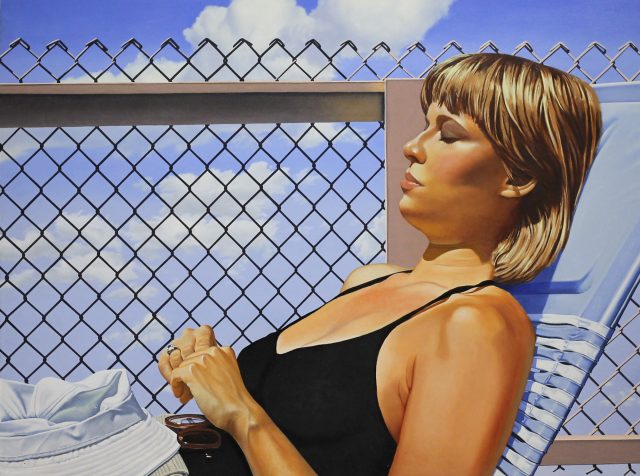 Brian Jones venerated an idyllic past that celebrated the zeitgeist of the Baby-Boomer generation.  From his highly polished high-realist portraits and cityscapes to his beloved "Neighbours" style, Jones delighted in simple, everyday moments, made exciting by his vivid imagination.
Started in 1981 when Susanne was 26 years of age, the large oil painting  "Susanne Jones" captures an intimate moment of Brian's then girlfriend and soon to be wife while she sunbathes on vacation in Cape Cod.
Jones's interest in detail and specifically light and reflections, is also featured in his meticulous watercolours of houses from the early 1980s.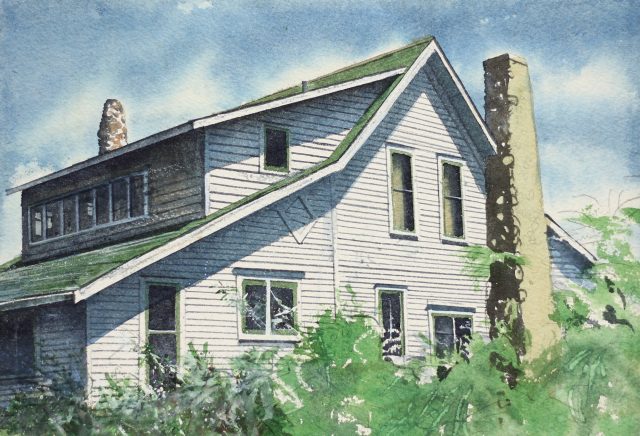 Brian Jones "Clapboard House in Summer", Watercolour, c. 1980, 7 1/2 x 11 in.
By the mid-1980s, Jones fully embraced his "Neighbours" style, a streamlining or over-exaggeration of the figure.  Youthful scenes with mothers and children at the beach to boys playing with toy boats were often his focus.  His narrative-rich paintings centred on simple, familiar activities, which became a Jones-filled-universe of light, joy and summer fun.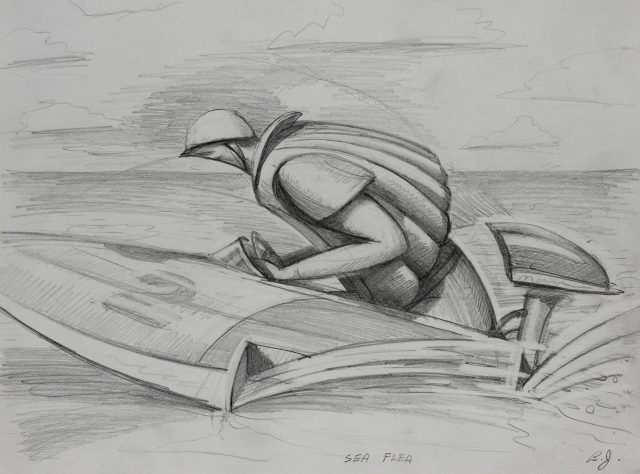 Brian Jones "Sea Flea", Graphite on Paper, 8 x 11 in.
---
Angus Trudeau Exhibit Continues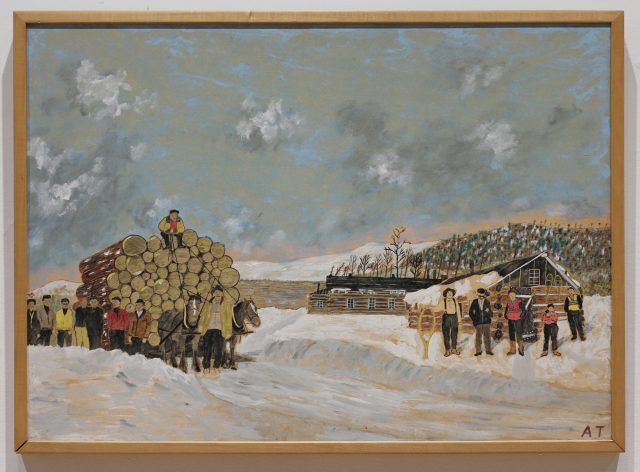 Angus Trudeau "Untitled (Hauling Logs)", MM on Board, 20 x 28 1/2 in.
ANGUS TRUDEAU – JULY 8 – 29, 2022
Av Isaacs, Trudeau's dealer between 1973-82 wrote the following about Angus:
"Many "naive" artists, once discovered, and once realizing what will sell, proceed to repeat themselves endlessly.  Angus, on the other hand, was constantly evolving and improving.  He developed an ability to paint the various moods of the sky and water that was quite exceptional.  If you came across a painting by Angus in the art gallery you would probably not suspect that he was a native.  His tradition of painting preceded the contemporary Indian traditions depicted by artists such as Morrisseau, Odjig , Ray and others…. He knew nothing about the rules and as a result, regularly and very successfully broke them." 
View Angus Trudeau Exhibition HERE
---
Seeking Anne Meredith Barry & Angus Trudeau's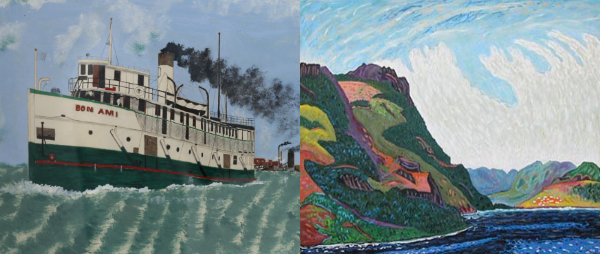 We are actively seeking artworks by Anne Meredith Barry and Angus Trudeau for upcoming exhibitions.  If you own an artwork by either artist, please contact us.
---
Connect with Us

Recent Facebook Post
Join Chief Curator Sarah Milroy of the McMichael Canadian Art Collection for a virtual video tour to Gathie Falk: Revelations, a retrospective exhibition that explores the boundless imagination of one of Canada's most beloved and esteemed artists.  Watch HERE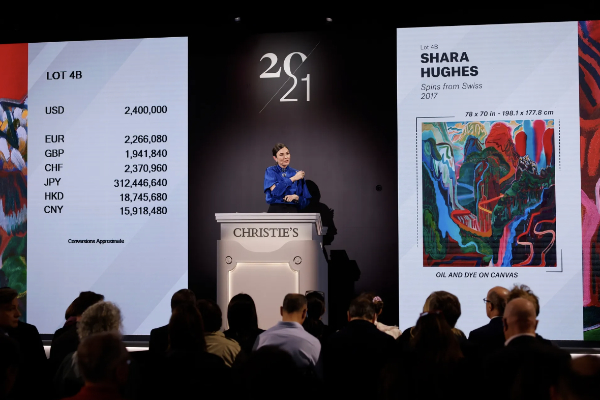 Recent Twitter Post
'This market will not turn quickly': Christie's, confident amid fears of a coming recession, reports $4.1bn in sales in the first half of 2022.  Read HERE