The Eastern Townships is a smaller version of the Canadian Rockies.  During the summer or winter months there are limitless opportunities to get outside with your peeps.  People who settle near Magog, QC or Canmore, AB have a passion for being outside, enjoy walking, climbing, skiing, canoeing, or anything else that is happening outside.  How about we go hang gliding after lunch?
Removing yourself from the traditional "mainstream" business friendly locations to actually live where you want to live is now being accepted.  People are saying: "Hey, we want to live like you" and are moving to such places to improve their quality of life.  This should be a good thing.  We can still have a career and paddle a canoe on a Tuesday afternoon.  I am happy for the next generation with these new opportunities.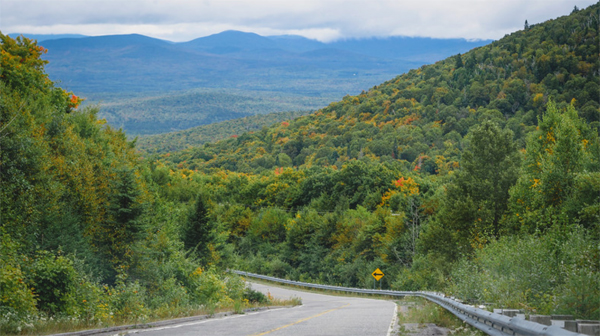 During the time that I lived in the Eastern Townships, I discovered something about myself that was unexpected.  We did take advantage of the vast opportunities to ski both locally and to drive the 1/2 hour south to New Hampshire and Vermont.  Stowe and Orford were both tough, icy, cold places to ski.  The upside was you were rewarded at the end of the day by live music in the base chalet.  A few local, long haired guys usually playing Neil Young or similar, solidified the end of day with friends.  It soon became obvious to me that I wanted to learn how to play the guitar.
A close friend of mine at Bishop's was a great guitar player who owned two guitars.  He was generous with his time helping me to learn how to control my fingers to play the chords.  The Norman guitar seemed to be the axe of choice in the Townships, as all of the locals with plaid shirts were playing them.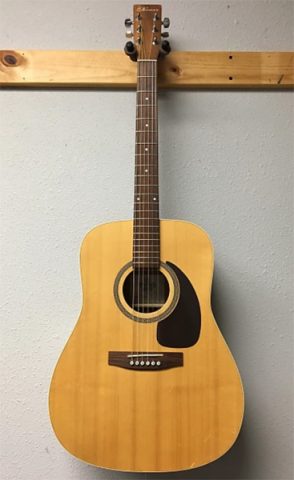 The big album in the Townships was the debut self-titled album by the Quebec band Harmonium.  I am sure they are playing 12 string Norman guitars!  These were the René Lévesque years (Premier 1976-85) and new voices were emerging.  Harmonium were appropriately described as Canada's answer to the LA music scene.  If you listen, try "Pour an Instant".  You may be inspired to learn how to play the guitar.
I decided on my 21st birthday that I was going to buy myself a guitar.  I discovered that Norman guitars were made just 50 kms away in La Patrie, Quebec, juste à côté to Mont Mégantic.  So on Saturday, January 13, 1979 my roommate and I fired up my 1971 VW and headed east to visit the Norman guitar factory.  One had to dress warmly for such a January adventure in my VW.  Fortunately I had the $125 for a factory second B-20 beauty that I still play today.
What was unexpected for me, not being raised in a musical family, is what happens to you when you personally create music on a handmade instrument.  Whatever your troubles were, they seem to vanish. 
Within minutes, "poof", your space in the world changes to a simplified existence of self creativity.  I didn't realize that playing a musical instrument would be such a personal moment.
On my last visit with my grandmother in England, the walks and talks we had can only be known by me and her.  Similarly, I have learned that playing a musical instrument is an equally private exchange of friendship.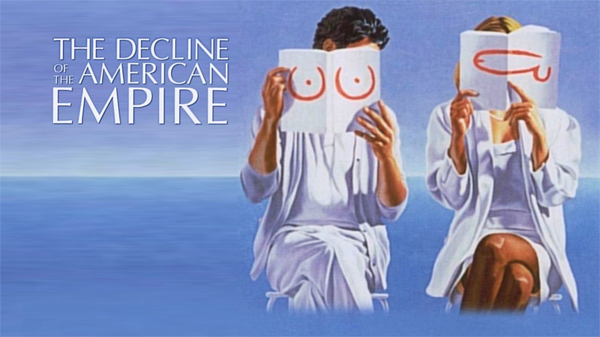 The Quebec film "The Decline of the American Empire" (1986), Deny Arcand's first of the trilogy, is a clever 'sex' film which is really about thinking and talking about sex.  It is an intellectual movie that should bring a smile to your face in a very 80's way.
"Sugaring Off" season in Quebec is now on.  The freezing nights and warm days of Spring drains the sap from the maple trees to be enjoyed poured directly onto their snow filled troughs.  Doing so reminds one that the school year is ending, but not before the upcoming final exams.  Time to buckle down and think about your summer job possibilities.
Quote by Pierre Trudeau:
"What sets a canoeing expedition apart is that it purifies you more rapidly and inescapably than any other travel. Travel a thousand miles by train and you are a brute; pedal five hundred miles on a bicycle and you remain basically a bourgeois; paddle a hundred in a canoe and you are already a child of nature."
Have fun, stay safe,
Michael Gibson
---
"ROCKSTARS" Exhibition Online Soon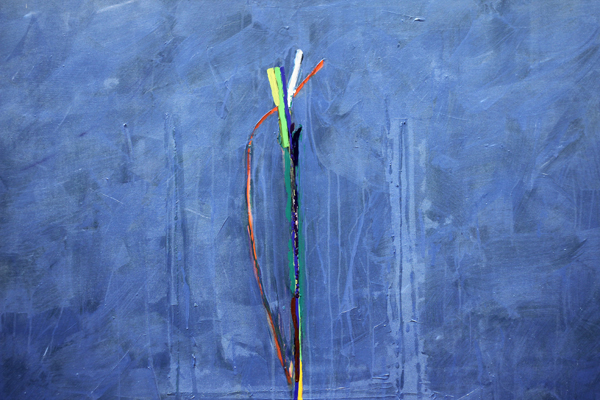 detail of David Bolduc "Rice Miller", Acrylic on Canvas, 1975
"ROCKSTARS" 
Featuring the artists David Bolduc, Murray Favro, Ron Martin & John Scott
"Rockstar" Definition: a highly accomplished and well-regarded person, widely recognized for an outstanding talent.
For our Spring exhibition we have curated a show of four artists born between 1940 and 1950.  All four artists were at one time represented by Carmen Lamanna Gallery and created visceral and now revered artworks.  Completed between 1972 and 1989, the paintings and sculpture included show the artists in their prime.
We have specifically chosen artworks that are iconic representations by each artist: classic 1970 abstracts by David Bolduc, sculptural guitars by Murray Favro, one-colour black and red abstracts by Ron Martin and a monumental 1980s work on paper by John Scott. 
---
Recent Discovery – Clark McDougall Portrait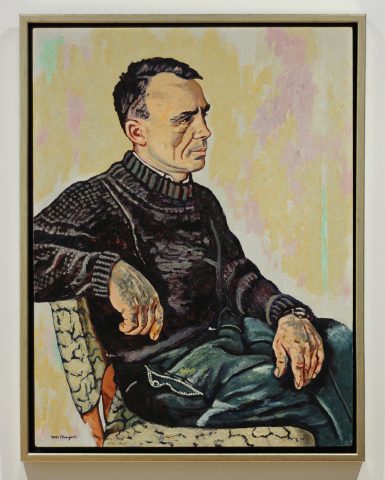 Clark McDougall "Portrait of Henri Albert Theriault", Oil on Masonite, 1966, 34 x 26 1/2 in.
Clark McDougall made very few portrait paintings during his lifetime.  The portraits that he did paint were typically of very close friends.  We have recently acquired this portrait of Clark's dear friend, Henri Albert Theriault, from Henri's niece.
This is the first time the painting has been seen in public, as it has been in the Theriault family home since it was gifted to Henri shortly before Clark's death.
Henri and his wife Norma became friends with Clark around 1960.  Henri, a master carpenter by trade, was also passionate about art and Clark and he would drive together photographing and painting in the Ontario landscape.
Equally eccentric and kindred spirits, Henri and Clark corresponded by letter about many topics over their 20 year friendship.  We were fortunate to receive a selection of Clark's letters dating from 1967-1975 and personal photographs.
The portrait reflects the closeness of their relationship and Clark's interest in Henri's hands, the source of his craft as a handyman.
Learn More about the painting HERE
---
Connect with Us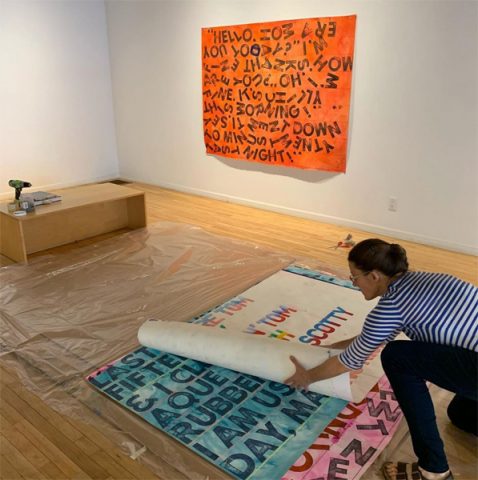 Recent Instagram Post
Time to pack Greg up and make room for Bolduc, Favro, Martin and Scott 1940-50 ROCKSTARS exhibition online soon. @gregcurnoeart #michaelgibsongallery #davidbolduc #murrayfavro #ronmartinart #johnscottartist #cdnart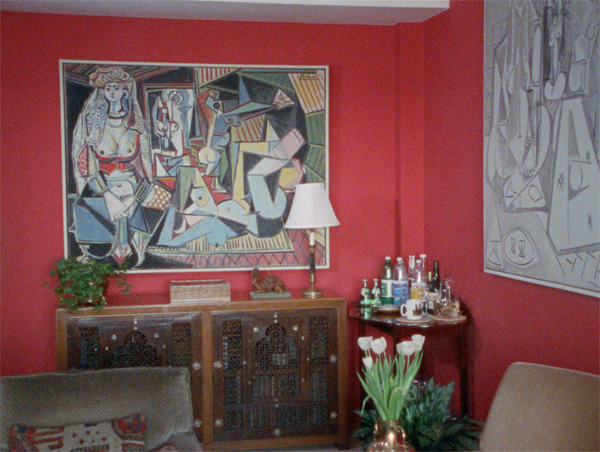 Recent Facebook Post
Victor and Sally Ganz, Picasso Connoisseurs: "A Brand That People Were Proud to Own".   Read HERE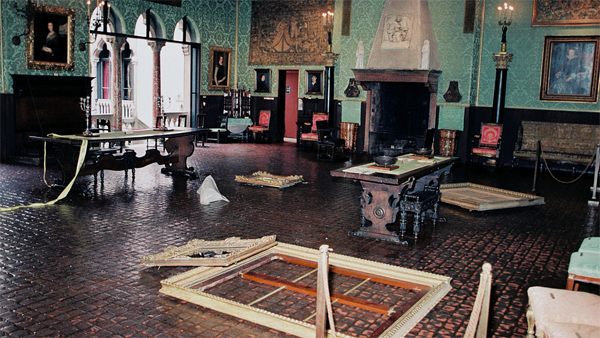 Recent Twitter Post
Who stole the Isabella Stewart Gardner Museum's paintings by Rembrandt, Vermeer and Manet, among other items, and are we any closer to finding them? Can Netflix help solve the Isabella Stewart Gardner art heist?  Learn more HERE