Michael Gibson Gallery is an independent, self funded, retail operation. We sell art – that is our business. I think we are lucky to be in this business. We have built relationships with so many wonderful people that I wouldn't have met otherwise. We bring joy to people by supporting the arts. That is our talent and therefore our product.
An artist and a dealer share a lot of common characteristics: solitude, creativity, successes and failures, but it is the element of fortitude that can separate us. Spring 2020 requires fortitude.
Small businesses are all about building relationships. I would like to recommend that we support our local small independents who have had a terrible few weeks. Some of the hipster spots, that we truly enjoy, have not had a previous downturn in their career.
Last night I picked up the phone and ordered the $17 take-out burger and fries to die for (no duck fat) from Milos' Craft Beer Emporium located at the opposite end of our street. I said I would be there at 7:45pm. I had a really nice visit with Milos, who I have known since 1984. It felt fantastic to support him and what a treat to go 'home' and enjoy what he prepared just for me.
An added feature is that Ontario has now become a civilized province so that we can also order suitable craft beer to accompany such a meal. In London there are many such quality choices. I hope there is also one where you live.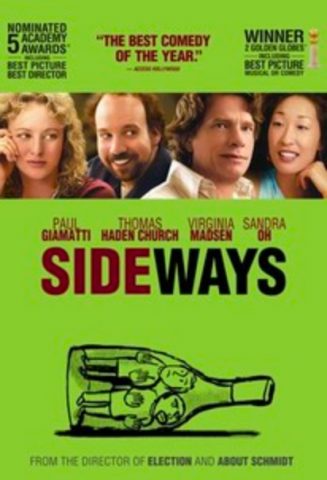 Movies this week share the theme of being about food. Big Night or Sideways are both memorable movies for very different reasons. Click HERE to see delicious food movies.
When I write, I like to listen to music to assist me with the process. Right now I am listening to, for the first time, Jackson Browne, Solo Acoustic, Vol. 2 (2008) and what a gem of album to write to.
Last week Bob Dylan released his soon to be epic "Murder Most Foul" single. I have had 3 very long conversations with my peers this week about Bob's 17 minute song released in March 2020.
Footnote: The very first day I received my drivers licence, I was allowed to take my father's 1972 Buick Centurion with 455 cubic inch for a spin. Jackson Browne's "Doctor My Eyes" came on the radio. The new sense of freedom and independence, combined with that very powerful motor, was an unforgettably joyous solo moment in my then short life. So Jackson has always has always had a soft spot in my heart.
Michael Gibson

---
April Exhibition Begins Tuesday

"CLARK MCDOUGALL's Two Solitudes"
April 7 – 25, 2020
For the past 2 months we have been seeking and contacting Clark McDougall collectors in order to curate this exhibition.  We wanted to curate rare and unseen paintings from both the estate, private collectors and public galleries.  Having previously acquired and sold many paintings by Clark, we are in an unique position to find and present these incredible paintings for the month of April.
Click HERE to be notified when Clark McDougall images are available

Through the selected paintings, we are sharing Clark's work, telling his unique story and highlighting two subjects that he returned to often: the rural landscapes of North Yarmouth Township and the energetic city streets for which he was familiar.  The paintings show a development in his remarkable style and reveal how he studied a subject in depth, travelling, like now, at a slower pace and creating a visual memorial to his way of life.
An Online Exhibition Catalogue will be forthcoming.  Click HERE to be notified when Clark McDougall's Online Catalogue is available

---
Our New Shared Language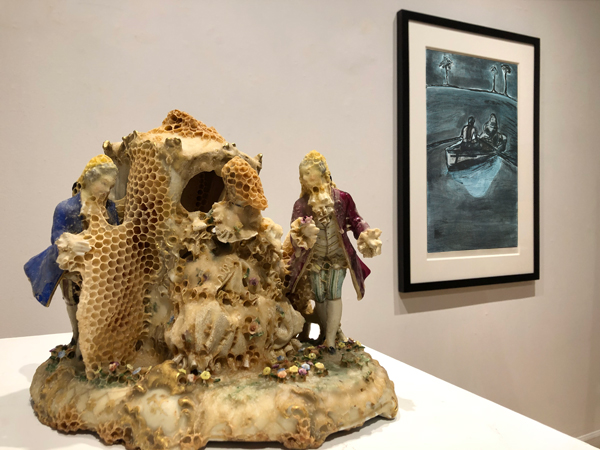 Aganetha Dyck "Arrival", Beework & Honeycomb on Porcelain Figurine, 2008 with Peter Doig "Two People at Night", Etching, 2016
I have been thinking a lot lately about the importance of human touch.  Aganetha Dyck's incredible beework and honeycomb sculpture "Arrival" sits on my desk and I look at it often.  I was struck by the gestures of the figurines as well as the way the bees would have "touched" the figures to build their intricate honeycomb.
In the middle gallery, for the month of April, we are hanging a selection of artworks that reflect our new shared language.  Terms such as "self isolation" and "social distancing" are now common topics of conversation among us all.  Artists always have and will continue to reflect our surrounding world and through these artworks we hope to show humour, grace and a sensitivity to the human condition.
Included will be works by Aganetha Dyck and Peter Doig (as shown) as well as humorous photographs by Diana Thorneycroft and Sage Szkabarnicki Stuart and paintings by Etienne Zack and Greg Curnoe.
Jennie Kraehling
Click HERE to be notified when images are available
---
Connect with us

Recent Instagram Post
This is our second instalment for our isolation solutions. My sense is that it's time to reward ourselves with an over the top meal and a movie to fall into for a couple of hours. I love this simple 4 course decadent meal of Seared Rib Steak, Duck Fat Roasted Potatoes, Arugula and Avocado Salad and Chocolate Mousse. Click link in bio for the recipes. Have fun and stay healthy.
#cooking #stayhome #comfortfood #healthy #organic #cookingintimesofcorona #KeepCookingCarryOn #food #homecooking #chef #steak #pinotnoir #newyorktimescooking

Recent Facebook Post
Jerry Saltz writes about "The Last Days of the Art World" … and Perhaps the First Days of a New One.   Read Article HERE

Recent Twitter Post
We have recently subscribed to a fantastic newsletter: The Localist, a weekly, curated list of London, Ontario experiences.  #LondonTogether. Read their weekly lists HERE