Today I am listening to Dean & Britta's 2007 album "Back Numbers".
Last week I gingerly stepped onto an Air Canada Airbus A320, which was my first flight since January 2020.  I was joining a friend of 50 years in the Turks and Caicos for 5 days.  Mastering kite surfing was the mission, however, we will need a return trip for that to happen.  The necessity of male bonding is often overlooked.  A quick drink at a bar or ridiculously trying to kite surf are equally beneficial.  It's not the time, it's the quality.
Turks was likely visited by Mr. Columbus on his original voyage of 1492.  At that time the current Indigenous inhabitants had already been there for some 700 years.  In 1917, Canadian Prime Minister Robert Borden floated the idea that the Turks and Caicos should join Canada.  This idea has been kicked around a few times since.  Sadly it's too late now as the island real estate is comparable to Miami prices.  Great idea Mr. Borden!
The art of travel now requires a smart phone and the complete knowledge of how to upload PDF's to the many different government platforms.  There was a point where I felt overwhelmed. 
After successfully jumping through the many hoops, next time, I will feel much more comfortable.  In post 9/11 travel, we went from arriving 2 hours before an international flight to now 3 hours.  Hopefully all my PDF's can be put together along with my passport in a secure site that can be seen by all the customs agents around the world.  This app can't be too far off.
"Bridge Over Troubled Water" is a song that I have been thinking about.  If someone leaned over to you and gave you a hug and said: "When you're weary, Feeling small, When tears are in your eyes, I'll dry them all, at a time of need", that would be pretty comforting.
The album was released in early 1970 and was the exclamation point on both the 1960's and Simon and Garfunkel.
A giant of an album with this song being the first track on the A side, the political environment needed this gospel inspired compassionate ballad.  Written by Simon who correctly decided, and later regretted, that Garfunkel should perform it solo.  Art's rendition is commonly regarded as his finest moment.  Songs like this suffer from overplay and prevent us from having the fresh experience that we had the first time we heard it.  Though, it is still comforting to watch Art's performance from their 1981 Central Park Concert.
The break-up of Simon and Garfunkel in 1970, like the Beatles, came from a need for personal growth.  Garfunkel's budding acting career in Mike Nichols' movies (who originally met on the set of "The Graduate"), was becoming problematic for the lonely song writer Paul Simon.
In 1970 and 1971, Garfunkel stared in Nichols' "Catch-22" and "Carnal Knowledge" respectively.  Both highly regarded films, "Catch 22" is on the lighter side of life and an excellent satire of WW II bomber pilots.  It features a few of my favourite quirky actors: Alan Arkin, Charles Grodin, Bob Newhart, Martin Sheen, Jon Voight and the newly re-named Arthur Garfunkel.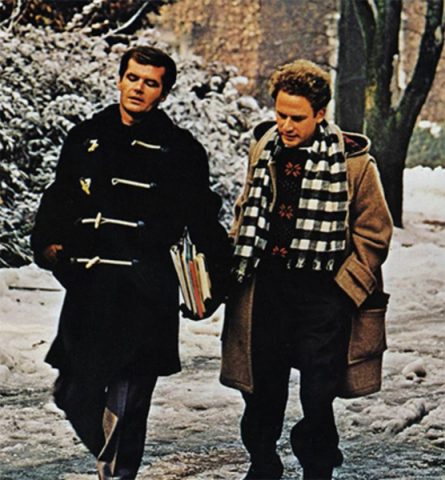 "Carnal Knowledge" features Garfunkel along side Jack Nicholson, Candace Bergen and Ann Margaret. Nichols' best film, is a common adage. 
"Carnal Knowledge" was so controversial for the 'blunt depiction of sexual intercourse'.  A theatre manager in Georgia was charged with breaking the obscenity laws which were later turned over.
If you can handle any more 1970ish-ness, perhaps an Old Fashioned, Grasshopper, Brandy Alexander, Tom Collins, Rusty Nail, Stinger, or a Harvey Wallbanger might be in order?  If you could answer the bartender's query of, 'What can I get ya?', with any of these in the 70's, you'd be cool. 
My kite surfing buddy and I discovered the Harvey Wallbanger in Bimini in 1978, although I believe we used dark rum.  I doubt I have had one since.  The ingredients of THESE drinks will remind you of perusing through your parents liquor cabinet and wondering: What is all this Creme de… stuff used for?
Beef Bourguignon is the expensive way to say Beef Stew.  I think it still works if you have a wintery day at home with a limited agenda. 
HERE is a delicious looking recipe that I would like to try.
I made many visits to the Sable Castelli Gallery in the 1990's and beyond.  When Jared began to get out of his chair to greet me, I knew we were now friends.  I think it is obvious that we share a similar eye and approach to the art business.  We recently discovered this still relevant article, written by Jared, about the idea of "real art".  I am just not sure who my Ken Danby is?  Enjoy.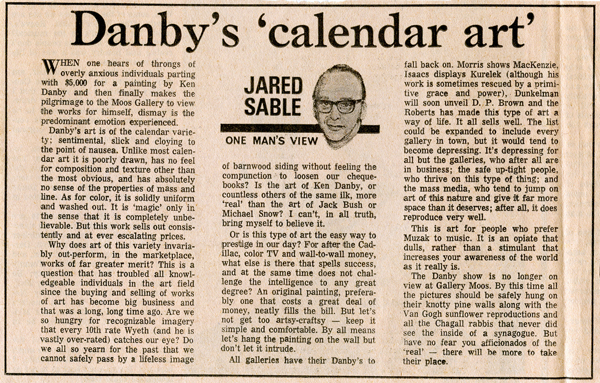 Quote by Boris Johnson: "Yesterday I went, as we all must, to Peppa Pig World. I was a bit hazy about what I would find at Peppa Pig World, but I loved it. Peppa Pig World is very much my kind of place".
Have fun, stay safe,
Michael Gibson
---
December Exhibitions Open Next Week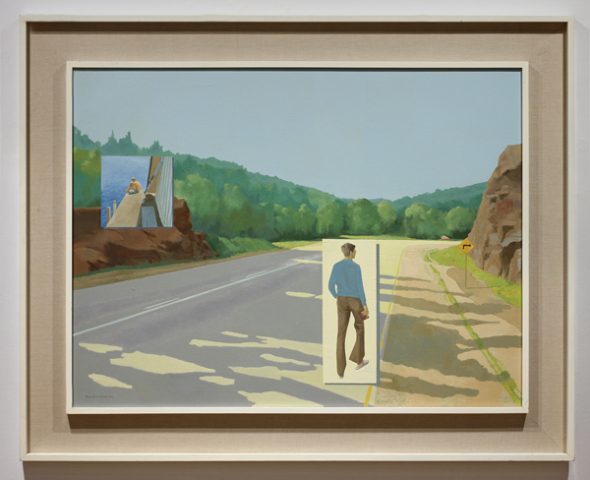 Paddy Gunn O'Brien "From Chambers to Cezanne"
December 4, 2021 – January 1, 2022
Artist and curator Paddy Gunn O'Brien (1929 – 2012) was at the centre of London's regionalist movement, creating paintings that referenced her family, British & local landscapes and scenes of Lake Huron.
British born, O'Brien trained at Reading University before moving to Canada with her husband in 1950.  A formidable track athlete, curator of 1280 exhibitions over 38 years and a dedicated editor of art criticism, O'Brien played a key role in establishing London's national artistic reputation.
Paintings from 1969 – 2004 will be featured in our exhibit, which will show the influence of the Surrealists, Cezanne and Jack Chambers in her work.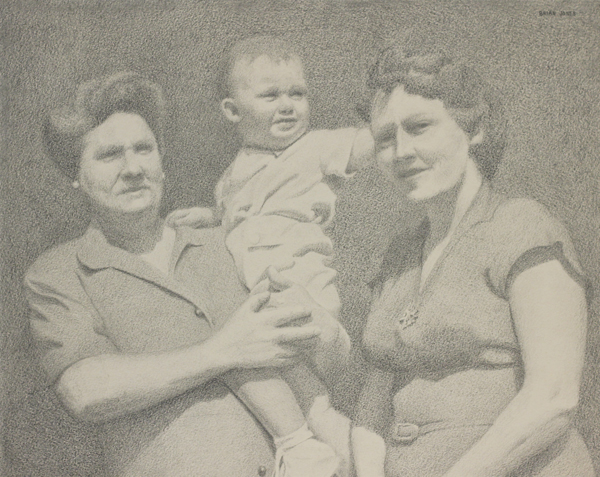 Brian Jones "Family Album Drawings"
December 4, 2021 – January 1, 2022
In 1969, Brian Jones (1950-2008) moved to London to attend the special art course at H.B. Beal Secondary School.  After school and a brief apprenticeship with Jack Chambers, Jones dedicated himself to a straight-forward realism.
Working from family photo albums (like Jack), Jones embraced a subject matter that reflected everyday life: simple, ordinary moments from the past.  His exquisite drawings and watercolours reflect a world filled with a dynamic spirit and nostalgia.
Our middle gallery exhibit will include a small suite of early realist drawings and watercolours dating from 1971-1978.
---
NEW Perehudoff & Knowles Arrivals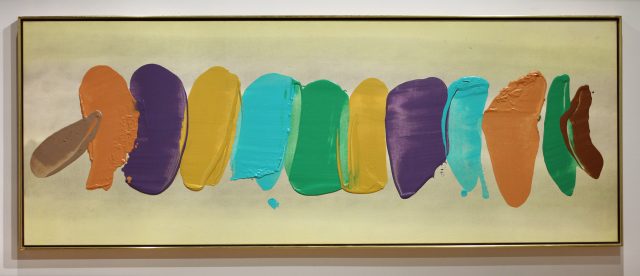 William Perehudoff "AC-83-049", Acrylic on Canvas, 1983, 30 x 80 in.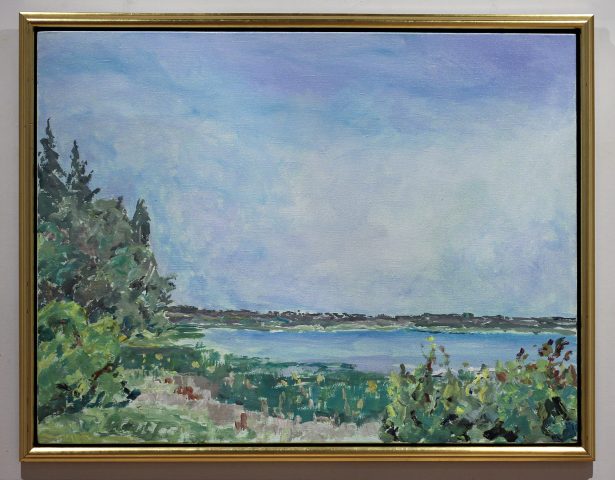 Dorothy Knowles "Murray Point in the Morning", Acrylic on Canvas, July 24, 1993, 32 x 42 in.
---
Connect With Us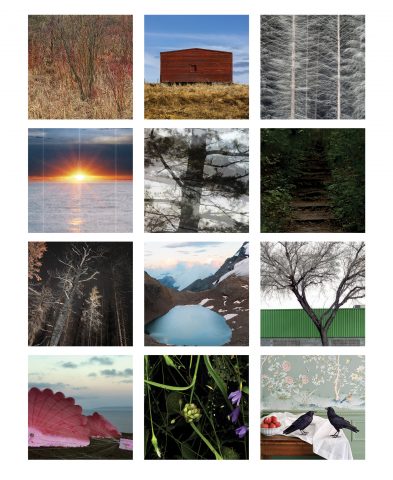 Recent Facebook Post
A Rare Find Auction featuring photographs by Ed Burtynsky, Susan Dobson, Will Gill, Rita Leistner, Ned Pratt and others will be on view at the Nicholas Metivier Gallery and auctioned off Dec 2-12.  More info HERE.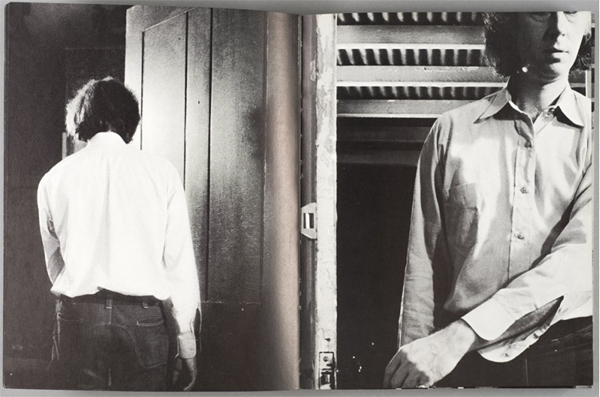 Recent Twitter Post
The National Gallery of Canada writes about Michael Snow and experimentation in book form.  Read HERE