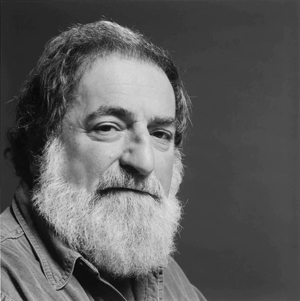 Claude Tousignant (born 1932) is one of the pioneers of Canadian geometric abstraction and a member of the non-representational art movement in Montreal called "les Plasticiens".
Born in Montreal, Tousignant attended the School of Art and Design at the Montreal Museum of Fine Arts. Moving beyond the gestural, action painting of the time, Tousignant was more influenced by the geometric abstractions of Piet Mondrian and started to make hard-edged paintings in 1965.
His rectangular paintings feature bands of chromatic colours painted using a roller and defined edges achieved with masking tape.   The vibrating colours create a rhythm and optical illusions that are meant to challenge the senses.
Created over fifty years his work has developed through tightly planned series, from his "Transformateurs chromatiques", "Gongs" or "Target" tondos, "Accélérateurs chromatiques", "Diptyques circulaires", to his more recent "Polychromes" and "Monochromes".
In 1965 he represented Canada at the 8th Bienal de Sao Paulo and enjoyed his first retrospective at the National Gallery of Canada in 1973 and his second at the Musee d'art contemporain de Montreal in 2009.
Tousignant is an officer of the Order of Canada and won the Governor General's Award in Visual and Media Arts in 2010. His work is in the collections of the Art Gallery of Ontario, Musee d'art contemporain de Montreal, Montreal Museum of Fine Art, National Gallery of Canada and the Vancouver Art Gallery.
(Photo: Richard-Max Tremblay)