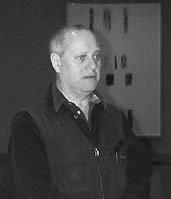 David Rabinowitch (born 1943) is a Canadian sculptor whose work is influenced by architecture, science, philosophy and music.
Born in Toronto and twin brother to Royden Rabinowitch, David Rabinowitch studied English Literature at the University of Western Ontario. In 1972 he settled in New York.
After an encounter with the work of sculptor David Smith, Rabinowitch switched from painting to sculpture.   Interested in literature and philosophy, his work has always been interested in astronomical and chemical systems and defining the exact relations between their elements.   Ranging from flat rolled steel to geometric steel frames to wall reliefs and floor sculptures, Rabinowitch's sculpture aims for a literal wholeness but for "the continuous regeneration of perception with respect to one thing."
In 2003, a major retrospective of his work was organized by the Musée d'art Contemporain de Montréal, Quebec.
His work is in countless prestigious public collections including MoMA in NY, Metropolitan Museum of Art in NY, San Francisco Museum of Art, Art Institute of Chicago, Kunsthaus Zürich, Switzerland and National Gallery of Canada.