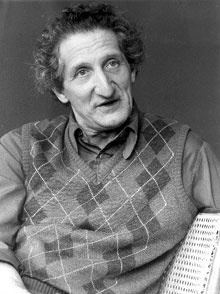 Guido Molinari (1933 – 2004) was a Montreal abstract painter closely associated with the Quebec Plasticien movement.  Respected as one of Canada's leading modern artists, Molinari is best known for his paintings of vertical stripes of equal width, painted with a hard-edge in multiple contrasting colours.
Born in Montreal in 1933, Molinari took courses at the Ecole des beaux-arts de Montreal between 1948-1951.  Much of his artistic education was due to his reading and visits to New York, especially studying the abstract work of American artists Barnett Newman and Jackson Pollock.  Molinari was a founding member of the Association des artistes non-figuratifs de Montréal in 1956.  As such, he was one of the main figures responsible for promoting abstraction in Quebec.
Working in series, Molinari is best known for his "stripe" geometric paintings that he started producing in the 1960s.  His interest in the dynamic energy of colour continued in his "Quantificateur" series of large-scale monochromes that began in the 1970s.
Molinari was awarded many honours during his lifetime including the Guggenheim Fellowship in 1967, Officer of the Order of Canada in 1971, and the Prix Paul-Emile Borduas in 1980 for his contribution to art in Quebec.
In 1965 he was included in New York MoMA's exhibit "The Responsive Eye" which led to him representing Canada at the 37th Venice Bienniale in 1968 where he was awarded the David Bright Prize.
Molinari's first retrospective exhibition was organized in 1976 by the National Gallery of Canada.   The Musee d'art contemporain, Montreal organized another retrospective in 1995, which paid tribute to his commitment to abstract painting and his influence on the Canadian art scene.
His paintings are in numerous public collections including the Art Gallery of Ontario, National Gallery of Canada and the Museum of Modern Art in New York.
He passed away in Montreal in February 2004.