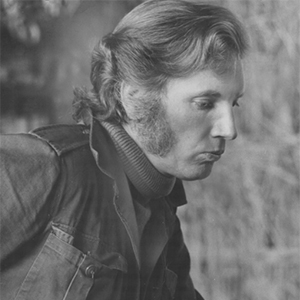 Harold Town (1924-1990), co-founder of the Painters Eleven, was a celebrated and prolific abstract painter working in the avant-garde art movement in post-war Toronto.   Known for his carefully composed paintings and energetic, expressionistic, vivid colour, Town worked in a variety of media including painting, drawing, printmaking and sculpture.
Born in Toronto, Town trained at the Western Technical Commercial School and the Ontario College of Art.   After graduating he worked as a commercial illustrator for Macleans Magazine.
In 1953 Town co-founded Painters Eleven (1953-1960), a group of eleven dynamic abstract painters who exhibited together and were interested in abstract and modern art.   The group included Jack Bush, Oscar Cahen, Hortense Gordon, Alexandra Luke, Jock MacDonald, Ray Mead, Kazuo Nakamura, William Ronald and Walter Yarwood. The Painters Eleven were inspired by their contemporaries working in New York and the Abstract Expressionist movement.   Though not entirely popular at the time, their artwork is now praised and recognized as an important development in Canadian contemporary art.
In the 1960s Town created a series of prints that he called "Single Autographic Prints". Using lithography and inked cut outs and stencils he worked on several prints at once over a period of days. The autographic prints comprised his first significant body of work. Colourful and patterned, these prints were acquired by the Solomon Guggenheim Museum and the MoMA, NY.
Expressionistic or geometric, Town worked in a variety of styles, though always relied heavily on strong compositions. Working often in series, his "Set" paintings and "Tyranny of the Corner" paintings from the 1960s follow strict formal constraints. Through the 1960s and 1970s he continued to develop his style with the "Optical" and "Silent Light" (1964-1969) paintings, the "Stretch (1968-1970), "Parks" (1970-1972) and the "Snaps" (1972-1976). For the seminal "Snap" paintings, Town created a snap-line and applied the paint to the canvas by snapping the string against the surface.
Between 1957 and 1964, Town became a nationally recognized artist, exhibiting nationally and internationally in 70 exhibitions and receiving a $10,000 Ontario Hydro commission. Town represented Canada two times at the Venice Biennale, first in 1956 along with Jack Shadbolt and Louis Archambault and again in 1964 with Elza Mayhew. He also represented Canada at the Sao Paulo Art Biennial in 1957 and 1961. He was named to the Order of Canada in 1968.
His work is in the collections of the Tate Gallery in London, UK, the Guggenheim, Metropolitan Museum of Art and MoMA in New York, Art Gallery of Ontario, Vancouver Art Gallery and the National Gallery of Canada.
Town passed away in Peterborough, ON in 1990.