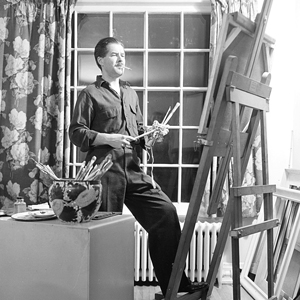 Jack Bush (1909-1977), a member of the Painters Eleven, was one of Canada's foremost modernist painters closely associated with the Colour Field movement and post-painterly abstraction.
Born in Toronto, Bush worked as a commercial artist, taking night classes at the Ontario College of Art.  Like many artists at the time, his main influences were members of the Group of Seven and his early paintings were representational in style.  He began to experiment with abstract art in the early 1950s.
In 1954 Bush became a member of the Painters Eleven (1953-1960), a group of 11 Toronto artists who banded together to promote abstract painting.  Through the group, Bush met the influential American art critic Clement Greenberg.  Greenberg mentored Bush encouraging him to simplify his abstractions by using an "all-over coverage of thinly applied bright colours".  Bush quickly became associated with both Colour Field painting and Lyrical Abstraction movements.
A highly influential artist in Canada, Bush was a pioneer of abstract painting.  He would explore his ideas through his various and evolving series ranging from the "Thrust" and "Flag" series of the early 1960s through to the "Fishtails", "Sashes, "Stacks and Fridges" and the "Series D", "Totems" and "Handkerchief" series of the 1970s.
During his lifetime, Jack Bush had an active international career.  Important galleries in New York, the Andre Emmerich Gallery and Robert Elkon Gallery had solo exhibits and Waddington Galleries in London, UK also showed Bush's work.  In 1964 the Los Angeles County Museum organized "Clement Greenberg's Post Painterly Abstraction" exhibition which included Bush's work.  Along with Jacques Hurtubise, in 1967 he represented Canada at the 1967 Sao Paulo Bienal.  He was also chosen as the inaugural artist to introduce the contemporary art department at the Museum of Fine Arts in Boston in 1972.
Jack Bush first had a major touring retrospective organized by the Art Gallery of Ontario in 1976.  More recently in 2014, the National Gallery of Canada organized a retrospective of Bush's work, which covered his entire career including his commercial work, early landscapes through to his late abstracts.
His artwork is in countless collections including the Tate Gallery in London, National Gallery of Canada, Art Gallery of Ontario, Montreal Museum of Fine Art and Museum of Fine Arts, Boston.
A catalogue raisonne is forthcoming, written and researched by the Director of the Jack Bush Catalogue Raisonne, Dr. Sarah Stanners.
(Photo: Gilbert A. Milne)