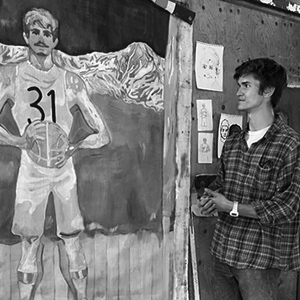 London, ON emerging artist Jack Cocker (born 2001) grew up in Norwich, ON.  After graduating from high school, he attended H.B. Beal Secondary School in London.  In September 2023 he will begin his 4th year at Western University working towards his BFA, Honours Specialization in Studio Art.
Recent group exhibitions include "Allegory", artLAB Gallery and "Goodness, Present and Hallowed", artLAB Vitrine at Western University in 2023.
In his paintings, he explores the often overlooked familiar subjects found in rural and urban areas surrounding his home in South-Western Ontario as well as the province of Quebec.
"In my recent practice, I have concentrated on creating figurative and landscape paintings that confront ideas such as genuineness, connection, spirit, and memory.  My work is not rooted in a hard and fast concept, but in a number of ideas and feelings, where I use painting as a lens to observe and question.  
The subjects that spark my interest, and more importantly hold onto, are hardly ever those I can easily explain with words, though they create a prolonged curiosity and demand to be explored by visual means.  Painting, for me, is this inherently involved way of appreciating whatever it is that each subject seems to emanate.  Integral to my exploration is the materiality, volatility, colour and texture of each painting.
While I usually paint from found imagery, I never want to just re-create an image.  Often it's a fragment of a picture – a figure, face, landmark etc – that I'll take, but never really the full image.  At the end of the day, the paintings should be about painting and creating painted spaces – the image is important to the finished picture, but for me it is the painting itself that is interesting for me.  That is what makes the picture worth making."