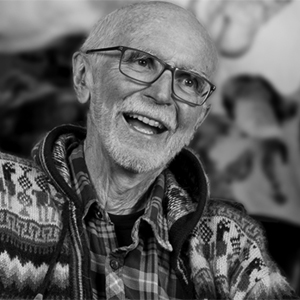 Joe Fafard (1942-2019) was a nationally recognized sculptor known for his whimsical work that celebrated his Saskatchewan community and Prairie farm life.
Born in Ste. Marthe, Saskatchewan, Fafard received a BFA from the University of Manitoba in 1966 and later a MFA from Penn State in 1968. During his time at Penn State, Fafard travelled to New York City visiting the Metropolitan Museum of Fine Art and the Museum of Modern Art. After a short time teaching sculpture at the University of Saskatchewan between 1968-1974, Fafard, influenced by the California Funk ceramicists such as David Gilhooly, decided to become a full-time artist. He settled in Pense, Saskatchewan, a town west of Regina and set up his studio practice.
Working mainly in bronze, Fafard's work references the people and animals from his Prairie roots. Through humour and whimsy, Fafard playfully highlights the personality of each subject, regardless if the subject is an animal or a portrait of a famous artist such as Vincent van Gogh. All of Fafard's work is a portrait of Canada. Through his sculpture he tells the story of his local community, farm life and the local industry.
One of the most important commissions of Fafard's career came in the early 1980s when he was commissioned by the Toronto Dominion Bank to create a sculpture for their interior plaza. The seven life-sized reclining cows, titled the "The Pasture", continue to capture the public's attention.
The 1973 a National Film Board documentary "I Don't Have to Work that Big" brought national attention to Fafard's work. He has also exhibited extensively throughout his career. From 2007-2009 Fafard enjoyed a six venue touring retrospective jointly organized by the National Gallery of Canada and the Mackenzie Art Gallery. His artworks are also reproduced on three Canadian stamps.
During his life, Joe Fafard was honoured with multiple honorary degrees as well as an Officer of the Order of Canada in 1981, a Saskatchewan Order of Merit in 2002 and the Saskatchewan Arts Board Lifetime Achievement Award in 2007.
Joe Fafard passed away in 2019 and received many tributes, most which stressed his distinct Canadian, unpretentious nature.
Anthony Kiendl, executive director and chief executive of the MacKenzie Art Gallery in Regina said: "He stayed in Saskatchewan and he had a successful international career from here, setting an example and an inspiration to subsequent generations of artists." "He cared about what other artists were doing. He would come to the gallery and see the shows of younger artists. He was a mentor and a leader in the art community. And at this point, I don't think there's any way that he'll be replaced. He was one of a kind. He'll be deeply missed."