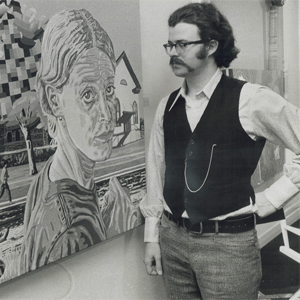 John Boyle (born in 1941) in London, ON, is best known for his colourful pop-paintings that are influenced by the Canadian landscape and historical figures.
Boyle grew up in London, ON and was an active member of the London Regionalist movement as well as the 1960's Pop phenomenon. A self taught artist, he quickly developed a distinct style of creating patterns of strong colour, often omitting half tones from his palette. He chose as his subjects' historical figures such as Tom Thomson, William Lyon McKenzie and Marshall McLuhan and came to critical notice in the 1968 "Heart of London" National Gallery exhibition, curated by Pierre Theberge.
John Boyle is closely associated with the London Regionalist movement. He was a founding member of the Nihilist Spasm Band, a participant in London's 20/20 Gallery and a founding spokesperson of Canadian Artists' Representation Ontario.   A 1978 article in the Montreal Gazette described Boyle as "one of that influential handful of Southwestern Ontario artists which includes Greg Curnoe and Jack Chambers… whose work is characterized by their profound attachment to their local – and by extension – Canadian environment."
Throughout his five decade long career Boyle has experimented with a variety of mediums including painting, watercolour, sculpture and shaped supports.
His work is in the collections of the National Gallery of Canada, Beaverbrook Art Gallery, Art Gallery of Ontario, Hamilton Art Gallery, Montreal Museum of Fine Arts, McMichael Canadian art collection and Museum London.
(Photo: Toronto Public Library)