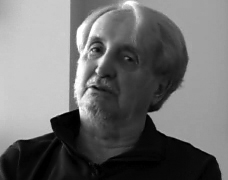 Ron Bloore (1925–2009) was a Canadian abstract painter and a founding member of the Regina Five.   Known for his monochromatic paintings, he confined himself to a limited, muted, often white palette with deliberate brushstrokes and a thick impasto.
Born in 1925 in Brampton, ON, Bloore attended the University of Toronto and the New York University Institute of Fine Arts where he studied both art history and archaeology. He followed with a Masters degree at Washington University in St. Louis, Missouri and studies at the Courtauld Institute of Art in London.   His broad educational background as well as his interest in archaeology had a big impact on his artistic practice.
In 1958, Bloore was appointed Director of the Norman Mackenzie Art Gallery in Regina. There, he curated exhibitions that featured contemporary Canadian painters.   He also became associated with the artists, Ted Godwin, Kenneth Lochhead, Arthur McKay and Doug Morton, who exhibited together as the Regina Five. The five artists all shared similar interests and made nonfigurative paintings that represented a new direction in abstract art in Canada. Their work also stemmed from the new ideas brought to the prairies through the annual Emma Lake Artists' Workshops outside of Saskatchewan.
Ron Bloore's paintings are characterized by constructed and ordered geometric abstractions that are limited in colour.   His monochromatic low-relief paintings are often linear in nature, while others include stars, circles, arches or triangles, shapes that he described as "symbol-like elements".   Often painted white over white, Bloore would add texture to his paintings through impasto to emphasize highlights and shadows.
Named to the Order of Canada in 1993, Bloore also was made a Fellow of the Royal Society of Canada in 2007.
Ron Bloore's work is in countless Canadian public collections including the National Gallery of Canada, Art Gallery of Ontario, Musee d'art contemporain, Montreal and the Musee des Beaux-Arts de Montreal.
(Photo: Linda Corbett)