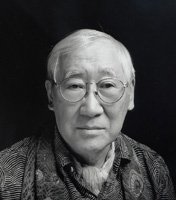 Takao Tanabe (born 1926) is one of Canada's leading landscape painters who for the past six decades has been inspired by the west coast of British Columbia and the Canadian prairies.
Born near Prince Rupert, B.C, Tanabe studied under Joe Plaskett at the Winnipeg School of Art (1946-1949) and Hans Hoffmann at the Brooklyn Museum of Art (1951-1952). After teaching at the Vancouver School of Art in the 1960s, he moved back to New York City in 1969. While living in the US and influenced by the Abstract Expressionists, Tanabe painted hard-edge geometric abstracts. These abstracts evolved in the 1970s into quiet landscape paintings dominated by wide horizons, which were influenced by the geography of northern Pennsylvania, Hudson River Valley and the Alberta foothills.
In 1973 Tanabe moved back to Canada where he dedicated a decade of his life to the Banff Centre, where he was head of the department. Since 1980, he has lived in on Vancouver Island.
Takao Tanabe is well known for his seascapes of the Queen Charlotte Islands and Prairie Land Series landscapes. Using thin washes of acrylic paint, Tanabe's paintings have a subtle, translucent quality reminiscent of watercolour. Tanabe has said: "What I want is this completely unoccupied, pristine land, as though I'm the first person to see it. It's lonely, it's mysterious, it has wonderful appeal to me. I feel a great kinship with it."
In 2005, the Art Gallery of Greater Victoria and the Vancouver Art Gallery organized the retrospective "Takao Tanabe" which toured nationally. His work is in countless collections including the Art Gallery of Ontario, Canada Council Art Bank, Winnipeg Art Gallery, National Gallery of Canada and the Vancouver Art Gallery.
He has received numerous awards including the Order of British Columbia in 1993, Order of Canada in 1999, the Governor General's Award in Visual and Media Arts in 2003 and most recently in 2013 the Audain Prize for Lifetime Achievement in the Visual Arts.
(Photo: Chick Rice)