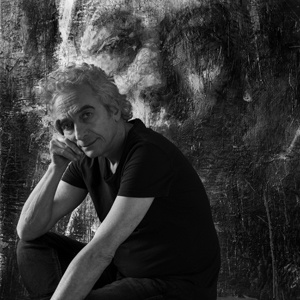 Tony Scherman (born 1950) is an internationally renowned painter known for his encaustic portrait paintings of historical and fictional villains, celebrities and intellectuals.
Born in Toronto and educated at the Royal College of Art in London, UK in (MA in 1974), Scherman chose to devote himself to the pursuit of figurative painting instead of the more accepted conceptualism of that time. Using encaustic as his chosen medium, a painting technique where pigment is bound with wax rather than oil, Scherman creates lush surfaces that are dream-like and visceral.
He is particularly known for a series of paintings on Napoleon and the French Revolution, but is also known for still life paintings and florals.
Scherman has enjoyed more than 100 solo exhibitions across Canada, the United States and Europe as well as Asia.  "Chasing Napoleon", his touring solo exhibition travelled to six American university museums between 2001-2002.  His work has also been featured in The New York Times, Art in America, Art Papers, and American Art Collector.
Scherman's paintings are represented in 30 public collections across Canada and internationally including the Los Angeles County Museum, Denver Museum of Art, The Birmingham Museum of Art, Library of Congress, Washington, Contemporary Arts Society London, Arts Council of Great Britain, Pompidou Centre, Paris, F.R.A.C. Ile de France, and the Schlossmuseum Murnau, Germany.
Tony Scherman lives in Toronto.