"1931-1946: A Generation"   January 12 – March 2, 2019
Click HERE to read Online Catalogue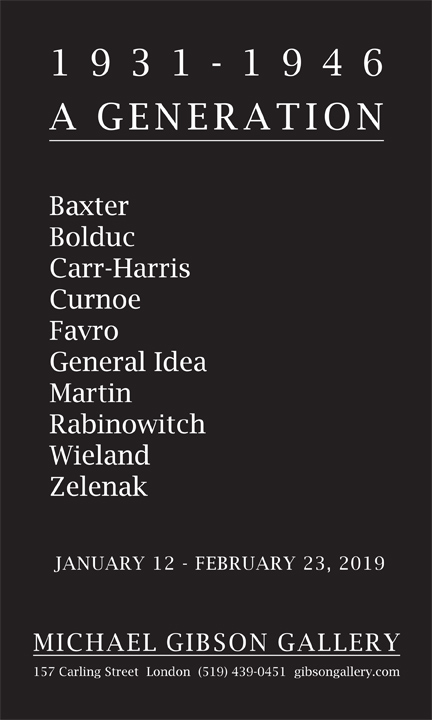 Our winter exhibition celebrates the work of 10 Canadian artists who were born between 1931-1946.  Through the artworks of these diverse artists, we explore the relationships, regionalism and artistic influences of Iain Baxter, David Bolduc, Ian Carr-Harris, Greg Curnoe, Murray Favro, General Idea, Ron Martin, Royden Rabinowitch, Joyce Wieland and Ed Zelenak.
This generation of artists grew up during the outbreak and end of the Second World War, the creation of the United Nations, William Lyon Mackenzie King as Prime Minister, Gandhi's release from prison, and Lou Gehrig's retirement from baseball.  They would have read the first Superman and Captain America comics, watched Gone with the Wind, Bambi & The Wizard of Oz at the movies, saw the first Tupperware for sale in department stores, wanted TV's for their living rooms, and heard Frank Sinatra, Duke Ellington and Perry Como on the radio.  This was a significant period in the world's history, and a changing time in the artistic life of Canada.
We have chosen artists for this exhibition who we feel have made a significant contribution to Canada's cultural art history.  Whether they lived in Vancouver, London or Toronto, each of the 10 artists pursued serious careers as visual artists from a young age.   The majority of the paintings and sculptures included were created between 1961-1975, or more specifically, when the artists were 24-35 years of age.   Many of the works are some of the first paintings or sculptures they made, were included in their first solo exhibitions or recognized as seminal works within their long careers.
During the 1960s and 1970s the art scene in Canada was much smaller than it is now.  However, these artists were not unknown to each other.  Of similar age, the 10 artists were represented by either Carmen Lamanna Gallery or Isaacs Gallery in Toronto or even shared studios.  Many exhibited together in international and national exhibitions such as:
"The Heart of London" NGC (Curnoe, Favro, Martin, Rabinowitch, Zelenak in 1967-68)
"Canada: Art d'Aujourd'hui" NGC (Baxter, Bolduc, Curnoe, Wieland in 1968)
"Canada 101" Edinburgh (Baxter, Curnoe, Wieland in 1968)
"X Bienial, Sao Paulo" (Baxter & Curnoe in 1969)
"Changing Visions: The Canadian Landscape" AGO (Baxter, Curnoe, Favro, Wieland in 1976)
"Kanadische Kunstler" Basel (Baxter, Curnoe, General Idea, Carr Harris in 1978)
"10 Canadian Artists in the 1970s" AGO (Baxter, Favro, Martin, Rabinowitch in 1980)
They would have been aware of each other's work through the extensive reviews in Canadian Art magazine or as Canada's representative at the Venice Biennale: Greg Curnoe (1976), General Idea (1980), Ian Carr Harris (1984) and Ron Martin (1978).
This generation of artists grew up under the authority of the Group of Seven, the emergence of the New York School of abstract art and the influence of changing technologies, Marshall McLuhan and Pop Art.  We are honoured, now, decades later, to explore how each artist reflected on their own environment and to discover their rich artistic legacies through the work included in our exhibition.
"1931-1946: A Generation"
The "1931-1946: A Generation" exhibition is curated into two rooms.  The front gallery represents London and highlights the early paintings of Greg Curnoe, Murray Favro and Ron Martin and the sculpture of Royden Rabinowitch and Ed Zelenak.  The middle gallery acts as an intentional contrast with the Toronto artists David Bolduc, Ian Carr Harris, General Idea, Joyce Wieland and (at that time) Vancouver artist Iain Baxter.
London
During the 1960s exciting events occurred in London: there was Canada's first "happening" with Joyce Wieland and Michael Snow, the Nihilist Spasm Band was formed and Region Gallery, 20/20 Gallery and 20 cents magazine were created.   London, through the help of curator Pierre Theberge, became an important artistic centre culminating with the 1967-1968 "Heart of London" exhibition at the National Gallery of Canada.
Included in that exhibition was Murray Favro's "Clunk" painting, prominently placed in our front gallery.  Murray Favro's first paintings were on shaped wooden panels.  "Clunk", painted in 1966, is composed of three stacked, painted wooden shapes "falling" to the floor.  The bottom shape rests firmly on the ground, flattened by the fall.  With the painting and the printed word clunk, Favro makes visual the intangible idea of sound.  Music and sound was of interest to Favro as he was (and still is) the guitarist in the Nihilist Spasm Band.   At that time, band members used homemade instruments and the top shape of "Clunk" inspired the shape of his first guitar.  Our later 1984 "Guitar #4", was also used in the band, though now, Favro incorporated wood and steel.  Favro is well known for making guitars that are both functional as well as aesthetic, acting as a perfect synthesis of Favro the artist and inventor.
As well as "Heart of London", "Clunk" was included in "Murray Favro: The Guitars 1966-1989" in 1991 and "Murray: Favro: A Retrospective" at the AGO in 1983.  "Guitar #4" was also included in both of those shows as well as "Murray Favro" at the LRAHM & McIntosh Gallery in 1998.
Directly after graduating from H. B. Beal Technical School, Murray Favro and Ron Martin shared a studio in London from 1964-1966.  We have included an early "Conclusion and Transfer" painting by Ron Martin that is dedicated to Favro.  Ron Martin, then in his mid-twenties, was inspired by Greg Curnoe's attraction to Dada, Pop Art and obsession with pop culture.  Both the "Conclusion and Transfer" painting and the lively 1966 "Nude" are colourful, bold, stencilled, geometric paintings influenced by these international and local trends.
We have also included the rare 1970 "World #28" painting by Martin.   The world paintings were highly disciplined exercises, where each 1 inch square of colour was assigned a number within a specific numerical system.  The number controlled the colour choice and the position on each canvas.  "World #28" was included in the 1976 AGO exhibition "Ron Martin: World Paintings" and is unique as each 1 inch square is composed of 2 different colours: 2 strokes of one colour and 1 stroke of a new colour.  This variation on Martin's system adds complexity and a great sense of distance and depth to the painting.
The final painter in the front gallery is Greg Curnoe, the eldest of the "London Regionalists".  Having studied art in Toronto at OCA, Curnoe, when he returned to London in 1961, helped to awaken a new artistic energy that fostered many artists.  His weekly Saturday night studio parties were legendary as were his diverse tastes in music and literature.  In February 1964 Greg Curnoe met his future wife, Sheila Thompson, in his studio.  The 4-part shaped "Sheila's Legs I-IV" painting is Curnoe's first portrait of Sheila.  The crossed legs gradually become more complex in each panel, where not only do the colours become more vibrant, but also to each shape a new angled surface is added.  Similar to Favro, Curnoe is articulating in visual terms an intangible idea.  As Sheila Curnoe has stated: "Greg liked curvy legs.  He had to draw curves.  He didn't like skinny, stick-like legs – that didn't interest him – he had to have something to draw".  "Sheila's Legs I-IV" was included in Curnoe's 1964 solo exhibition at the David Mirvish Gallery and was part of a 3000-mile tour in the back of a Volkswagen Van through Northern Ontario in Fall 1964.
The "Heart of London" exhibition also included the two sculptors Royden Rabinowitch and Ed Zelenak.   Royden Rabinowitch was born in Toronto but moved to London to study at the University of Western Ontario and had his first exhibition in London at the 20/20 Gallery in 1966.  The welded hot rolled steel wall sculptures included in our exhibition are minimal in nature.  When you stand in front of each work, they have a real physical presence with a worn, battleship-grey appearance that reflects the light and shadow.   Existing somewhere between a painting, relief and sculpture, the "Untitled" sculptures reveal the emotion and physical act inherent in Rabinowitch's work.  Similar "Untitled" sculptures are in the collection of the Art Gallery of Ontario and National Gallery of Canada.
Ed Zelenak, who began his career working with fibreglass, transitioned in the mid 1970s to working with steel, lead and tin materials.  Our two "Diagram Block" wall sculptures were the first made after Zelenak's time with fibreglass.  Here, he draws into the hard surface by excising, imbedding, heating or welding.  Familiar shapes reminiscent of houses, doorways, arrows or vessels appear and all working marks are left for the viewer.  Hung on the wall, Zelenak explores the possibilities between painting and sculpture, emphasizing the dense, weighty material and highlighting the alluring marks.
Toronto & Vancouver
In a 1965 Canadian Art issue entirely dedicated to Toronto's art scene, Hugo McPherson writes that Toronto has, for the first time, emerged as a strong centre of Canadian consciousness.  He places a lot of emphasis on the new commercial galleries opening in Toronto that gave Canadian artists an "unprecedented opportunity to communicate with their fellow-citizens".   He believed that no other Canadian city had access to such a "wide range of national and international art" and gives credit to the "modern revolution in communication and travel", which Marshall McLuhan described as a "global village".  In particular, because of these outside influences, he stated that Toronto's new scene has "no orthodoxy, no official idiom…; artists are exuberantly embracing a wide variety of attitudes and techniques".
Emerging from this sensibility was Joyce Wieland, born in 1931 in Toronto.   Her painted collage "Summer Blues – Walking" is an early work made directly before she and Michael Snow moved to New York City.  Between 1960 and 1961, Wieland produced a series of these collages using ready-made materials and painted in soft pastel tones.  "Summer Blues – Walking" is a plein-air scene with a wispy sky and carefully composed figures and lines. Our whimsical collage was included in the 1985 "Joyce Wieland: A Decade of Painting" Concordia Art Gallery exhibition and was illustrated and written about in the 1987 AGO retrospective.   Other "Summer Blues" collages are in the collections of the Art Gallery of Windsor and Concordia University Art Gallery.
David Bolduc's two watercolours exhibit a similar playfulness.  He came to attention in the early 1970s through his exhibitions at the Carmen Lamanna Gallery.  Known for his paintings of layered expanses of colour with a centralized image, our 1974 watercolours show the modernist influence of Jack Bush and Gershon Iskowitz.  The two geometric watercolours are lyrical, poetic and full of light– abstract reflections of colour, pattern and the suggestion of collage.
Ian Carr-Harris also came of age with the Carmen Lamanna Gallery stable of artists.   In 1973 at his first solo, Carr-Harris exhibited 6 sculptural tables, including "I Thought I'd Better Not".  Carr-Harris's tables were first used in the early 1970s and functioned as the traditional base of a sculpture.  For the "sculpture", he chose common objects, which gives the viewer a feeling of familiarity and engages our participation.  The framed sculpture placed on the table, is both image and text, and is meant to compare, demonstrate and describe.  Carr-Harris would capture commonplace realities or everyday events in order to examine human behaviour.   The conceptual sculptures are meant to be experienced, and offer a visual and verbal proposition for contemplation.  "I Thought I'd Better Not" is written about in both the AGO "Ian Carr-Harris 1971-1777" catalogue and his "Venice Biennale" 1984 catalogue.  Other tables from the same series are in the collections of the Art Gallery of Ontario and McIntosh Gallery.
The artist collective General Idea were pioneers of early conceptual art in Canada and engaged with their audience through performance, beauty pageants, mail art, magazines and video.  The group – AA Bronson, Felix Partz and Jorge Zontal – met in Toronto in the late 1960s and became quickly known for their projects addressing social issues, celebrity, mass media as well as the AIDS crisis.  The group, according to Bronson, was born out of the "late Sixties psychedelia of student revolution, fluorescent posters, underground newspapers and Marshall McLuhan."  Not dissimilar to what was happening in London, General Idea was a group who experimented with different media and were heavily influenced by contemporary pop culture.
The "Showcard Series" 1975-79 were first created to define visually the conceptual identity of General Idea.  Each card follows the same format: a light blue grid that resembles a magazine layout acts as the background with specific areas blocked out for text and photos.  The photographs were taken either by the artists, from popular magazines, or from reviews of their work.  The text offers further information about the group or includes text from their previous projects and performances.  Other "Showcards" are in the collections of the Art Gallery of Ontario and National Gallery of Canada.
The two earlier "Borderline Case" silkscreens also hanging in the middle gallery, are laid out as a two-page spread of text and illustration with a large found image, itself amplified, mirrored or contradicted by several smaller, flanking found images.   Most of the found imagery was sourced from 1940s and 1950s magazines.  Ten prints from the series were planned, but only two were produced – "Five-The Great Divide" and "Nine Consummation" – and were reproduced first in their self-published FILE magazine before being made into silkscreens.   Each "Borderline Case" represents a neutral space between nature and culture.   Other "Borderline Case" editions are in the collections of the Canada Council Art Bank, Oakville Galleries, MacKenzie Art Gallery, National Gallery of Canada and Vancouver Art Gallery.
In a similar way that General Idea used mass media as source material for their artwork, Iain Baxter (also known as N.E. Thing Co.) explored how media was changing our way of thinking.  Baxter moved to Vancouver in 1966 to teach at Simon Fraser University.  Always taking descriptive photographs that captured the essence of each moment, Baxter in 1968, made his first light boxes, which were inspired by his time spent in a slide library.   Selected photographs were enlarged and placed in a back-lit metal box which transformed the flat image into a glowing three-dimensional object.  In 1969 Baxter had a solo exhibition at the National Gallery of Canada where he transformed the entire gallery space into an office environment.  On the "office" walls he hung his artworks including the light boxes.  They served as the ideal of office art but also reminded visitors of advertisements or signs.  Colour photography was not yet codified within art museum collections and Baxter was a pioneer of the medium in Canada.
Our "Landscape" is from the same series exhibited at the National Gallery of Canada.  In the photograph he shows how nature is at odds with the burgeoning commercial reality of North America.  The painted landscape on the outside of the restaurant is starkly contrasted with the blossoming summer garden in the foreground and the harsh restaurant menu above.   Lightboxes created in 1968 are also in the collections of the Art Gallery of Ontario, Windsor Art Gallery, Morris & Helen Belkin Art Gallery and Vancouver Art Gallery.