Angie Quick "A Life Of Crime" January 5 – February, 25, 2023
---
Michael Gibson Gallery is exited to exhibit the lush new paintings by emerging London artist Angie Quick.
Angie Quick moved to London with her family from Calgary when she was 18.  Self taught as a painter, she set up a studio and quietly built up a practice that explores lush, sensuous oil painting.  Over the years we have witnessed a remarkable growth and maturity, culminating in a solo at the McIntosh Gallery in 2021 and an upcoming solo at Museum London in February 2023.
Our solo exhibit, "A Life of Crime", celebrates Quick's most recent body of work: sumptuous, magical paintings of interior spaces.  Through loose forms and abstract gestures, Quick creates an immersive environment that is suggestive of human activity.  From tossed pillows, open books and crumpled socks, Quick paints the detritus of life, evoking the realness of being alive.
"What is the measure of a morning, a vacation, a romance, a death, a life? It's the habitation of stuff, things, ephemera; both quantitative and immeasurable. It is all our debris; personal and impersonal— every rug, bed spread, sock etc., a room full of every emotion emitted there. "A life of crime" celebrates the tender ruin of our existence. The paintings bare witness to a battle of time and vulnerability. With expressive strokes the paintings track scenes that are emerging while equally dissolving— leaving entrance for the viewer to slip in as both victor and loser." Angie Quick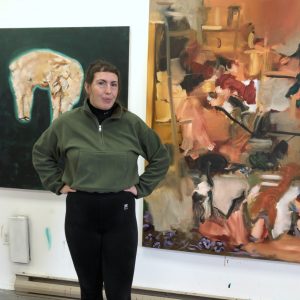 Angie Quick (b. 1989)  is an artist based in London, Ontario. Her practice encompasses painting as well as performance. Quick's work explores tenderness and intimacy both historically and contemporaneously.
In February 2023 Musuem London will be featuring Quick's work in a solo exhibition "make me less evil" in their Interior Gallery.  Recent solo exhibitions include "The Moonlight Made Me Do It" at the McIntosh Gallery in 2021 and "when i die i will have loved everything", curated by Matthew Ryan Smith, Glenhyrst Gallery, Brantford, ON in 2019.  She is the recipient of multiple grants, including an emerging artist grant from the Ontario Arts Council.