Chantal Khoury "Holding Echoes"  October 15 – November 19, 2022
---
In our middle gallery, we are pleased to introduce new evocative paintings by emerging artist Chantal Khoury.  Inspired by inherited family objects brought to Canada through immigration, her paintings extend the idea of the traditional still-life.  She takes images of the functional objects, such as bowls, water jugs and plates from her Lebanese heritage, and re-invents and re-forms them through paint.  By doing so, she offers variations in meaning and explores ideas of cultural identity.
Her paintings are visually luscious and transformative, combining imagined landscapes with her personal archive and history.
"Holding Echoes" Statement
Chantal Khoury's practice questions cultural loss, presence, and migration experiences. In her creative process, she looks to peripheral art histories and borrows methods from Modern Abstraction to address the diaspora condition. Despite its traditional aspects, Khoury views oil paint as a limitless material and tests its versatility as an educational tool.
The paintings in Holding Echoes present an array of new techniques supported by the Research and Creation Grant from the Canada Council for the Arts (2022). Khoury transcends her subjects by matching a process by Etel Adnan, a late Lebanese painter who repeated the mountain as a form. As Adnan's suite of paintings shows many perceptions of a landscape, similarly Khoury repeats bowls, jugs, and plates to offer variations in meaning.
These paintings focus on 'forming' rather than the final form and point to references outside the Western Canon that explore ideas on cultural identity.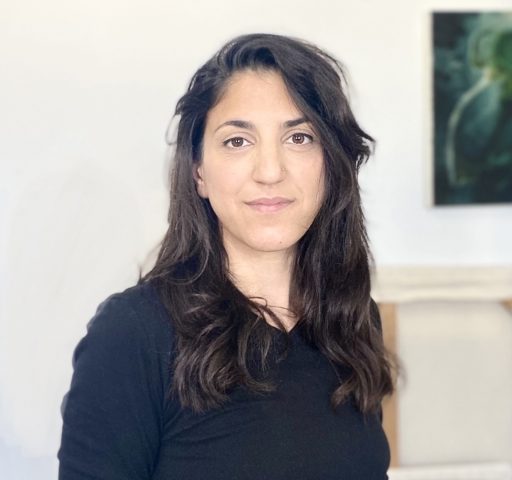 Chantal Khoury engages with Lebanon's history, personal archives, and postcolonial theory for paintings to display transformation. Her broader practice includes engagement and collaboration with other South West Asian and North African diaspora artists. These intersecting practices and diverse experiences heavily inform her works.
Of Lebanese descent and born on the unceded territory of the Wolastoqiyik and Mi'kmaq First Nations (New Brunswick), Chantal Khoury currently lives and works in Tkaronto (Toronto) following thirteen years in Tiohtià:ke (Montréal). She has received several awards and achievements, most recently the 2022 Research and Creation Grant from the Canada Council for the Arts and inclusion in the 2022-23 RBC Emerging Visual Artists Program at The Power Plant Contemporary Art Gallery. Notable collections include the Royal Bank of Canada, the Art Gallery of Guelph and the University of New Brunswick.
Khoury holds an M.F.A. from the University of Guelph (2021) and a B.F.A. with Distinction from Concordia University (2012).