"Clark McDougall's Two Solitudes" – April 4 – 25, 2020
---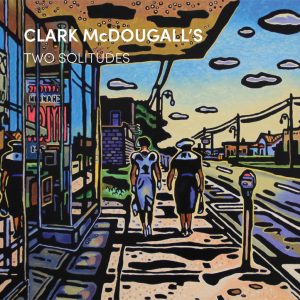 Since 2009 we have represented the Estate of Clark McDougall and have curated 6 incredible exhibitions ranging from his early work to his street-scenes and road landscapes, through to his pure black and white representations of the landscape.
We are strongly committed to promoting Clark McDougall's artwork and feel that Clark's story has more relevance now, as he intensely studied his local environment and celebrated the simple, quiet pleasures of life through his paintings.
For the past two months we have been seeking and contacting Clark McDougall collectors in order to curate this exhibition.  We wanted to curate rare and unseen paintings from both the estate, private collectors and public galleries.  Having previously acquired and sold many paintings by Clark, we are in an unique position to find and present these incredible paintings for the month of April.
Through the selected paintings, we are sharing Clark's work and highlighting two subjects that he returned to often: the rural landscapes of North Yarmouth Township and the energetic city streets for which he was familiar. The paintings show a development in his remarkable style and reveal how he studied a subject in depth, travelling, like now, at a slower pace and creating a visual memorial to his way of life.
Clark McDougall's artwork remains highly compelling to a broad audience and we are proud to share his joyful colour and dynamic, inventive paintings.
Thank you to the private collectors, Museum London and the McIntosh Gallery for generously lending us their Clark McDougall paintings for this exhibition.
Read Online Exhibition Catalogue HERE
Clark McDougall was born in St. Thomas in 1921. At the age of 16 Clark left high school determined to become an artist. He would ride his bike north of St. Thomas into North Yarmouth and paint watercolours directly from nature. He taught himself proper technique from library books and sought advice from local artist William St. Thomas Smith. In 1950, at the age of 29, Clark traveled to Montreal and Quebec City where he first experienced the paintings of Henri Matisse. He now realized that colour and line could be used in a completely different way. By 1952-3 Clark was working as a "Fauve" painter, where his colours were intensely vivid and non-naturalistic.
A coronary in 1957 forced Clark to paint from photographs in his studio. His painting style changed where the outline became very important to the structure and design of the painting. Clark's unique "black enamel" style set him apart from other regional artists. His first exhibition of these "black enamel" paintings was in 1968 at the 20/20 Gallery, London. In 1976 the Volunteer Committee at the London Regional Art Gallery commissioned a painting, "Site", to commemorate the building of the new gallery. In 1977 the Vancouver Art Gallery organized an exhibition "Clark McDougall: Paintings since 1953".
Regardless of the style, however, Clark had a highly individual way of interpreting his beloved landscape of North Yarmouth. Clark McDougall passed away of a brain tumor in 1980 at the age of 59. In 1987 the London Regional Art Gallery mounted a large retrospective exhibition of Clark's work. More recently in 2011, the McIntosh Gallery, UWO produced a hard-cover book to accompany their exhibition "Fugitive Light: Clark McDougall's Destination Places". Michael Gibson Gallery represents the Estate of Clark McDougall. His paintings are in countless corporate collections as well as the Art Gallery of Ontario, Vancouver Art Gallery, Museum London and the Canada Council Art Bank.