Jonathan Forrest "Colour Chorus" October 13 – November 19, 2022
This will be Jonathan Forrest's 4th solo exhibition at the gallery.  Included in the exhibit is an incredible new suite of abstracts painted over the spring and summer months.  A riot of colour, in these paintings Forrest has combined both his signature bands of colour with saturated washes that bleed and seep creating veil like textures.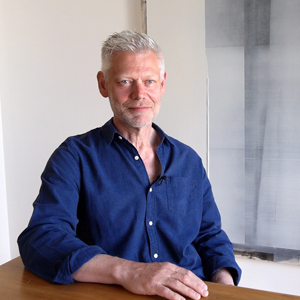 Jonathan Forrest is an abstract painter who divides his studio time between Vancouver Island and small town Saskatchewan, Canada.  He was born in Edinburgh, Scotland and immigrated with his family to Canada in 1977.
Forrest studied at the University of Saskatchewan receiving his BFA in 1983 and his MFA in 1991. Jonathan has participated in several artists' workshops including The Emma Lake Artists' Workshop (1985, 1988, 1991, 2001, 2003 and 2005), The "Saskatchewan Invitational artists' workshop", Emma Lake (2000), and Triangle Artists' Workshop, Brooklyn, NY (2002).
His work has been shown in Western Canada in museums including the Mendel Art Gallery, Saskatoon, The Edmonton Art Gallery and The Dunlop Art Gallery, Regina.  He has an upcoming survey exhibition at the Art Gallery of Swift Current in 2021.
Public collections include the Canada Council / Art Bank, Dunlop Art Gallery, Regina, Edmonton Art Gallery, Mendel Art Gallery, Saskatoon, Moose Jaw Art Museum, Mackenzie Art Gallery, Regina, Saskatchewan Arts Board, University of Lethbridge and the University of Saskatchewan.