Keiran Brennan Hinton "A Broken Clock is Right Twice a Day" – June 4-27, 2020

To make an appointment to view Keiran Brennan Hinton's exhibition, please call 519 439 0451 or email HERE
For our middle gallery June 2020 exhibition we are introducing the work of Keiran Brennan Hinton.
Over the past number of months we have been talking with New York based Canadian artist Keiran Brennan Hinton.  In early March, Brennan Hinton came home to Canada for a visit.  Because of the government's "come-home-stay-home" message of the time, Brennan Hinton cancelled his Friday the 13th ticket back to NYC and self-isolated at his mother's Toronto apartment.  In March and April, during his isolation, he painted this series of intimate paintings of his daily and nightly routine.  The body of work proved to be perfect timing for our first solo exhibition with Brennan Hinton.
The 14 jewel-like canvases reflect daily moments from his life and nightly reflections of the Toronto skyline from his balcony.  With the night paintings, specifically, Brennan Hinton likes the "challenge of looking" – standing still and letting your eyes adjust to the darkness.  They capture the experience of living in a once busy city and document our shared solitary moment in time.
For Brennan-Hinton, the title of the show, "A Broken Clock is Right Twice a Day", signifies the strangeness of the way time passes during the pandemic, the uncertainty that we all feel and the way these paintings have been a way to pin down the present.
The broken clock doesn't stop time, which nods to the state of our familiar forms of measurement falling short – life continues on without the second hand ticking. The "twice a day" also signifies the two parallel series, painting day and night, one of the only constants during this moment.
Read Online Catalogue HERE with introductory essay by Tatum Dooley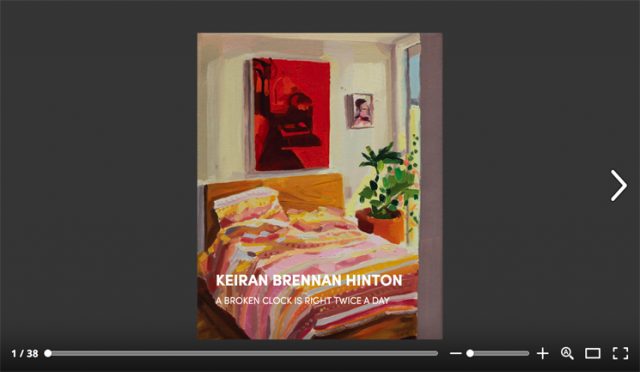 Keiran Brennan Hinton was born in 1992 in Toronto, ON.  He graduated from Pratt Institute in 2014 with a BFA in Painting and completed his MFA in Painting / Printmaking at the Yale School of Art in 2016.   Since 2016, he has maintained a steady studio practice in New York City.
An RBC Painting Competition finalist in 2018, Hinton will be included in an upcoming 2021 group exhibition I am Here, Home Movies and Everyday Masterpieces at the Art Gallery of Ontario.
Solo exhibitions have most recently included, Una Finestra sul Cortile / Rear Window at Francesco Pantaleone Gallery in Palermo, Close at Hand at 1969 Gallery in New York, Matter of Fact, at Mulherin Toronto.
Hinton has attended the James Castle House Residency in Boise, ID, the Macedonia Institute in Chatham NY and has been awarded the Gloucester Painting Prize and Residency, Yale International Student Scholarship, Outstanding Merit in Painting from Pratt Institute and a Presidential Scholarship from Pratt Institute. The artist currently lives and works between Toronto and New York.