Roly Fenwick "Images From The Home Well" — May 20 – June 12, 2021
---

For the past 10 years, Roly Fenwick has devoted himself to painting portraits of his family, friends and portraits of himself.   Figurative painting has always been part of his practice, though is rarely exhibited.  Our exhibition features, for the first time, a solo exhibition of Fenwick's figurative paintings and intimate studies of the people closest to him.
Though known mainly for his lush landscapes of the Bruce Peninsula, Fenwick has always maintained a steady figurative practice starting in the early 1970s with his surrealist inspired paintings.  At the time, a curator described his figurative paintings:  "the artist's perceptions of reality are closely identified with his everyday surroundings and his close family relationships…. He seeks to penetrate beneath the surface of ordinary appearances" (Maurice Stubbs, LRAG Catalogue Introduction, 1978).
This statement remains true for his current figurative paintings and can also be applied to his landscapes.  Just as he desires his landscapes to "reveal the forces beneath the veneer", his portrait paintings describe tender, private moments with an incredible touch.  Fenwick does not paint idealized renditions of his sitters, rather he creates an emotional atmosphere filled with love, admiration and a studied gaze.
Included in the exhibit are a number of self portraits painted over the past 10 years.  Self portraits, throughout art history, are often an occasion for introspection and a chance to reflect on the meaning of life and the passage of time.  Rembrandt, Durer, Van Gogh and Lucien Freud made the artist self portrait famous.  With Fenwick's self portraits he depicts himself in moments of solo contemplation: sitting on the back porch of his cottage, reading in bed or in front of his favourite tree.
Along with portraits of his mother, brother, wife, son and daughter, Fenwick has painted "Photo-Op", his version of the 17th Century Dutch Baroque group history portrait.  Inspired by a photograph taken during a weekly gathering of friends at Chaucer's Pub on Carling Street, the group portrait depicts Fenwick surrounded by his colleagues, friends and supporters.  The painting captures a brief moment in time: the party casually glances towards the viewer for the photo and you can imagine the next moment when their attention returns to their party and the laughter and active conversation begins once again.
We would like to thank Roly Fenwick and his family, the private collector who leant us "Reflection" and Museum London for lending us "The Second Self".  "The Second Self" is collection of Museum London, Purchased with the support of the Canada Council for the Arts Acquisition Grants program and the John H. and Elizabeth Moore Acquisition Fund, 2016.
---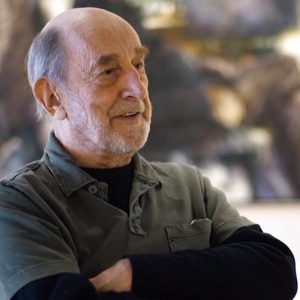 Roly Fenwick was born in 1932 in Owen Sound, ON.  He studied under Alex Colville and Lawren P. Harris at Mount Allison University in Sackville, NB between 1950-1953 along with fellow students Christopher and Mary Pratt.  In 1956 he moved to Toronto where he was the Art Director for Simpson's/Sears catalogue.
In 1968 Tony Urquhart was seeking professors for the University of Western Ontario's visual arts department and hired Fenwick to be a painting & drawing professor.  Fenwick remained at UWO until he retired in 1989, teaching countless students.  Fellow professors in the faculty included Paterson Ewen and Duncan de Kergommeaux.  Since retiring, Fenwick has maintained a steady studio practice in London, ON and at his cottage in Big Bay, ON.
Fenwick received his first retrospective in 1978 at the London Regional Art Gallery, which focused on his realist, surrealist work that he was making at that time.  Again in 2001, Museum London organized a retrospective of his landscapes, which travelled to the Tom Thomson Memorial Art Gallery in Owen Sound, ON.
Roly Fenwick is well known for his lush oil paintings that are inspired by the landscape of the Bruce Peninsula, which Fenwick refers to as his "ancestral bloodroots".  Fenwick explains that his "interest is not in scenery but in probing to reveal the forces beneath the veneer".  His paintings thoroughly reflect this interest in revealing the sources of nature and inner spirit of the Canadian landscape.
His paintings are in the permanent public collections of the Art Gallery of Hamilton, Tom Thomson Art Gallery, McIntosh Art Gallery and Museum London.
He spends his summers at his cottage at Big Bay on the Bruce Peninsula and spends the rest of the year at his home in London, ON.