Susan Day & Jason McLean "Transfer Station"  November 9 – 25, 2023
---
We are pleased to present our November two-person exhibition for Susan Day and Jason McLean, friends, artists and collaborators.  Working in entirely different mediums (Day with clay and McLean in drawing), both artists have a similar affinity to line, text, colour with references to their own personal history.  Shown together for the first time, both embrace a strong narrative and a stream of consciousness approach, reflecting on community and their surrounding environments.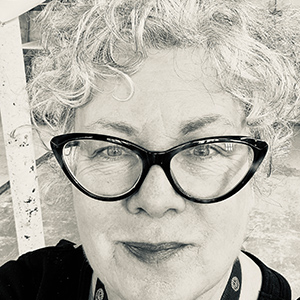 London, ON ceramicist Susan Day is interested in using the material qualities of clay to tell stories, both personal and universal.  Drawing directly on the clay vessels, Day focuses on the figure and representations of the body.  There is a descriptive aspect to the sculptures where dream imagery, repeated shapes and symbols and text emerge.  Faces represent the every-man / any-woman, an anonymous figure that is both relatable and mysterious.
Day has an extensive exhibition and installation history as an artist working in ceramic, straddling the worlds of fine art and contemporary craft. In earlier works she has used the material qualities of clay (simultaneously soft and malleable and at times fragile and breakable) to expose the vulnerabilities of the body. Recently, she has used more oblique references to the body, drawing connections to nature and identity in large scale architectural installations. Through this work, she has experienced the power of public (or public facing) art to create meeting places and instil pride and ownership in neighbourhoods and places where communities meet. This work embellishes surfaces in lived environments with relevant, important and provocative content and is the work she wants to pursue.
More recent public projects include a collaboration with Skinner Architects on a residential infill home, a large public artwork commissioned by the City of Lethbridge, Alberta and most recently Day was commissioned to create a community engaged public artwork for the entrance to London's first sanctioned safe injection site.  Day is also working with the London Children's Museum, creating a 1000-square-foot mosaic artwork to be installed in the new museum in 2024.
She has work in the collections of Museum London, McIntosh Gallery & the Bronfman Collection.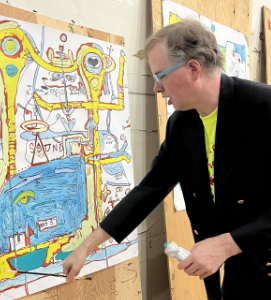 This is Jason McLean's 6th exhibition at MGG and his first two-person show with Susan Day.  Created both in Brooklyn, NY and London, ON, McLean's new drawings reflect on his current state of mind.  Themes of home and travel are intermixed with music that he is listening to, places he has visited or conversations overheard.  Drawn like a map and interwoven with image and text, McLean's works are deeply researched and annotated, immediate, automatic and richly graphic.
McLean's drawings, paintings and sculptures are idiosyncratic visual records of his experiences, observations and perceptions. His frenetic artworks include rich annotations and carefully-researched fragments of personal and social histories. McLean's drawings act as rhizomatic diaries that pictorially represent his relationship with local environments. His works are often described as mental maps, where samplings of his daily observations are mashed-up into antiheroic, yet poignant combinations. Working in this way, McLean uses humour to touch upon challenging subject matter, such as sadness, loss, displacement, mental illness and economic hardship.
Jason McLean was born in London, ON in 1971. After attending H.B. Beal Secondary School, McLean graduated from the Emily Carr Institute of Art and Design, Vancouver in 1997.  Since 1994, Jason McLean has exhibited nationally and internationally including shows at the Vancouver Art Gallery, Fondazione Bevilacqua La Masa in Venice, Art Gallery of Nova Scotia, Loyal Gallery in Malmo Sweden, and at Richard Heller Gallery in Santa Monica.
In 2012 he had a solo exhibition "If you can read my mind" at McIntosh Gallery, Western University (catalogue) and was included in Museum London's "L.O. Today" group show featuring 6 other artists & collaborators.
A Canadian art darling, McLean was chosen by Maclean's Magazine as one of the top 10 artists to watch in Canada in 2004. In 2013, McLean was the only Canadian artist selected by Canadian Art Magazine to collaborate with smart Canada to paint on a smart car that travelled across Canada. McLean has also collaborated on t-shirt designs with designer Jeremy Laing, was commissioned to paint a mural inside of the Drake Hotel on Queen Street, Toronto and co-runs the Canadian Pez Museum with his 2 sons Felix & Henry in the basement of their home.
Jason McLean has work in major collections throughout North America including the Museum of Modern Art in New York, National Gallery of Canada, Vancouver Art Gallery, BMO Collection, TD Bank and the Royal Bank of Canada.
Watch Jason McLean & Susan Day in Conversation with Michael Gibson (starts at minute 7):