Congratulations Michael Pszczonak
---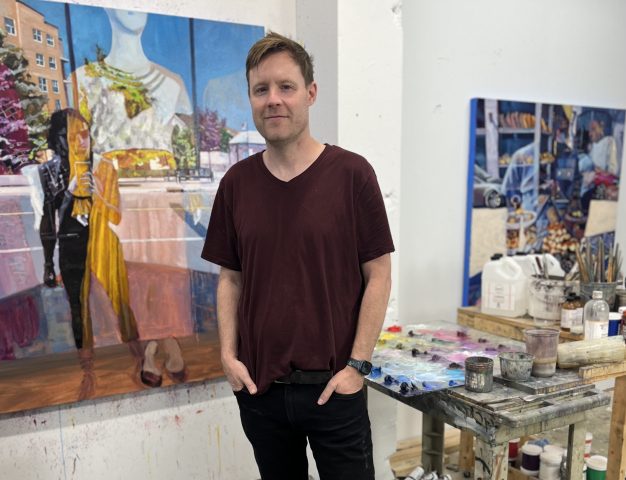 Michael Pszcoznak is awarded CIBC's C2 Create and Curate Art Program
This past week CIBC announced that Michael Pszczonak has won their inaugural C2 Create and Curate Art Program Award (C2 Art).
The $25,000 award helps 2 emerging artists make their ambitions a reality with a unique opportunity to create and curate their own artwork.  Beginning in September, Pszczonak's new paintings will be on display for 3 months, in a space that is open to clients, visitors and employees at CIBC's new headquarters at 81 Bay Street, Toronto, ON.
———–
Maya Skarzenski, an interdisciplinary artist, curator and designer based in Toronto, ON and Mike Pszczonak, an artist and educator based in London, ON, were chosen by a selection committee, which includes members of the art community and CIBC.
"I am very grateful to have been selected as a recipient of this year's C2 Art program," said Maya Skarzenski. "I'm looking forward to the opportunity to create art in the hopes that it will inspire others to pursue their ambitions."
The two selected artists will now begin to create a series of works which will be exhibited in a solo exhibition for each artist.
"Receiving this recognition is a huge honour," said Mike Pszczonak. "Having the support of CIBC and the C2 Art program means artists like myself can increasingly focus time and energy on their studio practice and continue to create and explore new perspectives and possibilities in art-making."
"We are thrilled to announce our support of these two very talented artists," said Dr. Claudette Knight, Vice-President, Workplace Design and Experience, CIBC. "By investing in artists we enrich our cultural landscape, foster dialogue and encourage new ways of thinking."
———-