Dorothy Knowles (1927-2023)
---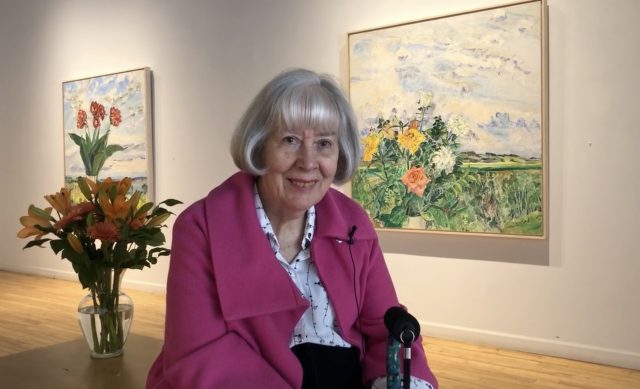 We are deeply saddened about the passing of the legendary Canadian landscape painter Dorothy Knowles.
Dorothy was a leader in forging a unique path in landscape painting in Canada.  Her intense work ethic and desire to challenge herself to find something new is something to be admired.  We treasure our time spent with Dorothy in Saskatoon and during her visit to the gallery in 2019.  Thank you Dorothy for your kindness and support.
Please take time to read about her remarkable life:
Recognized as one of Canada's most respected landscape painters, Dorothy Knowles was born in 1927 in the town of Unity, Saskatchewan, where the family divided their time between a farm west of Unity and the city of Saskatoon. She first studied biology in 1944 at the University of Saskatchewan and was encouraged by a friend to take her first summer art course at Emma Lake in 1948. The course was led by Saskatoon artist Reta Cowley and James Frederick Finley from the Ontario College of Art. It was here that Knowles was inspired to pursue painting as a career.
She continued her art studies at the University of Saskatchewan, the Banff School of Fine Arts and in 1951 at the Goldsmith School of Art in London, UK. The year 1951 was also the year that she married the celebrated Canadian color-field artist William Perehudoff. They went on to become prominent figures in Canada's art scene and significant members of the Saskatchewan arts community.
A turning point in Knowles' career came at an Emma Lake Artists' Workshop in 1962 when the American critic, Clement Greenberg, encouraged her to pursue painting from nature regardless of the contemporary predominance of abstraction. Dorothy Knowles was a regular participant at the Emma Lake workshops and became so connected with the landscape of the lake that the family purchased a cottage there in 1969 and set up studios for both Knowles and Perehudoff.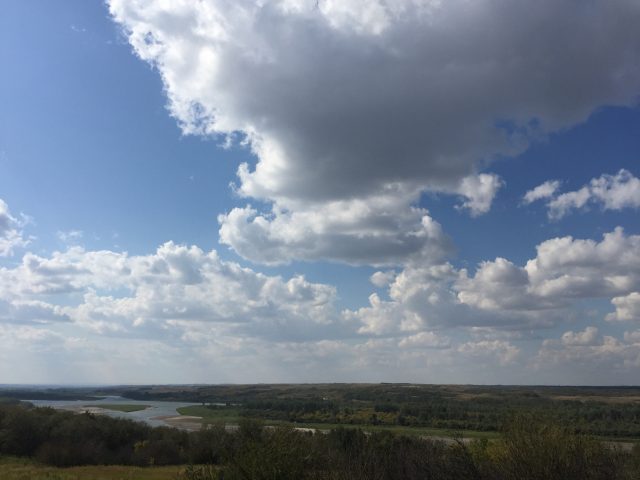 Ultimately, and most importantly, Knowles discovered the joy of working directly from nature. When weather permitted, and using her van as a portable studio, Knowles worked outside, producing finished paintings, sketches and photographs of the prairie skies, fields, lakes and forests surrounding her home.
Over her seven-decade long career, Knowles has exhibited extensively across Canada and internationally. Her work was included in the "7th Biennial Exhibition of Canadian Painting" at the National Gallery of Canada (1968), and in the Hirshhorn Museum of the Smithsonian Institution's exhibit "14 Canadians: A Critic's Choice" (1977). In 1983, her work was part of a group exhibition called "Five From Saskatchewan" that traveled to London, Paris, and Brussels.
She has received three major touring exhibitions, first in 1972. In 1982, "Dorothy Knowles: 1964-1982", was organized by the Edmonton Art Gallery and Bruce Grenville curated a touring show in 1994. Most recently her work was seen at the new Remai Modern in "III: HeavyShield, Knowles, Cameron-Weir".
In 1987 Dorothy was awarded the Saskatchewan Order of Merit, and in 2004 named a Member of the Order of Canada, denoting an achievement of outstanding citizenship and service to both Canada and to the international community. In 2012 she won the Queen Elizabeth II Diamond Jubilee Medal and in 2017 received the Senate of Canada Sesquicentennial Medal.
Her paintings are in countless corporate and public collections including the National Gallery of Canada, Art Gallery of Ontario, Musée d'art contemporain de Montréal, Mendel Art Gallery, Winnipeg Art Gallery and Boston Museum.
Dorothy Knowles is never without her paint set and brushes. She was once asked what five factors she believed were vital for a good life. She responded, "I guess my five have been painting, painting, painting, painting, and painting."