Greg Curnoe & Margot Ariss in TEXT
---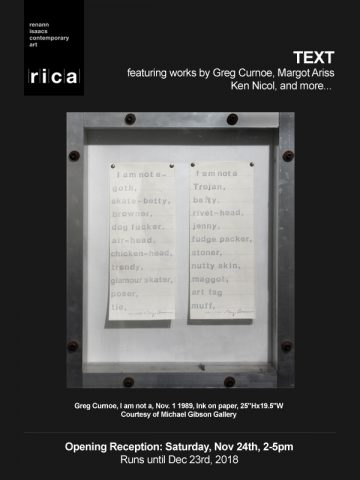 TEXT — featuring works by Ken Nicol, Kelly Mark, Lois Andison, Robert Fones, Ian Carr-Harris, Kevin Yates, Krista Buecking, Margot Ariss, Greg Curnoe, and Kim Kennedy Austin at Renann Isaacs Contemporary Art in Guelph.
Opening Reception: Saturday, November 24th, 2 – 5pm
November 24th to December 23rd, 2018
R.I.C.A. will be bringing work by some of the most pre-eminent text-based artists in Canada to Wellington County. These artists include: Ken Nicol, Kelly Mark, Lois Andison, Robert Fones (Courtesy of Olga Korper Gallery, Toronto), Ian Carr-Harris, Kevin Yates, Krista Buecking (Courtesy of Susan Hobbs Gallery, Toronto), Greg Curnoe, Margot Ariss (Courtesy of Michael Gibson Gallery, London), and Kim Kennedy Austin (Courtesy of WAAP, Vancouver).
The synthesis of language and visuals has played an integral role in every culture since the origin of artistic expression over 40,000 years ago. What makes Contemporary Canadian artists stand out from their international counterparts is the emphasis they place on the articulation of words and the intricacies involved in the manipulation of phraseology. The message itself, and the way it is presented, is that of theatre. While intellectually engaging, smart and thought provoking humour, propel their work to another level. There is a seemingly effortless subtlety to the approach in which these artists incorporate language into the use of different types of media. Eschewing the obvious makes what they do so unusually innovative.
Ken Nicol's, Field II, June 27-Sept.7, 2017, which was acquired by the AGO during Art Toronto 2018 is a perfect example of the kinds of work viewers will get the chance to see in the exhibition TEXT.  R.I.C.A. will feature one of Nicol's earlier, iconic works titled, fuck off, really big, which, from a distance, appears as a field of soft, grey mesh, against an expanse of white but upon closer inspection overtly reveals obsessively intertwined, grid-like repetitions of the artists' arresting thoughts. It's a masterfully performed sucker punch and viewers (familiar or unfamiliar with
Ken Nicol or the other artists featured in TEXT) will be in for a big surprise!
The late Margot Ariss and her fellow London Regionalist, one of the Nation's most well known text-based artists – Greg Curnoe will also be featured in TEXT.  Curnoe's legacy has had a resonating impact on artists from all over the world working in the same oeuvre.