Margot Ariss 1929-2013
---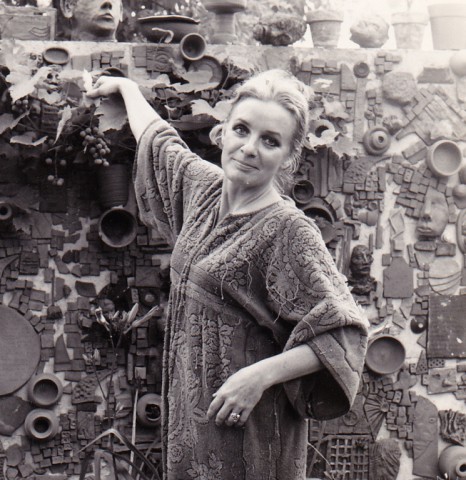 With deep sadness we announce the passing of London, ON artist Margot Ariss. In her 85th year, Margot passed away on Friday, November 15, 2013.
Predeceased by her husband Herbert (2009), Margot was the beloved mother of Josh (Sheila), Jeff (Lydia) and proud grandmother of Nicole, Derek, Steven, Kristen and Michelle. Great grandmother of Quilan, Willow and Lily. Dear sister of Doug, Martha and predeceased by Shirley.
At Margot's request there will be no visitation or service. Donations to the Alzheimers Society are gratefully acknowledged by the family.

Margot Ariss was born in 1929 in Belleville, ON. She moved to London in 1940 and attended H. B. Beal Secondary School where she met her husband, artist & teacher Herb Ariss.
Margot began working as a sculptor in the late 1950's, stamping words into soft clay with a child's set of wooden letters. Throughout the 1960s and 70s, she created intricate text-based clay wall panels, pots and cubes by scratching, stenciling or stamping personal poems or quotations into the clay. Margot was an avid reader and poet and often used quotations from Michael Ondaatje and John Bruce in her sculpture, illuminating the meaning of their poetry into elegant, visual, sculptural equivalents.
Her later works from the 1980s combine clay, cloth and paper mache. They still contain some text, but rely more heavily on smooth rolling designs and sculptural forms that reference snow falls, storms and empty landscapes.
Margot Ariss's work is in the collections of the Vancouver Art Gallery, Canada Council Art Bank and the Beaverbrook Art Gallery. She was included in "Ceramics 69" at the Vancouver Art Gallery in 1969 and selected ceramic group exhibitions at the AGO in the early 1970s. In 1989, the London Regional Art Gallery mounted a survey exhibition – "Zen Song" – curated by Paddy O'Brien.
In December 2011, we were proud to exhibit a survey of Margot's clay sculpture and wall panels. Our exhibition was the first exhibition of Margot's work since 1989. We look forward to introducing new audiences to an innovative artist who should not be forgotten.
Some comments we have received from friends of Margot Ariss:
"Michael, You deserve kudos for the tribute you posted for Margot Ariss and for promoting her. I knew her for 40 years. Most of that time she remained in Herb's shadow."
"THANK You for paying tribute to Margot with the three videos. Meaningful and important."
"I was saddened to hear of Margot's passing. We became quite close in the 70s. She was such an elegant artist both in her work and in person and I greatly admired her intelligence. Like Greg Curnoe her use of text was ahead of its time in this country. She also had a special feel for the sensuous, maliable quality of clay. Margot fills an important place in Canadian art history."
"I am very sorry to hear this sad news. Margot was the epitome of poise and elegance and what a talent!
Thanks for letting me know."
"I'm deeply saddened by this news. Margot, as also Herb Ariss were both such a vibrant and important part of the cultural world of London. How truly sad."
"Thank you for putting the video of Margo up. For some reason I didn't see it at her exhibition. I have good memories of our time together and this video is a lovely memento."