McLean, Knowles, Martin @ McIntosh Gallery
---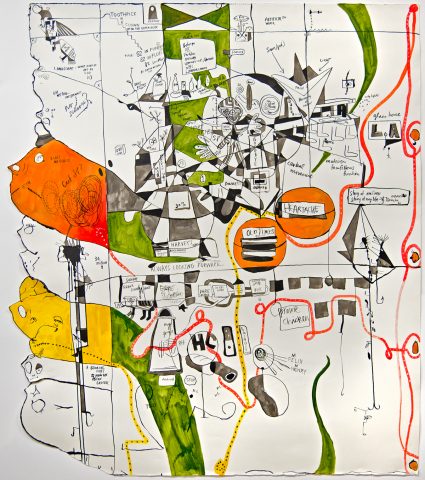 The McIntosh Gallery at Western University now has on view recent donations and acquisitions including works by Dorothy Knowles, Jason McLean and Ron Martin.
"Selected Acquisitions 2015-2020"
January 25 – February 20, 2021
Between 2015 and 2020 McIntosh Gallery acquired over 500 works of art, many of which were generously donated to the gallery by collectors and artists. Donations of works of art, as well as monetary donations, have allowed us to significantly enhance our existing holdings of Canadian artists such as Shuvinai Ashoona, Jack Bush, A. J. Casson, Sky Glabush, Angela Grauerholz, Jamelie Hassan, A. Y. Jackson, Ron Martin, David Milne, Norval Morrisseau and Barbara Steinman.
With this exhibition, McIntosh Gallery gratefully acknowledges the invaluable contribution of our generous donors who make it possible for us to collect, maintain, preserve and develop a permanent collection. A rich resource for the promotion and appreciation of regional and national artists both historical and contemporary, the McIntosh Gallery Collection is widely recognized for its unique holdings which are featured regularly in curated exhibitions across Canada and in prestigious publications.
This exhibition includes artwork donated by: Flavio Belli, Lew Benvenuto, the 
Bull Family Collection of Inuit Art, Richard Crouch and Margaret Ann Wilkinson, Doreen Curry, Cynthia Curtis, Dr. G. Didomenicantonio, John and Suzanne Kaufmann, Frances V. Farmer, Angela Grauerholz, 
the Hagan Family, Frank Lamanna, Tom Legrady, The London Free Press Employees' Association Collection, Eleanor Miller, the Estate of S. Elizabeth Moore, Nancy Geddes Poole, Barbara Steinman, The Student Development Centre at Western University, Ian Tripp, Joan Walters and David Job, Faye and Rod Willis, and Ross and Marion Woodman.
Due to the current province-wide lockdown, the McIntosh Gallery is temporarily closed.  You can view artworks included in the exhibition HERE.