New Acquisition – Clark McDougall
---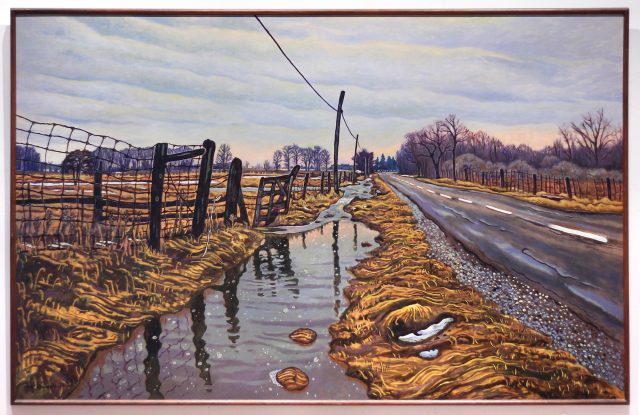 Clark McDougall "The Radio Road in February", Oil on Masonite, 1974, 33 x 52 in.
Painted in the winter of 1974, this iconic landscape by Clark McDougall depicts Radio Road (now Highbury Ave) looking south at the intersection of County Road 52.  Though McDougall was deeply entrenched in his black enamel thick outline at the time, he intrinsically knew that "some subjects demanded a representational answer":
"I generally find the need to paint one representational work a year, and this painting is a "counter" to the black enamel.  Usually I paint this painting in February or March when the low key colouration of winter has prepared me for it.  I need to be out in nature, and every so often return to it to literally seek out some kind of needed energy".
"The Radio Road in February" was included in the Vancouver Art Gallery 1977 exhibit "Clark McDougall: Paintings Since 1953".
We are actively seeking artworks by Clark McDougall.  If you own a painting and are interested in selling, please contact us HERE.