New Clark McDougall Portrait
---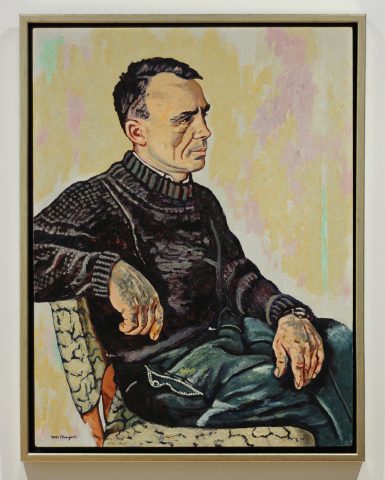 Clark McDougall "Portrait of Henri Albert Theriault" – New in the Gallery
Clark McDougall made very few portrait paintings during his lifetime.  The portraits that he did paint were typically of very close friends.  We have recently acquired this portrait of Clark's dear friend, Henri Albert Theriault, from Henri's niece.
This is the first time that the painting has been seen by the public as it has been in the Theriault family home since about 1978.  It remained part of Clark's personal collection until shortly before he died in 1980.  He gave it to Henri as a thank you gift for some carpentry work Henri had done in the McDougall home on Inkerman Street in St. Thomas.
Henri stated in a letter on January 12, 1997 "Clark gave me this painting (the portrait) shortly before he died for making a partition for his mother's bed downstairs.  She was 99 years young and didn't enjoy climbing the stairs to her bedroom anymore".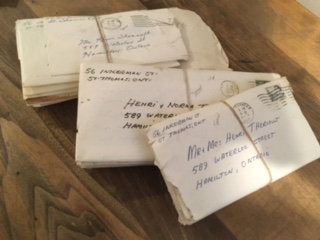 Henri kept the portrait in his home and later gifted it to his brother along with letters of correspondence dating from 1967 – 1975.  These letters now accompany the painting and range in subject from Clark's thoughts on being an artist, to his first exhibit at 20/20 gallery, recollections of visits from Greg Curnoe and Pierre Theberge, his thoughts on the artwork of Charles Burchfield, AY Jackson, Jack Bush and Richard Nixon.  The letters are interesting reflections of a specific moment of time and show Clark's quirky sense of humour, his naughty/corny jokes, his namedropping and his thoughts about politics and art.
Henri was a carpenter and met Clark around 1960.  Henri and Clark became fast friends and though he lived in Hamilton with his wife Norma, they visited St. Thomas often.  Both Clark and Henri shared a passion for art in all of its forms and drove together in Henri's old car photographing and painting the Southwestern Ontario landscape.  Along with their shared passion for art, Henri would help Clark with handyman projects on his old Inkerman Street house.
The portrait painting is based on a photograph taken by Clark.  Of note in the portrait is Henri's kind, relaxed gaze and his large hands, which would have been important as a craftsman.
Henri Albert Theriault (1920-2016)
Henri Albert Theriault was born in the Acadian village of Paquetville, New Brunswick in 1920.  He grew up poor and bilingual in the north shore papermill town of Dalhousie, New Brunswick and experienced the full and difficult years of the Depression in the 1930s.  There were 8 children in the family and Henri was 3rd eldest.  By the time World War II broke out in Europe, like many young men eager for adventure and travel and wages, Henri boarded a ship, crossed the Atlantic Ocean and went to war.
At 19, Henri served in the Canadian Army overseas with the 1st Division starting in 1939.  He was critically wounded in 1944, shot in the face by an enemy sniper in Holland.  The bullet exited through his neck, narrowly missing important arteries.  He miraculously recovered and was discharged in 1946.  Henri spent his life as a carpenter and a veteran dealing with the effects of PTSD.
Happily eccentric to the end, Henri loved everything about art and composition.  He had an unschooled appreciation and knowledge of art and art history.  Truly a talented cartoonist at heart, and carpenter by trade, his friendship with Clark McDougall was a significant and valued influence in his life.
Henri died at age of 96 in 2016 and is buried in the Kawartha woods he loved and painted, mingled in the beauty of the landscape.
The Theriault family hope that the public can now enjoy the rare McDougall portrait as a note of remembrance for "Uncle Henri" and his service to Canada and a tribute to a friendship between two artists.