Thorneycroft @ Grimbsy
---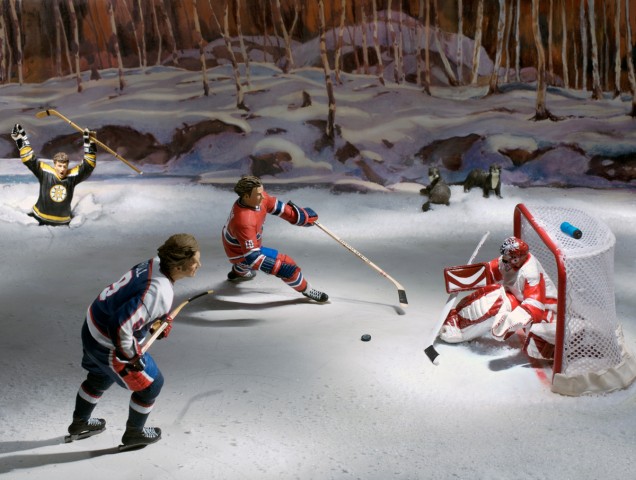 Portraits of Home: Soheila Esfahani, Travis Shilling, Jordyn Stewart, Diana Thorneycroft at the Grimbsy Public Art Gallery
February 21 to April 22, 2023
Opening reception: Friday, March 17 at 7pm. All are welcome.  Light refreshments will be served.
View show HERE
Exploring ideas of Canadiana and what it means to be Canadian through depictions of place, identity, and culture Portraits of Home presents the works of artists Soheila Esfahani, Travis Shilling, Jordyn Stewart, and Diana Thorneycroft. Comprised of photography, sculpture, painting, mixed media, and video these works, both together and individually, challenge viewers to engage with preconceptions around what defines being Canadian. From the pastiche landscapes of Diana Thorneycroft to the delicate installation of Soheila Esfahani's porcelain birds, each artist speaks to aspects of identity, representation, culture, and landscape.
Soheila Esfahani's installation features 115 porcelain birds, a combination of collected souvenir-like objects alongside handmade birds painted with culturally specific designs. Together, the birds evoke a representation of the movement of culture from place to place by immigrants and tourists, challenging viewers to consider the dissemination of culture and their inherent complexities.
Influenced by the Group of Seven and Norval Morrisseau, Travis Shilling's work not only captures the Canadian landscape in a visceral way, but also engages with the ever-changing vistas, drawing connections to the charged political climate, most notably around housing and the development of pipelines.
Jordyn Stewart's work explores place and personal identity, questioning personal and collective assumptions about landscape and the correlation between nature and national identity. The video work, Landscape Study IV uses the physical intervention of the image to explore the artificiality of scenic tourism's depiction of the Canadian landscape. As the video continues, the dripping liquid becomes reminiscent of maple syrup—a common and distinctly Canadian condiment.
Diana Thorneycroft's tongue-in-cheek, large-scale chromogenic photographs illustrate facets of Canadian identity—deep wooded landscapes, hockey teams, and plaid. Paired against the backdrops of paintings by the Group of Seven and Tom Thompson the foreground of each work presents stereotypical, iconic representations that unfold and explore concepts of national pride and cultural ideologies.